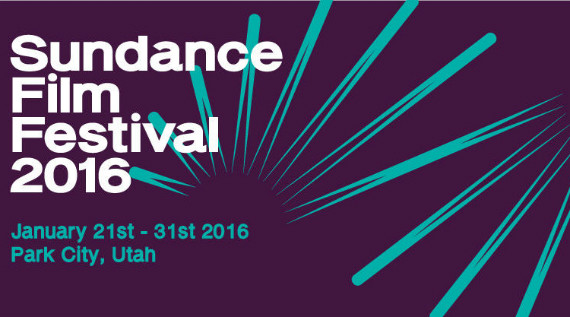 Like everyone else, we've got Sundance on our minds, but this week we are most excited to kick off the 2016 Winter Season of Stranger Than Fiction tomorrow at the IFC CENTER with a screening Craig Lowy's high-flying acrobatic doc, OXD: ONE EXTRAORDINARY DAY! Both Lowy himself and the central subject of the film, choreographer Elizabeth Streb, will be on hand for a post-screening Q&A. Tickets are still available and can be found for purchase here.
As the most prestigious launch pad for non-fiction cinema in the world (both Realscreen's Kevin Ritchie and Brooks Barnes of The New York Times reported on this year's distribution deals), the Sundance Film Festival continued to dominate nearly all media conversation this week. At the festival's award ceremony on Saturday night, Josh Kriegman's WEINER was given the U.S. Grand Jury Prize and Roger Ross Williams received the Directing Award for LIFE, ANIMATED, while Rokhsareh Ghaem Maghami's IDFA premiered SONITA took home the World Cinema Grand Jury Prize and Michal Marczak won the Directing Award for ALL THESE SLEEPLESS NIGHTS.
At indieWIRE, Anthony Kaufman wrote a roundup of the non-fiction offerings this year in Park City, noting the prevalence of funding from old-guard broadcasters, while acknowledging an increase in acceptance of formal experimentalism within both the U.S. and World Doc competitions with films like KATE PLAYS CHRISTINE, NUTS!, ALL THESE SLEEPLESS NIGHTS and THE LAND OF THE ENLIGHTENED. Kaufman also took notice of Sundance's announcement of a new initiative called "Art of Nonfiction," which "will support innovative documentary filmmaking," reports Scott Macaulay at Filmmaker Magazine. indieWIRE's Chris O'Falt also looked at four Sundance films funded via Kickstarter, including Dawn Porter's TRAPPED and Bob Hercules and Rita Coburn Whack's MAYA ANGELOU AND STILL I RISE.
Perking the ears of every cinephile who wasn't able to make it to Sundance this year, reviews of everything from THE LOVERS AND THE DESPOT (via Oliver Lyttelton of The Playlist) to AUTHOR: JT LEROY STORY (via Steven Zeitchik of The Los Angeles Times) have made their way to the blogosphere. After much anticipation for D.A. Pennebaker and Chris Hegedus' UNLOCKING THE CAGE, I reviewed the film for IONCINEMA.com. Shockingly, Eric Kohn brought the filmmakers' masterful campaigning doc THE WAR ROOM down a peg by calling the festival's top prize winner, WEINER, "The Best Documentary About a Political Campaign Ever Made" at indieWIRE. Similar raves of the film came in from Erich Schwartzel of The Wall Street Journal, Lanre Bakare of The Guardian, and Tatiana Siegel of The Hollywood Reporter. Kohn also praised Kirsten Johnson's CAMERAPERSON as a "Transcendent Documentary Experience," while Filmmaker Magazine's Vadim Rizov spoke with the filmmaker herself on how the project came along and what it means to be a documentary DP.
Another film that's gleaned a lot of attention in Park City has been Robert Greene's KATE PLAYS CHRISTINE. In The New Yorker, Richard Brody named it one of two important documentaries playing at the fest, while Variety's Guy Lodge, Criterion Cast's Scott Nye, and Nonfics' Christopher Campbell each wrote positively about the hybrid production. Kate Erbland also spoke with Greene and his on screen collaborator Kate Lyn Sheil for indieWIRE. Penny Lane's NUTS! was another hot ticket, receiving reviews from Chris Plante at The Verge, Christopher Campbell at Nonfics, and Collider's Matt Goldberg. AUDRIE & DAISY was also covered by Nigel M. Smith in The Guardian and Realscreen's Manori Ravindran featured the doc shorts on offer, while Eric Kohn regarded Werner Herzog's latest, LO AND BEHOLD: REVERIES OF THE CONNECTED WORLD, for indieWIRE and The Los Angeles Times' Steve Zeitchik spoke with the filmmaker about the film.
Sundance has finally found its conclusion, but the Rotterdam Film Festival is just ramping up and Daniel Kasman has given his first impressions of this year's offerings over at MUBI's Notebook. We are also nearing the Oscars, and thus, the short subject nominees have finally made their way to theaters and Daniel Walber of Nonfics has taken the time to review each of them.
Those of you lucky enough to reside in New York City would do well to check out a new blog being kept up by Mattie Akers called nycdocscreen, in which she is listing all of the documentary theatrical openings and special screenings each week.
The POV Blog has announced that the MacArthur Foundation has renewed their support for American Documentary "with a grant of $2.25 million over the next three years. The funds will support the POV (Point of View) documentary film series on PBS and its community, education and digital innovation campaigns, along with the fledgling AMERICA REFRAMED series on WORLD Channel through 2018." The International Documentary Association has also revealed that the dates for the Getting Real 2016 Conference in Los Angeles will be September 27 – 29.
Looking for something to watch? Op-Docs has published a pair of shorts this week in Khaldiya's ANOTHER KIND OF GIRL and Keith Fulton and Lou Pepe's SUMMER'S CHOICE. And Kartemquin Films continues their 50th Anniversary celebrations by streaming WHAT THE FUCK ARE THESE RED SQUARES? and ANONYMOUS ARTISTS OF AMERICA (1970).
A bunch of fascinating discussions of film criticism and curation hit this week, including a discussion with indieWIRE's Anne Thompson on why critics matter, the new issue of on the online de Film Krant journal Slow Criticism, a panel discussion on The Close-Up on film curation from this year's New York Jewish Film Festival, and an intriguing piece by Joshua Topolsky in The New Yorker on the changing societal function of Twitter.
I'll leave you this week with the latest episode of the She Does Podcast featuring a conversation with Charlotte Cook, former Hot Docs Director of Programming and co-creator of The Intercept's Field of Vision. Until next time, if you have any tips or recommendations for the Memo, please contact me via email here, or on Twitter,@Rectangular_Eye.