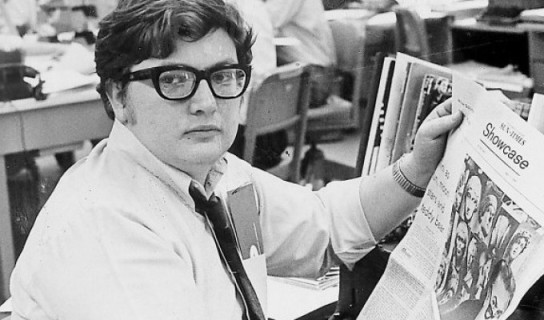 The Sundance Institute this week named the documentaries that would premiere at its festival next year, including LIFE ITSELF from director Steve James, FINDING FELA from Alex Gibney and FREEDOM SUMMER from Stanley Nelson. At Realscreen, Adam Benzine covered the announcement, as did Justin Chang of Variety. Indiewire's Bryce J. Renninger took a look at the relationship between a Sundance premiere for a doc and an Oscar win, discerning an interesting relationship. Nate von Zumwalt of the Sundance blog spoke with Steve James on HOOP DREAMS, a restored version of which will screen at the festival next year. And Realscreen's Kevin Ritchie reported on the doc shorts set to play at Sundance.
In awards news, Adam Benzine of Realscreen had a rundown of awards-winners from various festivals, while Realscreen colleague Kevin Ritchie repeated the feat a week later. The International Documentary Association (IDA) awards got their own post from Adam Benzine, while Dave McNary of Variety also wrote on the IDA awards.
Last week also appeared to be the week in which everyone tacitly agreed to start sending out their "Best Of 2013" lists. Tom Roston issued his top 10 picks for the year at the POV blog, while the writers at the Indiewire blog The Playlist did the same, but picked 15 films. Eric Kohn also released his list in a post at Indiewire. At the Los Angeles Times, Hugh Heart named his favorite music docs for the year, while Paula Bernstein produced a list of her favorite doc characters for the year. And Scott Tobias shared his reflections on the year in docs at The Dissolve.
Writing for the POV blog, Sean Holmquest rounded up a list of DIY distro services. Writer and director Neil LaBute weighed in on the pros and cons of digital distro in an interview at the Tribeca Film Institute's site. And Ted Hope hosted on his blog a guest post from Adam Klaff about determining how much to charge viewers for digital content.
Indiewire dutifully reprinted Alex Gibney's acceptance speech for his International Documentary Association award for career achievement, while Katharine Relth of the IDA site interviewed the filmmaker. Andrew Goldman of Men's Journal had a long profile of Gibney. And Gregg Kilday reported on a documentarian roundtable discussion that included Gibney, along with Errol Morris, Morgan Neville, Teller, James Toback and Lucy Walker.
Writing for Canada's POV Magazine, Ezra Winton had a great piece on documentary, radicalism and the "liberal consensus."
In another piece at the POV blog, Tom Roston weighed in on the Oscar doc shortlist. And at Nonfics.com, Christopher Campbell and Daniel Walber dedicated their podcast The Realness to the shortlisted films.
In yet another POV post, Tom Roston made a plea to the Hollywood Foreign Press Association to add a doc award to the Golden Globes. At Nonfics.com, Christopher Campbell took the time to wonder what might have been shortlisted to the Globes.
Kevin Ritchie reported that Canada's HotDocs had created a new doc fund known as the Crosscurrents fund.
At the POV blog, Shannon Carroll recapped its recent web documentaries docchat, which featured Elaine McMillion, Ingrid Kopp and others.
In a piece for Indiewire, JustFilms head Cara Mertes explained the benefit of thinking about the impact of your doc up front.
Jeannette Catsoulis of the New York Times recently handed Wojciech Staron a Critics Pick for his film TWO LESSONS.
At The Guardian, Patrick Barkham reported on the continuing backlash experienced by SeaWorld as a result of the film BLACKFISH from director Gabriela Cowperthwaite. Steve Chagollan of Variety spoke with Cowperthwaite on a string of concerts scheduled to take place at SeaWorld that had been cancelled by performers.
At Nonfics.com, Christopher Campbell listed this week's theatrical releases of note. Campbell also had a rundown of his top home picks for the week.
Melissa Silverstein of the Women and Hollywood blog at Indiewire interviewed director Lucy Walker about her latest film, THE CRASH REEL. And Christopher Campbell reviewed the film for Nonfics.com, giving it four stars.
Writing for the IDA website, Patricia Aufderheide provided a recap of the International Documentary Film Festival Amsterdam.
In a piece for Filmmaker Magazine, Sarah Salovaara covered a panel discussion including filmmakers Keith Miller, Caveh Zahedi, Lynne Sachs and Josephine Decker on the blurring line between documentary and narrative film.
Variety's Tim Gray had a piece on a handful of doc directors who felt the need to appear in their own films, including Sarah Polley (STORIES WE TELL) and Joshua Oppenheimer (THE ACT OF KILLING).
For those feeling disheartened by the current state of indie film, Ted Hope penned a piece at his blog on his vision of the future of indie film that had some clear improvements.
Matt Schruers of the Disruptive Competition Project recapped the year in fair use practice.
At the Chicago Reader, Ben Sachs had a nice piece on John Akomfrah's body of work.
The Flaherty Seminar website posted a piece on its closing night for the fall/winter session of Flaherty NYC, which featured films from Laura Waddington and Xose Quiroga, among others.
This week Anthony Kaufman turned his attention to the work of Errol Morris for his weekly Docutopia post at the SundanceNOW site.
Writing for Nonfics.com, filmmaker/editor/writer Robert Greene added Werner Herzog's LESSONS OF DARKNESS to his still growing cinematic nonfiction canon.
Dan Steffen of the True/False blog had a fascinating chat with GYPSY DAVY director Rachel Leah Jones
And finally, Julie Keck shared some lessons on crowdfunding and the use of social media in a post at the PBS Mediashift site.
Please send tips and recommendations for the Memo via e-mail here, or by Twitter to @GuerrillaFace. Thanks and have a great week!