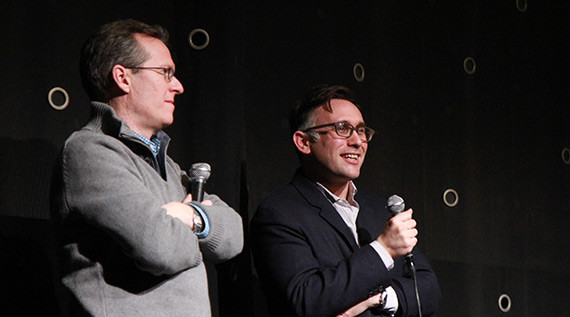 Isaac Bashevis Singer (יצחק באַשעװיס זינגער) was a Nobel Prize-winning Polish author and a celebrated leader of the Yiddish literary movement in America. Although he was married to Alma Singer, Tuesday's documentary, THE MUSES OF ISAAC BASHEVIS SINGER, shows that he had many women in his life.
Muses is a biopic that tells the story of Singer's "harem" of female translators and proofreaders who he picked up with firm confidence, charmed and beguiled, and often bedded during his 85-year lifetime. These women served as the inspiration for the characters in his novels, which were charged with lustful desire.
Singer wrote and published dozens of collections of short stories in addition to 18 novels, 14 children's books, several memoirs, and numerous essays and articles. He wrote them all in Yiddish and then sat with women who translated them line-by-line into English, and many more languages. One of the translators says in the film that he was a tireless worker with a remarkable ability to concentrate on one story for however long it took to finish it. "We will polish it until it will shine!" he would exclaim. Even bathroom breaks were frowned upon during the translation process.
Another translator in the film reads from the book, The Art of Translation, "A good translator must be both a sage and a fool." His translators were loyal to him and many adored him, but he did not share the benefits of his fame with them. At the Q&A session with co-director, Asaf Galay, one of Singer's fifty translators, Carol, was a surprise showing in the audience. She told some of her personal experiences with him and admitted that he only ever wrote her one check for her labors, which was a pittance that you couldn't buy much of anything with.
Galay explained that he tried to edit the film like one of Singer's stories. He constantly felt like Singer was behind him, watching over his shoulder, and he wanted to make a story that would have satisfied him. The film attempts to pose more questions than it does give answers in a similar style to a Singer story. And yet, the film reveals Singer as a controversial figure.
In 1983, Singer's story, Yentl, was adapted into a film that starred singer, Barbara Streisand. In the Q&A session, Galay said that Singer didn't get along with Streisand because he did not like the Hollywood movie adaptation of his novel. She would not participate in the documentary, because she did not want to rehash turbulence of the past.
Galay said that Singer was also very much at-odds with the Orthodox Jewish community, because of the morally precarious themes that permeate his writings. In an archival interview with Singer in the film, he was asked if he was a good Jew, to which he replied, "I've been a good man, so how could I be a good Jew? I'd like to be a good man and a good Jew, but who knows how you do that?"
Stranger Than Fiction begins again on Tuesday April 14 for its 27th season! STF Spring 2015 opens with KING GEORGES, followed by a Q&A with director Erika Frankel and film subject Georges Perrier. The line-up includes sneak previews of highly anticipated docs such as SUNSHINE SUPERMAN and THE WOLFPACK along with revivals of classic docs such as Alan and Susan Raymond's THE POLICE TAPES (1977) and Nick Broomfield's AILEEN: LIFE AND DEATH OF A SERIAL KILLER (2003). The series takes place each Tuesday night at the IFC Center.
---
Writing by Maya Albanese, a New York City based multimedia reporter, writer, producer, and filmmaker covering social and environmental sustainability as well as innovation in the arts, food, and technology worlds. Maya has produced content for print, digital, and broadcast media, including The Washington Post, The Huffington Post, NBC Nightly News, The Today Show, GreenBiz.com, Fresh Cup, Coffee Talk, Heritage Radio and TellurideTV. In 2015, she is producing two documentary films and will receive a Masters degree with an emphasis in Documentary Filmmaking from Columbia University's Graduate School of Journalism. Twitter @mayaalbanese.
Videography and photography by Steff Sanchez, a filmmaker and designer based in New York City. Twitter @steffsanchez.
Related Film