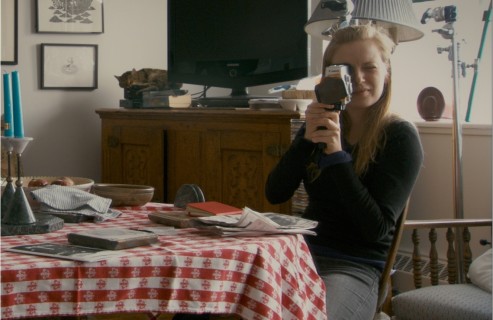 Sarah Polley's film STORIES WE TELL bowed at theaters this week, attended by a rash of coverage. Writing for the New York Times, Mary Jo Murphy spoke with Polley about the creative impulses that drove the making of the film. Danny King of The Film Stage shared a review of the film, as did Tom Hall at Hammer to Nail. Indiewire republished a review from Eric Kohn dating to the Telluride Festival, and Steve Erickson of Studio Daily interviewed Polley herself.
Ground was broken this week on New York City's first documentary-specific theater at DCTV in Manhattan. Cristina A. Gonzalez of Indiewire had details on the event, as did Stewart Nusbaumer at Filmmaker Magazine and Jennifer Merin of About.com. Kelly Anderson covered the news event for Realscreen.
News on Hot Docs continued to make its way online, as writers loosed their listicles on the festival. Writing for Indiewire, Basil Tsiokos highlighted eight films from the festival's forum to keep an eye out for. Tom Roston shared seven reasons to love Hot Docs on the POV blog. At Realscreen, Adam Benzine provided a full recap of the festival, while Robert Greene continued the discussion on whether we are in a documentary golden age at Hammer To Nail.
This week Stranger Than Fiction is hosting a screening of FOLLOW THE LEADER from director Jonathan Goodman Levitt on Tuesday, May 14 at 8pm at the IFC Center. The film is is a real-life coming-of-age story of three traditional American boys with Presidential dreams. Goodman Levitt will be in attendance for a Q&A following the screening. For more information or to purchase tickets please go here.
On Wednesday, the Chinese Realities/Documentary Visions program at the Museum of Modern Art kicked off. At his What (Not) to Doc blog, Basil Tsiokos provided an overview of the series, which runs until the end of May. Anthony Kaufman also took on the film program for his weekly Docutopia post at the SundanceNOW blog.
YouTube launched its much anticipated paid channel test program this week, with Barry Walsh of Realscreen reporting the details. Alex Ben Block of The Hollywood Reporter also reported that Cinedigm had launched a paid YouTube channel for its Docurama brand as part of the effort.
The New York Times also launched its own online doc effort, this one in conjunction with nonprofit doc outfit Retro Report. Adario Strange of PC Mag as well as Laura Hazard Owen of paidContent reported on the news.
Barry Walsh of Realscreen had details on the lineup at this year's Sheffield Doc/Fest, which includes PUSSY RIOT: A PUNK PRAYER among others. Someone over at The Knowledge Bulletin took the time to interview Doc/Fest programmer Hussein Currimbhoy on the films that move his spirit.
Michael Ciepley of the New York Times wrote on the challenges facing director Shane Salerno and The Weinstein Company regarding their doc SALINGER, about the reclusive author J.D. Salinger.
Alex Gibney this week fired a broadside at a few of those who have criticized his film WE STEAL SECRETS: THE STORY OF WIKILEAKS; Mike Hogan had the details for The Huffington Post.
Back at Realscreen, Kelly Anderson interviewed I WILL BE MURDERED director Justin Weber, whose film recently premiered at Hot Docs.
VENUS AND SERENA earned a review from A.O. Scott of the New York Times. And over at the Documentary Channel blog, Christopher Campbell interviewed directors Maiken Baird and Michelle Major on their film.
At About.com Jennifer Merin had details on Kartemquin Film's Spring Showcase, set to take place on May 19 in Chicago. Kartemquin was also in the news this week after Steve James' film THE INTERRUPTERS was named the recipient for the Malott Prize for Recording Community Activism.
Basil Tsiokos had his regular tally of festival overviews for his What (Not) to Doc blog. This week's offerings included one for Warsaw's Planete + Doc festival, as well as one on DOK.fest Munich.
Wendy Mitchell of Screen Daily reported that Joshua Oppenheimer would follow up his well-regarded film THE ACT OF KILLING with another similarly themed one titled THE LOOK OF SILENCE.
Writing for the New York Times, Tom Roston checked in with Oscilloscope Laboratories to see how the distro outfit was fairing at the death anniversary of founder Adam Yauch.
At the Wall Street Journal's India Realtime blog, Aarti Virani wrote a nice piece on Nisha Pahuja's film THE WORLD BEFORE HER.
In a piece considering the rise of direct distribution, Alison Willmore of Indiewire noted that documentaries were leading the pack. Willmore also interviewed Ted Hope on his direct distribution labs, hosted at the San Francisco Film Festival.
Writing for Indiewire's ReelPolitik column, Anthony Kaufman detailed the attacks waged against the film AFTER TILLER and its subjects.
At Filmmaker Magazine, Nick Dawson had the details on this year's BAMcinemaFest, which features a number of great docs.
Bryan Abrams of The Credits interviewed director Jamie Meltzer on his new project FREEDOM FIGHTERS and a number of other subjects.
Back at Filmmaker Magazine, Jessica Vale shared a story of how she was stymied in her efforts to make a documentary in Liberia about a medical mission.
Brian Glasier of Baristanet recapped a Montclair Film Festival panel featuring Michael Moore, Lucy Walker, Bill Siegel and Dawn Porter.
Jaya Mahajan had a great piece on the making of the interactive doc Bear 71 at her blog, Factual For Asia. And the POV blog republished an interview with Loc Dao and Hugues Sweeney of the NFB originally conducted by Hal Siegel for StoryCode.
Filmmaker Magazine published the latest installment of its New Digital Storytellers interviews conducted by the MIT Open Documentary Lab, this one with Katerina Cizek, currently the director of the NFB's HIGHRISE project.
The Open Doc Lab also announced that it was launching a Research Forum to foster discussion and debate on new documentary arts.
That's it for this week. Please send any tips or recommendations for the Memo via e-mail here, or via Twitter to @GuerrillaFace. Thanks and have a great week.