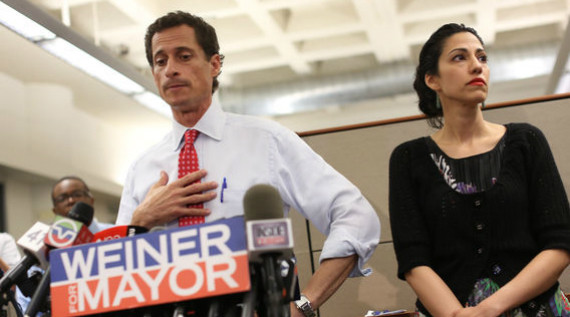 As is sadly the norm for the Cannes Film Festival, this year's doc lineup was slim, but much anticipated. Following her Oscar winning CITIZENFOUR, Laura Poitras debuted her long in the works profile of Julian Assange in RISK (formally titled ASYLUM) as part of the Director's Fortnight. Variety's Peter Debruge, The Wrap's Steve Pond, The Guardian's Catherine Shoard and indieWIRE's Graham Winfrey each logged their (mostly) positive initial reactions, while Wendy Mitchell and Alex Ritman both spoke with Poitras about her new film for Screen Daily and The Hollywood Reporter, respectively. Jim Jarmusch also brought a new doc to the Croisette alongside his new fiction feature PATERSON in GIMME DANGER, a cinematic look at his longtime friend and collaborator Iggy Pop & The Stooges. David Rooney illustrated the film's impact most excitingly in The Hollywood Reporter, writing, "Two seminal Stooges album titles — 'Fun House' and 'Raw Power' — sum up this film's appeal." Owen Gleiberman of Variety on the other hand wanted more danger from the film.
In her report for Screen Daily on this year's Cannes Doc Day event, Wendy Mitchell began by noting that this month marks the 10th anniversary of the world premiere of Davis Guggenheim's climate change focused, Al Gore starred AN INCONVENIENT TRUTH. As it turns out, Grist published an in-depth oral history of the film's production and release with interviews by Jennifer Keishin Armstrong, Amelia Urry, Eve Andrews, and Melissa Cronin with Gore and Guggenheim themselves, as well as producers Laurie David, Lawrence Bender, and many more key behind the scenes players. Other festival highlights this week included Daniele Alcinii's report at Realscreen that Kirsten Johnson's CAMERAPERSON and Brett Story's THE PRISON IN TWELVE LANDSCAPES were awarded feature doc and Canadian doc prizes, respectively, at the 2016 DOXA Documentary Film Festival in Vancouver, as well as Basil Tsiokos' previews of the non-fiction offerings at both this past weekend's Seattle International Film Festival and Encuentros del Otro Cine (EDOC), Ecuador's largest doc festival, which runs through this week.
It is timely that, following the Cannes premiere of RISK, we'll be screening a sneak peak selection of shorts from FIELD OF VISION, which Poitras co-founded with Charlotte Cook and AJ Schnack and serves as executive producer for, as the next installment of our Spring Season here at Stranger Than Fiction! Both Cook and Schnack will be present for the screening and participating in a Q&A. Tickets available for this special event taking place tomorrow at IFC Center can be purchased here.
For once, WNYC and The New York Times agree. Our own Thom Powers and Raphaela Neihausen selected Josh Kriegman and Elyse Steinberg's fantastic encapsulation of a modern political meltdown in WEINER as WNYC's Documentary of the Week, while Stephen Holden named the film a NYT Critics' Pick, declaring it "infuriating and depressing but rivetingly watchable." A flood of other critics expressed similar thoughts, from AV Club's Noel Murray and The Wrap's Tricia Olszewski, to The Lo Angeles Times' Gary Goldstein and Daniel Walber of Nonfics, who compared the film's cringeworthy side to Roberto Minervini's THE OTHER SIDE and other recent releases. At Vanity Fair, Mike Hogan questioned the film's impact on Hillary Clinton, as it features one of Clinton's closest aides, Anthony Weiner's wife, Huma Abedin. The Guardian's Paul Owen listed ten political lessons we should take away from WEINER, while indieWIRE's Kate Erbland interviewed the filmmakers about how they got inside Anthony Weiner's campaign. Likewise, Thom Powers also spoke with Josh Kriegman and Elyse Steinberg in the latest episode of his new documentary focused podcast, Pure Non Fiction.
In a move that both Mary McNamara and Mark Olsen of The Los Angeles Times think may lead to an Oscar being giving to a TV show for the first time (in separate articles), Ezra Edelman's 7 ½-hour ESPN series O.J.: MADE IN AMERICA hit NY and LA for a brief, Oscar qualifying theatrical stint. Also found in The Los Angeles Times was a rave review of Edelman's production by Kenneth Turan, whose headline boldly read, "A movie so compelling you want it never to end … even at 7-plus hours." A.O. Scott also loved the film, dubbing it another NYT Critics' Pick, while Tom Roston wrote a feature outlining the fact that it's not a film about Simpson's overly eyeballed murder trial, but rather it plumbs "the depths of racial tensions in both athletics and Los Angeles during Mr. Simpson's lifetime while examining his childhood in San Francisco and evolving racial identity."
In development and distribution news, Dru Sefton reported in Current that "The John D. and Catherine T. MacArthur Foundation announced a major expansion of its support for nonprofit journalism at the PBS Annual Meeting," putting forth nearly $25 million in unrestricted, five-year general operating grants for Frontline, NPR and other non-fiction programs. Over at IDA, doc filmmakers can now apply for the Pare Lorentz Doc Fund for grants that range from approximately $15,000-25,000 to help complete in production projects. They will be accepting applications on a rolling basis until July 31, 2017. On the latest episode of No Film School's podcast, three filmmakers discuss what it's like to work abroad. Filmmaker Magazine's Vadim Rizov spoke with Ryan Krivoshey about how he plans to keep his new distribution company, Grasshopper Film, financially afloat while releasing harder to market films like Robert Greene's KATE PLAYS CHRISTINE. And in The Wall Street Journal, Eich Schwartzel reported on Hollywood's increasing interest in making fictional retellings of documentary narratives.
Curious about the budding form of interactive documentaries? MIT's Open Documentary Lab has a wide range of videos, essays and more for one to sift through, including the latest episode in their ongoing COME/IN/DOC series, Interactive Documentary Definition. And while on the topic of doc form and education, Suz Curtis wrote a celebratory piece on the liberating freedom of short form filmmaking at IDA, while the online celebrity instructional course website Masterclass announced that Werner Herzog would be teaching a 20 lesson course on filmmaking in the coming months. If interested, you can enroll at the link for a mere $90 (if not, at least watch the preview video).
Those looking for something to stream are in luck this week, as Kartemquin continue to celebrate their 50th anniversary, as The Guardian's Alexander Bisley reports, by making the classic HOOP DREAMS and its companion piece HIGHER GOALS freely available until Friday. And while Digiday's Jordan Valinsky outlined the day in the life of a New York Times Op-Docs producer, Op-Docs itself published a new short about smallpox by Errol Morris called DEMON IN THE FREEZER. Oddly, AOL also published a short this week that lays out the somewhat moving history of the crying Michael Jordan internet meme, titled BEHIND THE MEME. POV also posted a preview of the 100+ docs they will be streaming over their upcoming season.
I'll sign off this week with a new interview by Dave Itzkoff with D.A. Pennebaker looking back at DONT LOOK BACK in The New York Times, as well as a fascinating companion piece by Alex Chambers over at Little White Lies, ominously titled "FEED, THE WAR ROOM and the awkward reality of American politics." As usual, if you have any tips or recommendations for the Memo, please contact me via email here, or on Twitter, @Rectangular_Eye.