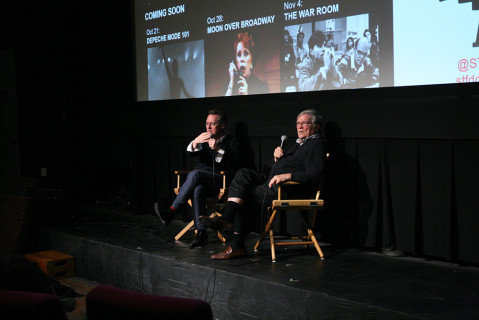 This post was written by STF blogger Krystal Grow.

If one thing is clear from the films shown at this week's STF screening, it's that the recording studio is a sonic microcosm capable of distilling the most massive of sounds and the most intimate of spaces into a single, auditory experience. In the fourth installment of the weekly film series' tribute to filmmakers D.A. Pennebaker and Chris Hegedus, we become a part of that bubble of sound, and become enraptured observers of the seemingly endless struggle to capture the perfect take.
In 1964, Dave Lambert, famous for his work with the jazz vocal trio Lambert, Hendricks and Ross, was invited to the RCA studios to record a few test tracks for a possible full length record with a new group of singers he had pulled together since he split with his former partners. Lambert was already lauded as an accomplished, even groundbreaking composer, but Pennebaker's unwaveringly objective lens never succumbs to hero worship. In the 15 minute film, the camera hovers over Lambert and his group, who arrange themselves in a tight circle around a single mic, while session musicians and studio engineers look on and play along from their designated sound booths. LAMBERT & CO. lays down three toe-tapping numbers that never made it to the official RCA catalog, leaving Pennebaker's short film as the only remaining evidence of the group's major-label aspirations.
In another feat of recording-studio-cinema verite, Pennebaker, Jim Desmond and Richard Leacock document the epic, 18-hour recording session with the original cast of the huge Broadway hit, Company. The 1971 musical by Stephen Sondheim follows the trials and tribulations of a handsome bachelor and his married friends through a series of non-linear vignettes. As the cast struggles with the pressure to record the definitive version of Sondheim's songs, the film uncovers the incredible strain these performers were under and impressive stamina and professionalism they showed through countless takes and do-overs. In the film's crescendo, theater veteran and Broadway powerhouse Elaine Stritch belts out her show-stopping rendition of 'Ladies Who Lunch,' flailing her arms wildly, while her eyes maintained a steely focus on the microphone, as if she were staring down the lyrics, or glaring at an audience in a packed theater.
"I just started crying as soon as I saw her on screen," Pennebaker said of the Stritch, who passed away in July. "She knew music, instinctively, and it just poured out of her. I always got the feeling, no matter what she was listening to, that she knew something about it. Something special, that I'd never know."
Stranger Than Fiction's twenty-fifth season features an eight-week tribute to the careers of D A Pennebaker and Chris Hegedus. In the week's following, STF will show COMPANY: ORIGINAL CAST ALBUM (1970) featuring the late Elaine Stritch wrestling with Stephen Sondheim's musical Company; DEPECHE MODE 101 (1989) following the pioneer synth/pop band across America as they end up selling out the Rose Bowl; MOON OVER BROADWAY (1998) a look behind the scenes at Carol Burnett's return to Broadway; THE WAR ROOM (1993) on Bill Clinton's presidential campaign, featuring George Stephanopoulos and James Carville; and ONLY THE STRONG SURVIVE(2002) a celebration of soul-music legends Sam Moore, Wilson Pickett, Isaac Hayes and others.
For the full season lineup, visit stfdocs.com/buy-tickets/
Krystal Grow is an arts writer and photo editor based in New York. She has written for TIME LightBox, the New York Times Lens Blog, Vocativ.com and the DOC NYC blog. Follow her on Twitter and Instagram @kgreyscale.
Related Film