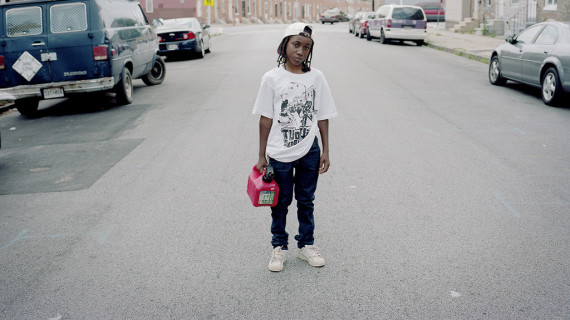 This week the film 12 O'CLOCK BOYS from director Lotfy Nathan hit theaters. In his Filmwax podcast, Adam Schartoff spoke with Nathan, while NPR featured a piece on Nathan and his film. Mekado Murphy of the New York Times wrote up the film, and Eric Kohn of Indiewire reviewed it, giving it an A minus. In his weekly Docutopia post at the SundanceNOW blog, Anthony Kaufman considered both 12 O'CLOCK BOYS and RICH HILL, and Andrew Parker of Dorkshelf interviewed Nathan. Also, Josh Slates profiled the film in a piece for the International Documentary Association (IDA) website.
At Nonfics.com, Christopher Campbell issued a list of the best docs out of the Sundance Film Festival, as well as the Slamdance Film Festival. Campbell and Daniel Walber also dedicated the latest episode of their The Realness podcast to Sundance. Ondi Timoner released the first part of a long Bring Your Own Doc episode about Sundance this week, along with a second report from the festival. Writing for Ion Cinema, Jordan M. Smith turned out a few reviews, one for THE NOTORIOUS MR. BOUT and another for THE OVERNIGHTERS. And Sean Flynn wrote a piece for Indiewire on the interactive projects featured in Sundance's New Frontier section.
This week Stranger Than Fiction is hosting a screening of LOU REED: ROCK AND ROLL HEART about the late rock legend Lou Reed on Tuesday, Feb. 4 at 8pm at the IFC Center in Manhattan. Following the screening, director Timothy Greenfield-Sanders will be in attendance for a Q&A. For more information or to purchase tickets please go here.
At Crave Online, Brian Formo combed through the history of the Oscar doc category and took a look at this year's nominees. Glenn Whipp of the Los Angeles Times considered whether 20 FEET FROM STARDOM could triumph over other nominees with more serious subject matter. Over at Nonfics.com, Daniel Walber wrote on the short docs nominated for Oscars this year. And writing for Variety, Andrew Barker provided an overview of all nominees.
In a piece for Fast Company, Steve Ramos examined the effect that LIFE ITSELF's Indiegogo campaign and streaming release reward for donors had on building an audience. Germain Lussier of Slash Film also interviewed Steve James.
At Filmmaker Magazine, Sarah Salovaara reported on Drafthouse Film's strategy of using a BitTorrent bundle to help promote THE ACT OF KILLING.
The Museum of Modern Art this week posted more details on its upcoming Documentary Fortnight program, set to run Feb. 14-28.
In distro news, Manori Ravindran of Realscreen reported that U.K. outfit Dogwoof had picked up world rights for SUPERMENSCH: THE LEGEND OF SHEP GORDON. Ravindran also reported from the Realscreen Summit '14 that CNN had committed to acquiring documentary films for the long term.
The Garrett Scott Documentary Development Grant is open for applications from first time filmmakers. The grant provides travel and accommodation at the Full Frame Documentary Film Festival held in Durham, NC, in early April. For more information on the grant and instructions on how to apply please go here.
Peter Knegt of Indiewire reported that docs TIM'S VERMEER and 12 O'CLOCK BOYS had strong outings at the box office this weekend.
The POV blog updated its Best Documentaries of 2013 list, with THE ACT OF KILLING still leading the competition.
At the International Documentary Association (IDA) website, Lonnie Sill penned a piece about using production music libraries for a doc. Also at the IDA, Miriam Cutler wrote some tips on using a composer.
Back at Indiewire, Ziyad Saadi interviewed THE OVERNIGHTERS director and cinematographer Jesse Moss on how he shot his film.
At Nonfics.com, Christopher Campbell released his list of top home picks for docs, and in a separate post later named some of the docs reaching theaters worth taking note of.
The European Documentary Network's executive committee this week named Andy Glynne its new chairman, replacing Kees Ryninks.
In a post at Film School Rejects, Landon Palmer gleaned six filmmaking tips from advice given out by Sarah Polley.
The South by Southwest film festival this week released its lineup. Over at Indiewire, Alison Willmore spoke with SXSW film head Janet Pierson about the festival's new section on episodic content.
The True/False Film Festival announced that it had given its True Vision Award to filmmaker Amir Bar-Lev.
Writing for the Washington Post, Max Fisher reported on the film RETURN TO HOMS' success at the Sundance Film Festival.
At the What (Not) to Doc blog, Basil Tsiokos provided an overview of the Ambulante traveling film festival in Mexico.
In a post at Nonfics.com, Christopher Campbell tallied 20 promised documentary film remakes that have yet to materialize.
Alexandra Zeevalkink of the DocGeeks blog reported that an untitled doc project on the New York Review of Books by filmmakers Martin Scorsese and David Tedeschi would be screened at this year's Berlinale as a work-in-progress.
At Film.com, David Erlich interviewed director Goran Hugo Olsson about his latest film, CONCERNING VIOLENCE.
Writing for the POV blog, Tom Roston looked askance at the trailers turned out by the doc world over the years.
At Vice.com's Motherboard blog, Whitney Mallett interviewed filmmakers Shosh Shlam and Hilla Medalia about their recent film WEB JUNKIE.
And Sukhdev Sandhu of U.K. paper The Guardian had a great profile of Marc Singer's classic film DARK DAYS.
That's it for this week, but please send tips and recommendations for the Monday Memo via e-mail here, or by Twitter to @GuerrillaFace. Thanks and have a great week!