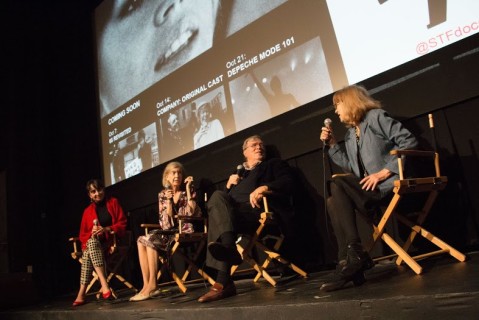 This post was written by STF blogger Krystal Grow.
Jane Fonda- activist, fitness guru, Hollywood sweetheart, and Broadway flop. If that last one comes as a shock, it's probably because, like so many people, you haven't had the opportunity to see D A Pennebaker's lovely but rarely-shown documentary JANE, which was screened last week as part of the fall season of the Stranger Than Fiction film series.
By 1962, the 25 year-old Fonda, daughter of towering Hollywood icon Henry Fonda, had already appeared in a number of films, but was feverishly rehearsing for a theater production that she hoped would establish her as a serious stage actress, an independent talent, and a viable leading woman. Pennebaker, along with a skeletal crew of fellow filmmakers, followed Fonda and the rest of the ill-fated cast of The Fun Couple, from disastrous dress rehearsals to warm-up shows in Baltimore, Philadelphia and Wilmington, right up through it's dismal 3-show Broadway run.
"We all knew the play barked- it was no revelation," Pennebaker said in the Q&A following the film, "but when she read [the reviews], I loved her, and I thought 'How brave of her,' to be filmed like that, in that moment of despair."
In the film, Fonda is charming and demure, meticulously applying her own makeup before shows, gushing when her director-boyfriend Andreas Voutsinas would deliver her lavish gifts backstage. But she is also arrestingly vulnerable through Pennebaker's lens, as he captures fine details and minute inferences and interactions that are actually packed with intensity and intrigue.
"Watching the film was really weird, and made me feel horrible in a lot of ways," Pennebaker said. "She had been through some terrible moments before then, but that play flopping may have been one of the worst."
But a bad play made for more drama off stage, and while neither Pennebaker nor his colleagues expected the production to be a total failure, they followed the story to it's bitter end.
"We didn't know it was going to be a flop, but when we realized it was going to be, we decided to make the best of it and be honest about what it was," said Hope Ryden, who worked on the film with Pennebaker and joined the Q&A at the IFC Center. "If the play had been a success, the film wouldn't have been as good, or as soulful. It wouldn't have been the same film."
JANE played as part of Stranger Than Fiction's twenty-fifth season which features an eight-week tribute to the careers of D A Pennebaker and Chris Hegedus. In the week's following, STF will show 65 REVISITED (1967) capturing another side of DONT LOOK BACK'S Bob Dylan; COMPANY: ORIGINAL CAST ALBUM (1970) featuring the late Elaine Stritch wrestling with Stephen Sondheim's musical Company; DEPECHE MODE 101 (1989) following the pioneer synth/pop band across America as they end up selling out the Rose Bowl; MOON OVER BROADWAY (1998) a look behind the scenes at Carol Burnett's return to Broadway; THE WAR ROOM (1993) on Bill Clinton's presidential campaign, featuring George Stephanopoulos and James Carville; and ONLY THE STRONG SURVIVE(2002) a celebration of soul-music legends Sam Moore, Wilson Pickett, Isaac Hayes and others.
For the full season lineup, visit stfdocs.com/buy-tickets/
Krystal Grow is an arts writer and photo editor based in New York. She has written for TIME LightBox, the New York Times Lens Blog and the DOC NYC blog. Follow her on Twitter and Instagram @kgreyscale.
Related Film