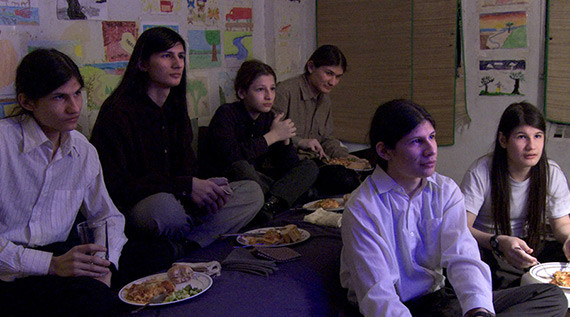 Our twenty-seventh season begins with KING GEORGES following Philadelphia's famed chef Georges Perrier as he faces pressures to close his restaurant Le Bec-Fin. The line-up includes sneak previews of highly anticipated docs such as SUNSHINE SUPERMAN and THE WOLFPACK along with revivals of classic docs such as Alan and Susan Raymond's THE POLICE TAPES (1977) and Nick Broomfield's AILEEN: LIFE AND DEATH OF A SERIAL KILLER (2003).
"Spring is a time for discovery and that's what this season offers," said STF Artistic Director Thom Powers. "For people who have never been to STF or haven't come in a while, this line-up has a little of everything – food, art, true crime, politics, history and characters who truly embody the phrase Stranger Than Fiction."
Download the STF Spring Calendar here.
The season starts on April 14 with KING GEORGES, playing only a few days after its world premiere at the Full Frame Documentary Festival. Several other STF titles have won recognition on the festival circuit including AFTER THE DANCE (April 28) about an Irish filmmaker looking for lost family in NYC; MADINA'S DREAM (May 5) set against the backdrop of war in South Sudan; SUNSHINE SUPERMAN (May 19) about BASE-jumping pioneers; and THE WOLFPACK (closing night of the spring season on June 2) about six brothers who grew up locked inside a Lower East Side apartment. Playing as a work-in-progress NAM JUNE PAIK & TV LAB (April 21) explores the father of video art and an experimental era of public television. Three nights bring acclaimed veteran doc makers to STF: AILEEN: LIFE AND DEATH OF A SERIAL KILLER (a special Thursday presentation on April 23) with Nick Broomfield; THE POLICE TAPES (May 12) with Alan and Susan Raymond; and HOT TYPE: 150 YEARS OF THE NATION (May 26) with Barbara Kopple.
The regular STF spring season takes place at the IFC Center every Tuesday night for eight weeks, starting April 14 (plus a Thursday special on April 23). Each event includes a discussion with the filmmaker or special guests, followed by a gathering at a nearby bar.
Tickets for Stranger Than Fiction screenings are $16 for the general public and $13 for IFC Center members. Click here to purchase tickets and watch trailers. A Season Pass, available for $99 ($80 for IFC Center members), covers admission to all 9 evenings, plus additional perks including free popcorn at each STF screening and a free DVD courtesy of Docurama. Click here to order a season pass.
Related Film