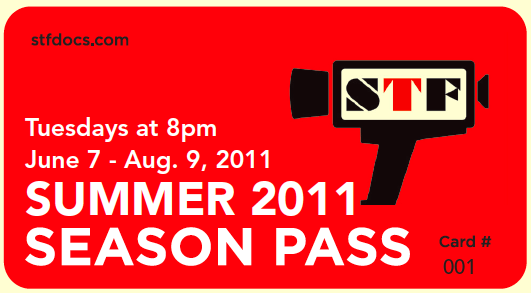 During its 6-year history, STF has never held a summer season until now; and I think it's one of our best seasons ever. We kick off with a pre-season special on Thursday, June 2 with BOBBY FISCHER AGAINST THE WORLD with director Liz Garbus; followed by the official opening night on Tuesday, June 7 of the Sundance Audience Award winner SENNA about the Brazilian Formula One race car driver Ayrton Senna. The film brilliantly employs archival footage to trace the dramatic twists and turns of Senna's career.
Overall the summer season features 10 Tuesday night films, plus 3 special screenings for a total of 13 films. We're currently offering a season pass for the early bird rate of $99 ($75 for IFC members) that gets you all 13 films, plus free popcorn at every STF show, a free DVD from Docurama, and the ability to transfer your pass to a friend. Best of all, you never miss a sold out screening and you can bet a lot of these will sell out.
Other festival hits coming to STF include YOU'VE BEEN TRUMPED (July 7) which caused a sensation at its Hot Docs world premiere a few weeks ago. The film looks at Donald Trump's scheme to build a golf resort on an environmentally sensitive piece of Scotland's coast (the same setting for the fiction film LOCAL HERO). When locals rise up in protest, Trump exerts all of his power and public relations to defeat them. During the course of making the film director Anthony Baxter wound up arrested. BETTER THIS WORLD (July 26), jury prize winner at the San Francisco Film Festival, follows the case of two young protestors at the 2008 Republican convention in Minneapolis who were charged with domestic terrorism.
Another controversial title is BETWEEN TWO WORLDS (June 30) examining how the debate over Israel is causing divisions within the American Jewish community. Directors Deborah Kaufman and Alan Snitow will visit from San Francisco to discuss the film.
Among the highly lauded doc makers coming to STF this season are Marc Levin and Mark Benjamin who will present two episodes from BRICK CITY (June 14) and discuss the making of this ambitious series. Steve James, known for HOOP DREAMS and a strong Oscar contender this year for THE INTERRUPTERS, brings his deeply personal doc STEVIE (July 19) that was overlooked when its initial theatrical run coincided with the start of the Iraq war in 2003.
For a rare look at classic docs from the 1960s, don't miss MISSION TO MALAY (July 5) made by the pioneering woman director Hope Ryden who's previously appeared at STF with JANE; and a double feature of 16 AT WEBSTER GROVES and WEBSTER GROVES REVISITED (July 12) that Jonathan Franzen has written about as being iconic to his childhood in suburban St. Louis. Covering the other side of the tracks in St Louis, is THE PRUITT-IGOE MYTH (June 28) about a public housing project that started with great expectations and ended in infamy.
For pure summer movie pleasure, don't miss Mexican director Carlos Hagerman visiting with BACK TO LIFE (June 21), a story of romance and shark hunts in Acapulco; and SOUL POWER (Aug 2), showcasing the legendary 1974 concert with James Brown and others in Zaire that accompanied the fight seen in WHEN WE WERE KINGS.
Don't miss a single one. Get a season pass and spend your summer watching great films. Full line-up below.
To purchase individual tickets or a season pass, click on the film title below, then select "Buy Tickets", then choose the "8pm showtime" and voila! You can select an individual ticket for $16 ($13 for IFC members) or early-bird season pass for $99 ($75 for IFC members).
PRE-SEASON SPECIAL – Thurs, June 2
BOBBY FISCHER AGAINST THE WORLD (2011)
Oscar nominated dir Liz Garbus explores the enigma of the chess master from Brooklyn.
Q&A w/ dir Liz Garbus
OPENING NIGHT – Tues. June 7
SENNA (2010)
Sundance audience prize winner looks at dramatic life of Brazilian Formula One race car driver Ayrton Senna.
Q&A TBD
Tues. June 14
BRICK CITY (2011)
Set in Newark, NJ, like a real life version of The Wire. Filmmakers will screen 2 episodes of the acclaimed series and discuss its making.
Q&A w/ Marc Levin & Mark Benjamin

Tues. June 21
BACK TO LIFE (VUELVE A LA VIDA) (2010)
Set in Acapulco, romance blossoms between Mexican scuba instructor and New York model; plus a shark hunt.
Q&A w/ dir Carlos Hagerman
Tues. June 28
THE PRUITT-IGOE MYTH (2011)
St Louis' Pruitt-Igoe housing projects started as model of progress and ended as failure. What went wrong?
Q&A w/ dir Chad Freidrichs
THURS. NIGHT SPECIAL – Thurs. June 30
BETWEEN TWO WORLDS (2011)
Tracing the American Jewish debate over Israel, this doc sensitively explores politics, censorship and history.
Q&A w/ dirs Alan Snitow & Deborah Kaufman
Tues. July 5
MISSION TO MALAY (1964)
Rarely seen cinema verite gem from Drew Associates. Pioneering woman director Hope Ryden follows Peace Corps nurse on island adventure.
Q&A w/ dir Hope Ryden
THURS. NIGHT SPECIAL – Thurs. July 7
YOU'VE BEEN TRUMPED (2011)
Donald Trump meets resistance in small town Scotland when he sets out to build a golf resort on environmentally sensitive coastland.
Q&A w/ dir Anthony Baxter
Tues. July 12
16 IN WEBSTER GROVES +WEBSTER GROVES REVISITED (1966)
Co-presented with Paley Center, two classic CBS documentaries by the late Arthur Barron examine teenagers in 1960s middle America.
Q&A w/ Ron Simon, Paley Center curator
Tues. July 19
STEVIE (2003)
Brilliant, overlooked personal doc by director of Hoop Dreams and The Interrupters, examines his mentoring relationship to a troubled youth.
Q&A w/ dir Steve James
Tues. July 26
BETTER THIS WORLD (2011)
Two young men are arrested for domestic terrorism at 2008 Republican convention. What's the real story?
Q&A w/ dirs Kelly Duane & Katie Galloway
Tues. Aug 2
SOUL POWER (2008)
Chronicling the Zaire '74 concert with James Brown, Miriam Makeba, Bill Withers, Celia Cruz, and others from the team behind When We Were Kings.
Q&A w/ dir Jeffrey Kusama-Hinte
CLOSING NIGHT – Tues. Aug 9
TBA
For all the latest news, follow us on Twitter and join us on Facebook.
Related Film