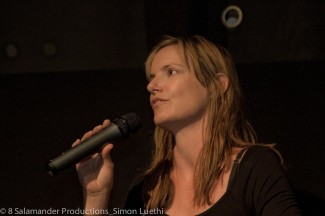 Stranger Than Fiction: I have to say that this is a really fantastic film—powerful, provocative. I watched it a couple of days ago and it provoked a lot of feeling. It just made me feel angry when I finished watching it, the situation that these two guys were in. How did you come to this story?
Katie Galloway: There's an article in the movie, when the informant is revealed. And I assume many of you probably know a little bit about the story, and may have known the twist, but it gets a great response from audiences who don't have a clue. When I first read about it in the New York Times it was early January 2009 and the headline was, "Activist Unmasks Himself as Federal Informant." The story was about two young activists from Midland, Texas, which I thought was interesting, this informant and the allegation of entrapment. I also assume many of you are familiar with the pattern of cases around the country since 9/11 where there's an FBI sting, domestic terrorism accusations and a counter-allegation of entrapment. I know in the current issue of Harper's there's a piece by Petra Bartosiewicz, and she does a great job of telling the national story. The people who are mostly affected are Muslim youth in the U.S. I know Mother Jones is dedicating a whole issue to that broader story.

STF: One of the things that struck me about this film, it's not just a film about politics but it's also about guys interacting with each other and male bonding and rites of passage. Can you talk about that powerful relationship that developed between Darby and Brad and David.

Galloway: I don't know how much you glean from the film, sometimes I forget where the film ends and my knowledge ends. Brad's father and grandfather were rodeo cowboys. The grandfather was pretty close to Brad, but his father … was just not around much. [Brad] admits to sort of looking around for a father, even though he wasn't conscious of it at the time. A powerful male figure closer to his age that he respected was something that he craved. David's Dad, I think, is an incredible father. He's a bit of a hothead. I don't know how much of that you get from this, but he sort of pushed David toward trial … and David didn't always feel comfortable with that. [David] had a very tumultuous childhood being bounced around, and was sometimes without his father for long stretches. [David and Brad] both acknowledge that that was a big part, sort of seeking this older male's love and respect. They also describe Brandon as like a tough football couch that you love, but that is sometimes very troubling. Sort of putting them to the test again and again. It's not just the father issues, but really what everybody goes through when becoming an adult, being put to a test by an older male figure.
STF: One question I had was about the interview with Brandon Darby. Did you shoot that or did somebody else shoot that, and when was it done? It seemed to have a different texture.

Galloway: Fortunately for us, since he didn't agree to participate in the film, he was the spokesperson for Common Ground Relief, which was an organization that did incredible work after Hurricane Katrina. He founded it with a former Black Panther named Malik Rahim and Scott Crow, and some others. Scott Crow, for any of you that caught the cover of the Times a few months ago, is the activist in Austin who'd been watched for three years. Brandon did tons of interviews, a couple of really good ones that we drew on mostly. One was by a German filmmaker, that sort of close up one. And so we were able to license it, thankfully, because for a minute there we thought we didn't have a film. For a long time Brandon agreed to participate once the case was over, and then he changed his mind and we thought, oh shit, we don't have funding.
STF: Did you milk that footage for every last second, or was there a lot of it?
Galloway: There will be more online at the POV website. We licensed it by the minute so the whole interview won't be there, but there's about an hour and a half there, and then another maybe hour and a half to two hours that another filmmaker made. That's the footage where he's sort of saying, we need to think about the people we love and we trust, and he's got the fist behind him. That's a student filmmaker.
Audience: How did you get the law enforcement agents and the prosecutors to talk candidly?

Galloway: Here I owe a real debt of gratitude to Lowell Bergman, who Al Pacino played in The Insider about the tobacco industry and 60 minutes pulling the story and all that. He was an early funder of the film and a coproducer with the Investigative Reporting Program at UC Berkley. When we went to go watch David's trial, he said, when you're in town just call the FBI and say you'd like to have coffee and meet with them and tell them what you're doing. No cameras etc. So that's exactly what we did and were sort of stunned to find that they were happy to meet us for coffee. We met with their public affairs officer, E.K. Wilson, the guy driving through the film. It turned out that he had worked the case and then it got transferred, so we got lucky that way. We met him, kept in touch with him, and then when we asked [FBI headquarters] for permission much later, they went back to Minneapolis and said, what do you think? They agreed to give us the interviews at that point. It wasn't as hard as I thought, but I've made other films about prisons and at that initial point of human contact, some of the walls come down.
STF: Was the prosecutor and were the FBI as convinced of what they were saying in the film off-camera as they were on-camera? Did they 100% believe that what they were saying was the truth?
Galloway: I think those are two different questions. They had a complete poker face, a united front, on 99% of the time. E.K. Wilson admitted at one point that nobody wants to be put on domestic terrorism because there aren't any domestic terrorists. It's so incredibly bloated with so few real terrorists—they're called aspirational, not operational. And I would argue that almost all of the cases since 9/11 have been aspirational, i.e. people who couldn't have done anything. I don't know if they believe it. I've seen again and again with prosecutors I've interviewed that there's a true believer quality to some, and Jeffrey Paulson has that true believer quality. It's really a black and white world and these are the bad guys.
Audience: I wanted to ask about the production of the film because there were so many interesting layers—the phone calls, journal entries. Some of those were reconstructed and some of those were source material. I'd love to hear about that process.

Galloway: We thought we'd be covering the trial, and then we didn't get access to the courtroom. So the idea of the heart of the story being following these two guys and their families going through the legal process—we found out pretty quickly the heart of the story was what happened between Brandon Darby, Brad and David in the six months leading up to their arrests. Fortunately for us, because there was a trial, there was a discovery process, and there was a lot of material presented at trial—phone calls, Brandon's letters to the FBI. That's a voice actor who's our voice of Darby in this film. But all the words of Darby were his real letters to the FBI, and one was really the backbone of the entrapment case. We had a lot of surveillance footage. The Department of Homeland Security gave the Twin Cities a $50,000 grant just for surveillance cameras at the RNC. It turned out that we as taxpayers have access to that footage, and someone gave us a tip about that. We just went through hundreds and hundreds of hours to find our characters on these various corners where we knew they were. The Wal-Mart footage—Wal-Mart tapes us all, I'm sure you guys know that. It would have been a lot harder to get all that had we not had access to it through discovery and the kindness of the defense attorney. We didn't get anything through the Freedom of Information Act, although we FOIA'd everything. For a year and a half we got nothing but redacted stuff. And then we had reenactments, and those are, I hope reasonably easy to detect. Although they're sort of tricky because there are a couple of real scenes that we have—like Bradley calling his mother and saying, they're threatening me. Or David talking to his girlfriend. People think those are recreations and they're not. Everything pre-2009, there's a kind of treated, abstract quality to the footage and it's intercut with interview bites.
Audience: Given that the film's subject is pushing up against government conspiracy and government oppression, I was wondering if you ever got any pushback from individuals or agencies yourself in the process. Did anybody say, there's a line in the sand, don't cross it?
Galloway: Very early on my film partner Kelly Duane de la Vega—she had been the one interacting with Darby initially. And her e-mail was shut down when we first got to Minneapolis, and we called her service provider and they said that it would be back up after we left Minneapolis. That seemed to be very clearly related to the story we were trying to tell. A sort of early scare tactic, and it was scary. A lot of paranoia on our parts through the making of the film. We went to Brandon Darby's house after he told us he wouldn't participate. He lives in an undisclosed location and we figured out where it was and showed up at his house. He called the FBI and threatened us and all that. I was waiting, when I went to Hot Docs [in Canada] to get stopped at the border and have my computer confiscated and all that, but no such drama.
Audience: Can you talk about why Brandon flipped and when he flipped, and when was he outed as being an informer?
Galloway: Somebody dropped his name in court, and then it was known. So he then wrote this open letter to the activist community. Why he flipped, there are all kinds of theories about. One is that he was never a, quote, real activist and I think that is trajectory from early on is very suspicious. We'll talk about it over beers and I can tell you what I think. But I would say a majority of people believe that he really fell out with the activists he had founded Common Ground with. It was a nonhierarchical organization and he was a very hierarchical guy. All sorts of things were going on there and he sort of fell from grace within the organization. A majority of people you'll talk to will say he had a hero complex and that didn't fit with that organization at that point. He was befriended by this local police sergeant, and then became the hero in the eyes of the FBI, or so he thought. That was before he was involved with this case. He was involved with another case [as an informant] very briefly. A guy named Riad Hamad who was a Palestinian rights activist who Brandon was working with. He wound up bound and gagged in Lady Bird Lake in Austin, dead, and it was ruled a suicide within 48 hours. And so that now has its own life in conspiracy. That was a really hard one to leave on the cutting room floor, but there's only so much you can do in one movie.
Audience: The government, what do they need to convict somebody?
Galloway: I'd say the heart of the answer is the definition of entrapment that gets accepted at trial. There are two main definitions. One is the one that the prosecutor gives you at the beginning of the trial. You can take someone to the edge of the pool, but you can't push them in. That was arguably what happened here. This informant, over the course of six months took these guys to the edge, including telling them in the van on the way up about this Italian anarchist hero who was chucking Molotovs, but then didn't tell them, go make the Molotovs, here's the money. There's another definition of entrapment that I think of as the common sense definition, which is, if the government had never been involved with the accused, would they have committed a crime. That's the one that was ultimately accepted in David's first trial. I think that's why he got a six-six split, which is insane. An entrapment defense is notoriously difficult to prove. He was lucky he had that definition in his case. But then he says that his win was based on his lie.
Audience: Has David seen the film? What's his state right now?
Galloway: David just saw it about a month ago, first by himself and then with 20 of his closest friends in prison. They really responded to the phone calls and being cut off at that moment where you're trying to convey that critical piece of information to your loved one. Apparently there were shouts and screams in the room when that happened. That was one of my happiest moments, hearing that all of the people watching it feeling like their experience was reflected in the film. He loves the film, thankfully. The e-mail he wrote us, it's beautiful and we're going to ask his permission to post it at some point. But we have it tacked over our edit bay back at the lab, because that's the review you care about more than any other.
Related Film