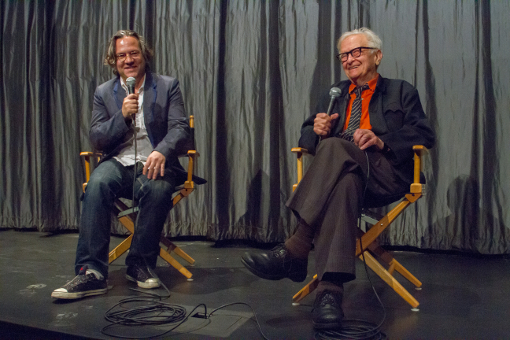 In choosing a focal point for their seminal direct cinema film SALESMAN, directors the Maysles Brothers and Charlotte Zwerin could not have picked a more compelling protagonist than Bible salesman Paul "The Badger" Brennan. A textbook example of a tragic hero, Brennan's fatal flaw is that he's a salesman who lacks the ability to close a sale. Over the course of the film, The Badger's hangdog look becomes his default mode of expression, the corners of his mouth perpetually pulling down the rest of his face as he slides deeper into depression. His failures eventually culminate in an emotional outburst directed toward a pair of prospective Bible buyers resistant to his hard-sell technique. The scene encapsulates the complexities of life that the Maysles Brothers so masterfully captured on film, reading as equal parts tragedy and black comedy. Following the screening, friend of Stranger Than Fiction Hugo Perez spoke with director Albert Maysles. Click "Read more" below for the Q&A.
Stranger Than Fiction: I think you told me once that David Mamet saw SALESMAN, and then he had a kind of response to it. Am I misremembering this? I think you said something like, he said that SALESMAN was what he was trying to do with Glengarry Glen Ross, that it was the real deal.
Albert Maysles: I don't remember that, but I do remember attending a panel discussion where Norman Mailer was one of the panelists. At the reception that followed it, I introduced myself, and he told me that SALESMAN told more about America than any other film. We got a lot of compliments. For me, a documentary, and this one especially, allows the subjects, filmmakers and the viewers to become friends with one another. As a kid in the 30s there was a lot of Irish anti-Semitism in Dorchester, where I was brought up. Hardly a day would go by where an Irish kid didn't come up to me and say, I'll meet you outside, because there was a fight. I never really got to know an Irish kid or person, because of that problem. My brother was five years younger. I remember when he was about six years old he came home and said, I can't play with Jamie anymore because his mother told him that I'm a Jew boy. No matter what the film is, no matter what the documentary, there's an opportunity for friendship. This film offered my brother and myself the first great opportunity to become lifelong friends with all those guys, every single one of them. Just the other day I got a call, after all these years, from the Rabbit. He said, I'm just calling to see what's going on, and keep up to date. I found out that the Bull has been driving a cab in Boston. The Rabbit has gone into real estate. In fact, several years ago he called me up and said, I'm in New York and just sold a building for $4 million, so I've got some time to be with you. I can't possibly imagine any other profession that I would be more fulfilled by than making a documentary and informing the world. People see the film, maybe 50 million people will see it, and as I say, they become friends with people they would never otherwise meet. It's quite a good opportunity to make peace rather than war. In fact, people I meet on trains, as I walk through each train in half a dozen countries, I'll find somebody on each train who has a story about to take place when they get off the train. I was going across America some years ago. The train picked up its passengers in Pittsburgh, and I noticed a woman in a café coach. She looked kind of nervous, something was going on, and I asked if I could do some filming. She said, sure. Within moments I learned that when she was three years old, there was an ugly divorce in her family and she lost contact with her mother. Here she is, 26 years old, 23 years have gone by without her mother being around. She had just gotten a call the night before from a woman in Philadelphia—I'm your mother, she says. Get on the next train to Philadelphia, I'll be waiting for you at the train station. So I continued to film and we got off the train and got off at Philadelphia. There was nobody there, but just as she was about to walk up the stairs, this woman flung open her arms, ran down the stairs and they embraced. Her mother turned to me and said, isn't she gorgeous. Everything happens, you just got to be at the right place at the right time.
STF: Well, I think so few people have been at the right place at the right time as many times as you have, seemingly. Can I ask you, how did you and your brother decide to make this film? How did you get connected to the guys in the film?
Maysles: We had just finished a film on Truman Capote, and my brother had lunch with Capote's editor, Joe Fox at Random House. What we had learned from working with Truman is that he felt he had invited a new kind of novel, the nonfiction novel. And we thought, maybe we can make a non-fiction feature, something that hadn't been done at all in documentaries—a full documentary film that could be shown at theaters. At that luncheon, my brother proposed that idea and asked what subject might be a good one. Joe Fox said, what about door-to-door salesman? Partly because both me and my brother had done some door-to-door selling—after I graduated from college I spent some time selling encyclopedias. The two of us realized that when you knock on the door, who knows what's going to happen? But something is likely to happen. So we made the film.
STF: Is there anything that independent filmmakers can learn from door-to-door Bible salesmen in terms of their business. In terms of selling their films?
Maysles: I remember when I was a kid selling brushes, I went out on my first journey with my sales manager. And we went to the door, knocked on it and the woman came to the door. Already, he was shuffling his feet. He turned to me later on and said, did you notice how I was shuffling my feet? I said, yeah, what was that all about? Well, she couldn't say no because I was nodding my head and she got into it and started moving her body the same way.
STF: Is that a technique you've used as a filmmaker to get access? Is that how you got the Rolling Stones?
Maysles: Not exactly [laughs]. I got to the Stones in an interesting way. Haskell Wexler, the famous cameraman, called me from Hollywood, saying he'd just run into the Stones and that they were going to be at the Plaza Hotel the next day and we may want to look them up. Well, we didn't know who they were—we should've I supposed. But with Haskell's advice, we went to the hotel, knocked on their door, spent some time with them, discovered that they were going to perform the next night in Baltimore. So we went with them and could see that these guys were great. So we went with them and filmed a concert at Madison Square Garden, and then on to Altamont. Each one of these things happens in its own way, and I've been blessed with a lot of luck. I got a call one day in '64 from Granada television in England. They said, The Beatles are arriving in two hours, would you like to make a film of them. I put my hand over the phone, turned to my brother, and said, who's The Beatles? Are they any good? Fortunately, he knew. We both got on the phone, made the deal and rushed down to the airport. We jumped into a limousine with them and ended up a week later with the film all shot. That's the way it goes.
STF: That's the way it goes for Albert Maysles [laughter].
Audience: I was shooting some footage up in Boston of the Occupy movement of people in masks. The people didn't want to appear on camera because they were afraid the police would arrest them, even if they weren't doing anything illegal. How do you get to be so intimate with people and get them to talk to you. Because I've had so much difficulty doing that.
Maysles: Well, I'll give you an example. Just like that, I decided, wouldn't it be interesting to go to Cuba. This is in 1960-61. I got to Havana, left the plane, jumped into a cab and asked the cab driver, where's Fidel? He happened to know that he was talking to a big group of women in an auditorium. So I said, take me there. I got there, and I got as close as I could to him. As I was carrying my camera up to my shoulder, he went to look in my direction as he was talking forcefully. We caught each other's eyes, and I could tell from the way he looked at me that he must have seen something in my eyes, that I could be trusted. And I knew it was okay to film. Within a day or two I was spending 24-hour days with him. Finally, several weeks later, I'm with him. He says, tonight, I'm going to the Chinese Embassy, there's a reception there. Would you like to come along? I said, oh yeah. There I am, standing shoulder to shoulder with him, and a messenger comes running in with a telegram, he tears it open and reads it. Then he turns to me and says, shall I translate it for you? Please do. The State Department has just broken off relations with Cuba. And there I was without a camera. But the idea is twofold. One is, there is something in your eyes, in your gaze, shall we say, were people pick up a kind of empathy that you follow through the whole process of filming and getting to know that person. Empathize. And there are several things that you can do that are so wonderful and almost unique to the documentary. You can film another experience, where that experience becomes that of a multitude of people. And the other thing—which we lack so much in our commercials, which dehumanize, I'm afraid—we can humanize. Those guys that you saw on the screen, they're human beings. They're not narrated, they're just themselves. I shouldn't say just themselves, because they represent, as Norman Mailer put it, so much of what is America. I'll tell you another funny story. I started my first film in 1955. I went to Russia and got into mental hospitals. My purpose was really to film ordinary people, and extend that experience to America so we maybe would think of Russia in a humanized fashion. Anyway, I decided I would try to meet a family. So I got into an apartment building. I was walking down the corridor and this young kid had a beret. I started talking to him in French, and he happened to know French. I thought, he's got a beret, he's got to be French [laughter]. So he invites me into his home, and we're chatting away. There's a knocking at the door and this guy comes in, kind of disheveled. He starts talking to the kid's mother. The kid turns to me and says, you're probably wondering who this guy is. And I said, yeah, what is he doing here? He's a life insurance salesman. In a documentary, which is real life, you discover what the newspapers and fiction filmmakers don't discover, because it's all simplified. It's a complex thing that you're getting out of the film, and the complexities are beyond the filmmaker, which is why I enjoyed seeing this film even once more. Each time I see it there's something else that I pick up on that I was incapable of catching the first time.
Audience: As far as the difficulties in getting the subjects to do the film, I would think that especially difficult, given the line of work that these guys are in. It's especially hard just to get your foot in the door. I would think that they might think that having a film crew along might scare people off from talking with them about possible sales. How difficult was it to get them and the company to agree to filming?
Maysles: I don't know, to this day, what exactly their feelings were at the time when they were approached. But I do know that once the film was made Kenny the manager said, I liked the film so much. Which surprised us because the guys aren't that successful. He said, when you think about it, it's three out of four that are successful [laughs]. Again, he was being a salesman. Looking at the brighter side of things.
Audience: It seemed from the credits that there was only one cameraman, is that true?
Maysles: I was the one cameraman.
Audience: Would you do it again with one camera?
STF: I think it's pretty remarkable that some of those scenes, they're so complete. And to be able to get the coverage that you need with one camera is pretty remarkable.
Maylses: We also had a great editor in Charlotte Zwerin. Those of you who have seen GREY GARDENS, that was also just one camera. My brother also supervised the editing, so we had complementary roles and worked very well together. I'll tell you one more story. Before I tell you, you've got to visit my theater, which shows documentaries exclusively. It's at 343 Lenox Avenue in Harlem. So just this one story. When I think of SALESMAN, I have to think of this story. When we made the film, as I said, we wanted to show it at movie theaters. But none of the movie theaters were showing documentaries at that time. So we though, okay, if we get some money together we could rent a theater. We had maybe 100 people in the theater, we showed the film. As people left, they complimented my brother and I. What I noticed was that after everyone had left, there was one person in the theater. And I saw that she had been crying. And as I got closer, I elbowed my brother and said, she's for me. Because she was so attractive. That's how I met my wife.
Related Film