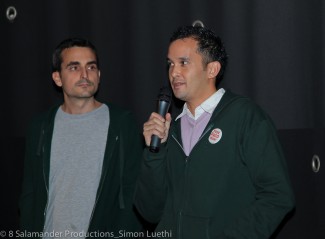 Stranger Than Fiction: Marty, you came to this story because Paco is an extended family member. Can you describe that connection?

Marty Syjuco: My brother Jamie, who appears in the film, he's married to Mimi, Paco's sister. So Paco's my brother's brother-in-law. I didn't know him very well when all of this was happening, he was about ten years younger than me. I met him at my brother's wedding in Cebu. When all of this started happening I was already living in Manila, and then I moved to New York. We all knew they got the wrong guy, and we thought the courts would figure it out, correct their mistake. It was really only when the Supreme Court elevated the sentence to death—I was here in New York, and I was shocked. I remember telling Michael about that, and it was Michael's idea to pick up the camera and start documenting the story.
STF: Michael, I know you've both just returned from Spain, where the film had it's Spanish premiere. And you've recorded a new ending to the film which we were hoping to show tonight, but because of technical difficulties we weren't able to do that. But can you bring us up to date on where the story is and what the screening was like in Spain?
Michael Collins: This ends with the Spanish prison really treating Paco pretty poorly. After we premiered six months ago, we had people from the Spanish embassy, luckily, that came to the New York screenings, and down in Washington, D.C. Paco said that things started to change, they started to treat him much better. They were basically treating him like he was a terrorist. They were trying to break him, and get him to admit his guilt for over a year, which was really strange. Now they're treating him like someone they're eventually going to put out on parole. They're giving him more privileges than he's ever had before, and it seems like they're preparing him for the outside. But it's a process that could take years. He's more hopeful than he's ever been. We went to spend some time with him when we were there, and his sister came, and we shot some more.
STF: And you were able to show him the film.
Collins: We were able to show him the film, which was kind of intense—watching him watch the film. Also, we were afraid it would be kind of traumatic. He hadn't seen a lot of the stuff, he was in prison and was watching all of the media coverage. We had 50 hours worth of media that we harvested from. But he said he felt so empowered afterwards, he said that night he slept better than he's ever slept. He has a lot of patience, he knows it will take a long time for him to get out. But he was in a country where everyone thought that he was a monster, and now to get sort of out there in the world, he feels sort of vindicated.
STF: What are the prospects of showing this in the Philippines?
Syjuco: Well, I'm Filipino and the end goal is to bring it to the Philippines, where it can have the most impact, not just for Paco, but the 40% that are languishing in prison that weren't given a fair trial. That's the percentage they say are in the prisons who could be wrongfully convicted, just like Paco. There are literally thousands of Pacos out there, not just in the Philippines. That's where I do want to bring it. After Spain, that's our next goal, hopefully sometime next year. It's going to be a little challenging because there isn't really an audience for documentaries there, but maybe the Filipinos in the room can help us spread the word.
Audience: How did you get access to Mrs. Chiong, and how did you frame the project to her?

Collins: We were in touch with her from the beginning, and she would not talk to us for a long time. Finally, she said she wanted to air her side, and counter all of the lies that the Larrañagas are telling you. And that's how she eventually let us through the door. She had three interviews with us over the six years we were in production, and I actually shot one of them. When you bring the camera to her, she doesn't have a filter, she just kind of shows off a little bit. It was really strange. She knew that we were spending all of this time with the family, telling their story. She'd just never been challenged by the media before, and she couldn't stop herself. We have so much more footage of her, kind of off-the-wall stuff. But we were very careful. She's the first victim in this thing, her daughters went missing, and I think the challenge, aside from getting access to her, was also how to handle her as a character. Starting this project, and being so angry at her and hearing all the lies that she was telling people that were going to cost these seven guys their lives, I had to figure out a way to transform that to compassion a little bit. And treat her like the grieving mother that she is who just made some bad decisions.

Audience: How do you maintain objectivity as a filmmaker?

Collins: As far as our roles as filmmakers and participants, that's a tough line to blur. Marty's a member of the family, it was important to put it into the film. It becomes your life, I'm not going to lie. I love this family, Paco is like my family. You have to deal with that. But when you're in the editing room, you have to make choices that are fair to everyone who's involved. We took two years to edit this, and it was so complex. We brought in a really experienced editor to help us at the end, Eric Metzgar. It was important to have other people on our team who weren't so closely connected help us sort through that.
STF: Given that it's such an interconnected world now and the film has been in the news, have their been responses in the Philippines, word that may have traveled there?
Syjuco: So much time has passed since Paco's story was the "trial of the century," and people are now starting to allow themselves to think that perhaps there's another side to this story. We thought there was going to be a little more backlash in the Philippines, but I think it's because it hasn't screened there yet. It's on the internet, but we've been very careful about posting things online. We don't give out DVDs, they are not yet available for sale, but they will be soon!
Audience: Where, if anywhere, did DNA evidence factor into forensics in the case?

Collins: They didn't collect any. We interviewed the medical experts, the forensic pathologist, the medical examiner, we've seen all of the records. There's a lot of detail that we couldn't put in the film, but the prosecution basically blocked the dental records from being presented. They said that they found half of one sperm, maybe, but that they found it with a blacklight. So it's not even conclusive. Honestly, it's a joke. Paco's family really wanted to do DNA testing, and they said, we'll pay for it, exhume the body. So they're hiding something. There's no evidence that she was even raped.
Audience: Is Paco's story dead in the Philippines?
Collins: A Philippine story just came out yesterday about Paco, but it was their international reporter based in London. In the Philippines it's old news, it's 14 years ago. People remember it, there were some journalists who wrote about it for Philippine newspapers who came to the Tribeca Film Festival. It seems like people are ready to look at it a second time, to look at it from a new angle. A generation has almost passed, so people are open.
Syjuco: Now with online bloggers, the news and the media it's a different world now. That's why, hopefully with the film as well, Paco can have a second chance in life. He was 19 when he was arrested, and he's turning 34 this year, so it's almost 15 years.
Collins: We just launched a website, www.freepaconow.com. It's being translated into Spanish, but it's also in English. You can go there and sign a petition and send letters to officials. He is now, hopefully, on the path to parole. Like we said, it could take years and every single day that he's there is one too many. We have a facebook page and are on twitter as well.
[Q&A has been edited for length and clarity]
Related Film