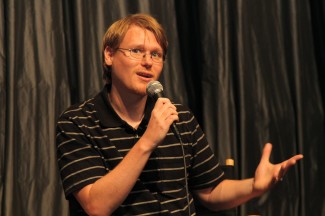 Stranger Than Fiction: So much of telling this history is dependent upon images. You really cracked into a treasure trove of archival material. Can you talk about that search?
Chad Freidrichs: We had a lot of participation from the Missouri History Museum in St. Louis. The film is about 80% archival footage in total, and about 50% of that came from various archives in St. Louis. But I also have a little system in my house where I transfer film, I have a telecine which is a device that transfers 16mm film to high-definition video. When I got this device, and I got it for a song on the internet, I was able to pursue other 16mm films that weren't necessarily in archives. For those of you who are DIYers and archival filmmakers, I would highly recommend eBay. Thousands and thousands of 16mm films are available for about $10 apiece, and then you can incorporate them into your film and tell your story. With the help of fair use and public domain, which are two legal concepts that have been expanded very recently in the archival field, I see all sorts of things being done in archival filmmaking that just weren't possible a few years ago.
STF: We were talking about some of the experiences you've had sharing the film with people that are in the film. Can you elaborate on that?
Freidrichs: It's such a great thing for people who experienced that interview with us to come to the screening afterwards. When you're interviewing somebody about something that meant a lot to them, that was traumatic to them or whatever, when you see them go through that interview it's almost like an exposure of these thoughts that they've never been able to get out. To go to St. Louis and talk to people who lived in public housing, its a wonderful experience. It's something I never would have thought, before the experience of making this film, that I would have had this sort of connection with the residents, but it's something that you just develop. A few weeks ago at the Los Angeles Film Festival there were a couple people from Pruitt-Igoe, and they just came up to us afterward and said, thank you for making this. When you have a historical subject like this that is so iconic, the meaning of it tends to get flattened often. People forget that the people who lived there often lived very normal lives. It's often discussed as something with deviant residents, or that all the residents there were criminals. That's something that I think a lot of the people who lived there responded to—we just showed normality. When you have a population that big, you have people living normal lives, and that's often forgotten.
Audience: At the end of the film it's mentioned that developers have bought up land around [the Pruitt-Igoe site]. I fail to see any development around that area.
Freidrichs: If you actually drive around the Pruitt-Igoe site, it looks like a wasteland. But there are a lot of areas around there that have low-income housing constructed over the past 15, 20 years. Granted, as soon as you push out very far from the site, you start to see that there's not any development there. But around that core, there is some development. One thing I like to point out, and this is really important to understand the Pruitt-Igoe story and where St. Louis is headed today, is that there were 850,000 people in St. Louis in 1950. The population today is 320,000. You have so many vacant properties, especially on the north side around Pruitt-Igoe, it's really tough to overcome.
Audience: My mother moved into Pruitt-Igoe in 1954, and my sister and I were born there in 1961. Her objective when she moved in was to better herself, because she had 10 children to raise. It was used as a tool to better herself. But in '64 it became the wrong type of place, so she moved five blocks away until they closed it. But she continued to raise her kids in the city because she understood the value of the city. We all became well-educated because she used it as a stepping stone, not as a crutch. So I want to thank you for being some positivity to Pruitt-Igoe. I wanted to ask you, is the government holding back on selling that property? Why is that lot still vacant?
Freidrichs: There have been various schemes to redevelop Pruitt-Igoe. It's been discussed as a golf course, as a fishing pond. Currently, it's almost like a nature park if you were to clean it up. The most compelling theory that I heard, which has since been debunked, is that the foundations of the old buildings were going to be terribly expensive to extricate. Part of it, I think, is that it's easier to work with smaller parcels of land than it is such a giant property. Part of the land they built a school on, that's something the government built. The rest of it, I think there's nobody who wants that big a piece of land on the north side. That would be my hunch, but I haven't talked to anybody from the Land Clearance Authority. The Housing Authority sold them the property about 10 years ago for $1 million. They have every interest in redeveloping it, I'm sure they would like to make their money back eventually. But I think they want to sell it as one piece as opposed to parceling it out, that's my suspicion.
Audience: The film had fantastic interviews. How did you run across these people, how did you find them?
Freidrichs: Various sources. Ruby Russell, the woman who talked about the rent strike, we actually saw news footage of her with a graphic with her name. So we tracked down every Ruby Russell in St. Louis, about three currently, and one was the proper Ruby Russell. We were very fortuitous to have an article written about the project early on, where we put a call out to people saying, would you like to participate, are you a former Pruitt-Igoe resident. There's a very famous documentary called Koyaanisqatsi that has clips of Pruitt-Igoe being imploded, and on the YouTube site they have that clip. One woman was commenting on that clip, saying how she remembered when she lived in Pruitt-Igoe they used to skate back and forth in the galleries, and they used to play these records, all these wonderful memories. When you're looking for residents, and you're looking for the positive, that kind of visceral relationship was really important. So I called her and said, would you be interested in being in our documentary? She said, no, but I have this sister who lives in St. Louis who used to be a police officer. That's how we got Valerie, that woman crying at the end. I feel very fortunate. Ultimately we interviewed nine former residents, we ended up using five. Sometimes you just get lucky. I think with this subject, I think that it means so much in so many different ways to so many people, it was very easy as us as filmmakers to tease out those stories, and to get people to relive those experiences in front of the camera.
Related Film