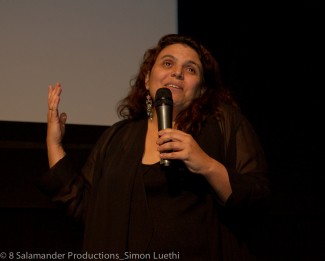 Judith Helfand [Co-founder, Chicken & Egg Pictures]: I met Gail at a film festival in 2002, and she was there with Daughter from Danang. Dan Gold and I were there with Blue Vinyl. It's always a funny thing to meet someone in competition and then they become your best friends. They won this top award and Dan won a cinematography award, and we sat together late into the evening and she was like, I'm really sorry, I love your movie. I told her, my mother said if we were going to lose to a movie, we should lose to yours, because she learned more about Vietnam from your movie than any other. You never know how a little film festival can turn into a lifetime, or at least twelve years. This tribute was made with incredible love and lots of friends sent all sorts of material they had, and snippets from their movies. We made it with the idea that it was for people who didn't know her, who would have loved her had they had the chance to get to know her.
What's unique about Barber from Birmingham is that she partnered with a still photographer, Robin Fryday. The idea for this movie really was an inspiration of Robin's. It was the year before the election for President Obama. Robin said one day, I'm really excited for this election, but can you imagine? There must be foot soldiers that fought for the right to vote who laid their lives on the line, and they might still be around. Can you imagine going through all of that and then living long enough to vote for an African American president. She just thought that was extraordinary. So she went to Birmingham and spent a couple of weeks there. And everyone kept saying, have you been to the barbershop, have you met the barber of Birmingham. And she finally did. She thought she'd just go and say hi for the morning, and six hours later she came out. The only problem was that she'd never made a movie. She came back to the Bay area and was talking to her hairdresser. She said, I found this extraordinary man and story and I need a filmmaker who really knows how to make a movie who could take this vision that I have and make this happen. And it just so happened, Gail had been to the hairdresser the day before and had been investigating this story, To Kill a Mockingbird and was really trying to make this movie about the person who wrote it. It looked like she had all of this extraordinary access and it kind of fell through, and she really wanted to make a film exploring civil rights. She knew it was going to be her last movie, and she wanted to dedicated her last breaths of work into something around those issues. So Gail and Robin met and this movie came out of that. I got to spend some time right before Gail passed away. We had a conversation and she and Robin thought it was going to be a feature, they were finalists for ITVS feature funding. I said, not everything gets to be a feature, you kind of have everything about Mr. Armstrong that you need. What if we made it a short, what if we preserved all of your edits? And that's what we decided to do. We had a production meeting on her hospice bed a few days before she passed away. We went through the movie and talked about archival footage and the music. We asked her about the archival footage and she got this funny look on her face and said, it's all footage from Eyes on the Prize VHS tapes, I don't know where any of its from. Then I asked her about the music and she said, I know where that's from, and you need to use every single bit of it. She said, I have this history of using really expensive temp music, don't change any of it. And so we didn't. It cut like butter and Gail was with us all the way through, and it got into Sundance. For three months after her death we got to spend this extraordinary time with her. I hope I get to go like that, talking about a movie that you love more than anything else in the world, and getting to talk about your work, and being able to pass on something that you really care about and not worry.
Sunshine Ludder [Associate Producer, Daughter from Danang]: Gail was so good in life and in her work in bringing compassion to people and where they were coming from. The making of Daughter from Danang was interesting on so many levels and I feel that it was reflective of who Gail was as a person and a filmmaker on so many levels. Gail never gave up on this film, and we all kind of helped each other. At one point it took, I think, four rounds to get funding from ITVS and other sources to get any money for the film. What I came to learn about Gail was that her whole life was an artistic practice. She had a real capability to connect with people in interviews, both in this film and in other projects, and their stories. It was phenomenal, and I think one of her greatest gifts. I'll also just say that Gail inspired me a lot as a filmmaker, as a woman, trying to be creative in this world, and have a voice and share other voices. We've heard from countless adoptees from Vietnam and other parts of the world just how much this film spoke to them, and spoke to part of their experience that so often goes unspoken. Also, to people who have given up children in war circumstances, or had their children taken from them. Gail's personal experience as an activist against the Vietnam War really brought her into the film, because she knew [Tran Tuong] Nhu, who you saw in the film, through her activism, which is how this film even happened. One of the things that meant a lot to me in making this film was how much this film really speaks to the long-term consequences of war. To the losses of families and children and mothers, and how so much of that is irreparable damage. This film really brought that to life, which is so often forgot in the counting of immediate casualties, in the counting of bombs.
[Q&A has been edited for length and clarity]
Related Film