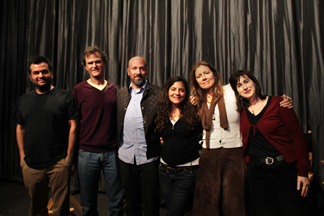 STF: David, you're listed in the credits as an assistant to the director and I think you have a story about the making of this film and Karen's role in it.
David Schisgall: I was not involved in the editing of this film, but I was involved in the development and production. Karen came on as an intern while I was still Errol [Morris]'s assistant, and one of the things that happened toward the end of production was that Errol, who is a great genius and a man that I adore, proceeded to fire everybody else in the office around, with the exception of the intern, who was Karen. And everyone was kind of gone, except for one of the young people, who was Karen, who eventually came on to cut the film.
STF: That's how you get a break, be the last person standing. I would love for each of you to tell a story about your experience working with Karen as an editor and what made her stand out as an editor.
Brad Fuller: I remember getting a copy of this [Fast Cheap & Out of Control], they had been working on it for a year and a half, and when Karen said that it was fast cut, she was absolutely right. I remember telling Errol that it was the fastest cut, slowest paced movie that I'd ever seen, which he keeps repeating back to me years later. I went up to work on it for about three months. Karen had started working in the office at the same time as Shondra [Merrill], who was editing on the film and had been working on it for a year and a half. She was burning out, as does anybody who works for Errol for any length of time. The problem was Karen really wanted to edit, but she was a contemporary of Shondra's, and Shondra was not comfortable with her as an assistant editor, and so she was just sort of sitting there, doing research and wanting to edit. I came in and worked on it for three months, along with Shondra, and made Karen my assistant and told her what I could. I left after three months—having worked for Errol before on many films, after three months it's time for me to leave. Then Shondra burned out, left, and Karen took over. It helps to be young with Errol, because you'll stick it out.
STF: I wanted to point out that Karen was in her late 20s at that time.
Fuller: By the way, the actual lion tamer act that you see, that was actually filmed for The Thin Blue Line. It was done back in '84 or something like that. It was shot by Barry Sonnenfeld, who went on to direct Men in Black. The Thin Blue Line was originally going to be about Dr. [James] Grigson, who was called Dr. Death and testified in death penalty cases in Texas. So [wild animal tamer] Dave Hoover was going to be the counterpoint because Grigson was the person who was always saying that these people are beasts. And Dave Hoover was always saying these beasts are just like people—he was the opposite.
STF: Nina, Karen helped you out on your second film Always A Bridesmaid. Can you talk about what she brought to working with you?
Nina Davenport: I actually had seen [Fast Cheap and Out of Control] in the theater in Cambridge and thought it was an editing masterpiece. I didn't know Karen then but I was just completely blown away by it. And then she had worked with Martha Swetzoff on a personal film called Theme Murder, and I knew that my film was very personal and it was hard for me to trust anyone who hadn't edited a personal film, but I knew that that was another film that was long in the making and Karen came and kind of saved it and made it happen and made it beautiful. I hired her as a consultant—she was working then on Well-Founded Fear, an amazing immigration documentary. She would come up for a weekend or long weekend or sometimes a week, and we would just work all the time. I was amazed by how I would need to look at something 10, 20 times before I knew what it meant or what was the essence of it or what were the best moments in it. She would look at something once and be able to zero in on what about it worked. And she also just has an amazing sense of humor, but it comes out in the editing, I think it's all over this film. There was one cut in this that I noticed, the scene where the robot specialized talks about how he was surprised that the robot works, and he says it three times. The obvious editing choice would be, we don't need him to say it three times, we got the message, we could have him say it once, maybe twice. But instead it's three times, and it's magical and funny. Her editing choices—every single cut, the pacing—we saw Sergio recently on HBO—every single cut was perfect. All I can do is really extol her virtues.
STF: Lucia, Karen edited your film, My Father the Genius, which is a personal documentary about your father. Can you talk about that experience?
Lucia Small: We had a lot of joking in the edit room about it. In fact, after three weeks of working on it I said, my next movie is My Editor the Genius, or I Was Fired By Errol Morris. Karen was an amazing friend, so many of us in this audience knew her, maybe even worked with her. What I thought she brought to the edit room was a deep sense of humanity. I had seen other films—I had seen Mr. Death and I had seen Theme Murder, and when she agreed to work on my film, it was one of those moments where it was a dream come true. I thought, oh little old me, she's been working with Errol. We worked in the most intense fashion, we worked for four months—two months on, nine months off, two months on, day and night. She just brought everything to the project. We would hear a song, she would go out, buy the song and bring it back the next day. What was so fascinating for me and such a gift was that she was such a true collaborator, and she had such a strong will, and such a strong sense. It was scary at times, I didn't feel confident in her presence. But she also made me feel confidence, she built my confidence. I look at this film and I just see an incredible collaboration amongst her, Errol, Bob Richardson, the other editors that worked on it, Caleb Sampson—his music, there's a story behind it. Karen knew Jane Gillooly who was married to a musician in the Alloy Orchestra, and Caleb was part of the Alloy Orchestra. She brought everything to all of the work that she did. The moment in the film when Dave Hoover says there's going to be no one like [circus impresario] Clyde [Beatty], I feel that way about Karen.
STF: Robin, you are part of the Karen Schmeer Fellowship, can you talk about what that is?
Robin Hessman: Last year, Karen's death was such a shock for everybody. We all came together and wanted to do something to keep the spirit of Karen going. She was an incredibly generous friend and an incredibly generous collaborator. She was also incredibly generous to people she barely knew, she would watch a lot of rough cuts, and would write notes. There have been so many stories filtering in over the past year of people whose lives she touched. Being an editor in documentary—they're kind of the underappreciated unsung heroes who create so much. They're often thrown hundreds and hundreds of hours of footage. And while there are some festivals that now have documentary editing awards they're still few and far between, and there isn't really anything out there like the screenwriting labs and the producing and directing opportunities. So a bunch of us came together and decided to create a fellowship that every year will give an emerging editor a menu of opportunities. We don't have a lot of money, and American Cinema Editors has been really helpful to let us go under the umbrella of their non-profit status so people could give us tax deductible donations. We've reached out to the community to people who have donated opportunities, like going to South by Southwest or going to the ACE Edit Labs in LA or New York. The Manhattan Edit Workshop has donated a class and IFF Boston is giving us a pass, and ACE is going to help us match this emerging editor with a mentor. The idea is to help someone along the way, both with the creative part if they're struggling with something they're working on, but also with this larger idea of being a freelancer out there in the world, and how to grow and be part of a community. This is the first year, we've had about 100 applications. It's been really an incredible opportunity to get these applications and hear about people's careers all over the country. In the next week and a half we'll announce the first fellow and hope that this is something that can continue for at least the next 10 years. It helps people know who Karen was and continue in her spirit of community and generosity.
[Q&A has been edited for length and clarity]
Related Film