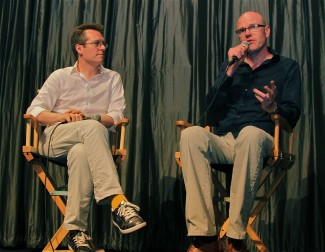 Stranger Than Fiction: So Anthony talk about what's happened since the film has come out and been shown in Aberdeen.
Anthony Baxter: What we've done so far is is really only shown it at festivals—Hot Docs, the Sheffield International Documentary Festival—the Edinburgh festival rejected the film, it's Scottish government funded. When we were making the film we got no funding from the creative agency in Scotland, Creative Scotland, we got no funding from the Scottish broadcasters. Essentially, all the people you see listed at the end of the film are people who contributed to it through the Crown funding, which was the only way we managed to get the film finished. Because it was rejected by the Edinburgh Film Festival we showed it in Aberdeen, and had a green carpet premiere and all the residents came out. It was quite an extraordinary night, I was quite worried to see how they would react to the film, and they reacted very positively. I'm very grateful to them for the time they gave me while making it, so that was a real high litmus test. The cinema then said, we'd really like to keep it running. We've notched up the fasted advance ticket sales since Harry Potter. So they kept it running over three weekends, and were just astounded that the people were in the cinema—a 280-seat cinema, and they were filling it out. They wanted to keep it going but we said let's just have a little breather until we get the Glasgow and Edinburgh premieres done. We just heard this week that Michael Moore has selected it for the Traverse City Film Festival, which will be the official U.S. premiere. And then hopefully another screening or two in the states. The Hamptons Film Festival are going to take it as well. It's exciting but I'm learning, because this is my first feature-length documentary film. I thought that once you'd made the thing it would get snapped up and that would be it. You're probably doing the circuit for the better part of a year. So that's where I'm at now, and coming here has been great, to preview it and put it in front of an American audience for the first time.
Audience: How did you get the Golf Channel footage?

Baxter: We didn't get permission to use the Golf Channel footage. We knew that if we asked them for it, they wouldn't give it to us, because Donald Trump has editorial control over the programs. We consulted our lawyers and decided to use it under Fair Use. However, we just got a letter from the Golf Channel before I got out here saying they were going to take legal action against us for using it. We've consulted with a very good Fair Use lawyer, but I think it's a very important piece of footage because in the context of watching the Golf Channel here in the U.S., if you watched that show, it wouldn't really mean much. Donald saying, oh, there's a house and I want to get rid of it. And you'd probably think it's a crappy old house and there's probably some guy who's moving out of there anyway. But in the context of the actual film, when you got to know David Milne, and you know that actually that's his property that he's talking about, I think it's important. That's why I thought it was entirely justifiable to use it. We've obviously had to pay out more money to hire a lawyer, but I think it's important to stand your ground on these things.
Audience: You spoke a little bit in the credits about not getting any interviews with the government officials. Obviously, people were in cahoots. Can you speak a little bit about your efforts to uncover that kind of stuff?
Baxter: I was amazed really. The reason I wanted to make the film is that I live 40 miles south of where this was happening. And all the local newspapers had been saying, this is a fantastic thing for Scotland, there are economic benefits and Donald Trump is an amazing tycoon from New York, he's going to deliver all these local jobs, it's going to be fantastic for the area. And I just didn't believe it. And also, because I had done a documentary for the BBC about man-made coastal erosion, I knew a little bit about sand dunes and nobody seemed to be talking about that side of the story. It seemed to me that the newspapers were certainly in some kind of cahoots. They had obviously taken an editorial line, which is fine, but the level of that editorial line was kind of shocking, I found. When I started to film up there, and I found things like the water supply being cut off to an 86-year-old woman, and the way the police were reacting to the local residents really shocked me. My Canadian colleague Richard Phinney, a producer on the film, we've done a lot of work in Afghanistan, Pakistan, hostile environment training, and there I am in Scotland dealing with this on my doorstep, it was quite extraordinary. I couldn't help feeling the residents had a point saying, when we make a complaint to the police, they don't do anything. But when Donald Trump's workers make a complaint, they come running. When we approached Creative Scotland, which is the agency for promoting film—I always thought when you were a Scottish filmmaker and you wanted to make a film of a Scottish story, they would be there to help and support you. But no, it seemed in this case they promised us 10,000 pounds development money. The day I was going to get the e-mail saying it was coming through, I instead got an e-mail saying, you're not getting it. When I spoke to the officer from this agency, she said, I'm livid, it's never happened before. I just kept having this feeling, there's nothing to dispel that feeling either. There just seemed to be something bizarre here. And the promises just didn't seem to hold up under scrutiny, these economic predictions. I never really got answers, but more questions in a way.
Audience: Did they charge you after your arrest?
Baxter: They charged me and my colleague Richard with this bizarre charge in Scotland called breach of the peace. Essentially, the guy who we were interviewing about the water being cut off, it was him who made the complaint to the police. The charge was that we had breached his peace. It's an extraordinary charge, it only exists in Scotland, it doesn't exist in England, for example. To give you an idea of how bizarre it is, if your neighbor is playing loud music every night of the week and you complain about your neighbor making that noise, you can be charged with a breach of the peace for making that complaint. It's a criminal offense, it could stop me from coming here. When I went to get the camera back—I was amazed to get it back with the footage in it six days after they'd detained it. They said, we've decided there is enough evidence to charge you with this offense. However, we're going to give you a written warning. And the written warning is the same one that Michael Forbes gets in the film about moving those marker poles. It says in this warning, there's enough evidence to charge you, but we're using our discretion. However, you're name will be on the adult criminal offenders register for two years. So I wasn't happy about that, so I challenged that. So when you challenge that you are challenging the police's authority, which they don't like at all. The prosecution authority in authority almost has to act. But the Crown office, which decides whether the case goes to court or not, looked at it and threw it out. But the police never told me that, a reporter called them up and found that out. I never had any official word from the police about it.
Audience: A couple of years ago there was a story about McDonald's opening up a franchise in a tiny little town in Scotland, and there was a family, the McDonald family, that had been there for 80, 90 years. And they put a lot of pressure on the family to change the name of their restaurant. It seems similar to your story.

Baxter: I went to see last night Battle for Brooklyn, again a very similar parallel to this story. There are these films and stories like the one you describe—you think there's a one-off. But it just seems that it resonates, everybody's got one of these situations, almost, in their backyard.
Audience: McDonald's then threatened not to open the restaurant and said there will be seven jobs not brought to this tiny town.
Baxter: So often the jobs are just miniscule numbers, which was the case here. When Donald Trump says we've got hundreds and hundreds of people planting grass it's just not true. I know for a fact the people planting the grass—they got local schoolchildren to do the first batch, and they were overseen by teachers. They did have a few workers, but you could count them on one hand. Mickey Foote, the Clash producer, said to me one day, I've got more loose change down the back of my sofa than Donald Trump is spending on this golf course.
Audience: Has the golf course been finished? They're not going to build it anymore, is that correct?
Baxter: They're still building the first 18-hole golf course, which is the one I followed them doing the start of. What they've decided to do is put on hold the hotel and the housing for the moment. But as the economist says in the film, just getting the planning permission is worth hundreds of thousands of pounds. Securing that planning permission means that Donald Trump can now sell that to another developer. It could just be littered with houses by another developer in 10 years time.
Audience: First of all, do you think that Trump has seen the film, did you send him a copy? Secondly, did you get any support from the BBC in London or News Night?
Baxter: The local Trump organization spokesperson went on television to say that I was a fraud and the film was a failure and I hadn't had the courtesy to give them a copy. My response to that was that nobody at that point had seen the film, so why should the Trump organization see it before the local residents. I said, you can come to the local cinema like everybody else. They were invited to come to the Aberdeen screening. Then Trump said, I've heard the film is boring but I could watch it on my airplane going back to New York. Again, we said, no, you can't get special treatment, come to the cinema. So we actually sent him an invitation to come tonight. Maybe there is somebody from the Trump organization here, but he was invited so that was that. News Night is a show that did a feature on the story, and the BBC in Scotland commissioned a film from a local production company. What we found all the time with broadcasters and the story, the first thing they would say is, have you got access to Donald Trump? I would say, no, I don't particularly want it because I think that that would change the shape of the film. I know that the company that did do the film for the BBC had done work for the Trump organization prior to making their film. I just don't think that sits well with me. I wanted to come from an independent point of view and to speak to him without getting wined and dined or whatever. I felt it was important to be completely neutral in this. So often, broadcasters these days will say, have you got access? It doesn't necessarily have to be the case. And what's next? I talked about this earlier, about how it was going to take me a long time to get this out there, so I'll be working on that. I am planning to do a film in Afghanistan next year about a children's hospital in Kabul, it's something I've been trying to make for about three years. Again, for this one we had no funding at all except for the Crown funding, so it was incredibly difficult. Speaking to other filmmakers we said we could maybe do one of those in our lifetime, but it's incredibly exhausting and difficult to keep going. I think the next one I make I want to try to get a little bit of funding beforehand.
Related Film