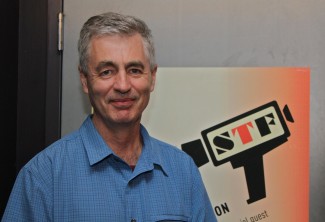 Steve James: The film, when it came out, elicited a strong response. We certainly got our share of positive responses, I'm heartened to say. But we also got some strong negative responses, and one of the strongest was from J. Hoberman at the Village Voice. I wouldn't say I've heard it all, but I've heard a lot, and thought a lot, and felt it all myself. I would love it if this weren't what happens too often at screenings, especially film festivals, where people are shy about expressing themselves or their reservations or outrage. I'll take positive remarks too, if there's any of that.
STF: One thing you told me about the edit of this film was that you had gone through a pass yourself, and thought you were kind of hard on yourself. And then you handed it over to another editor who said, no, you can be a lot harder on yourself.
James: [laughing] What was interesting with Bill Haugse, who was also one of the editors with me on Hoop Dreams, when I showed the cut to him at that point, it was three hours and 20 minutes or something—I didn't think it was done. I showed it to him and he said, I'd like to go back to the dailies. And I went, why would you want to go back to the dailies. And he goes, no, no, it's fine. But I want to see everything you left out. Two things stick out in my mind to this point. One was he felt like the narration, there were times when I was taking myself more to task for making the film in the film. And he said, that's great, but you're doing it so much that it seems like a backdoor attempt at sympathy, which I thought was a really insightful comment. My other favorite Bill Haugse story is when he saw the scene with the Aryan Brotherhood guys around the truck, my version of that scene had everything except me stumbling all around and being completely undone by that guy. It was the weirdest thing because when I got in the edit room to start to cut it, I had no recollection of how he had done that to me. So I ended up cutting the scene the way I remembered it, instead of what happened. So when he got ahold of it, and he showed me the scene, it was like, okay.
Audience: Wendy, what was she thinking when she let him stay with her child? Did you ever ask her that?

James: I did ask her that. What she said was, every time she had been around Stevie, she had seen this tender side of him, which you do see in the film. He had always been great at playing with her daughter, she felt in a very appropriate way. This is what she told me, I think there's some question here, but she said that she had never been clued in to some of the other stuff that he had been doing. It's true that until this crime happened Brenda had never really spoken to anyone about being sexually abused by him when they were children, I know that to be true from speaking to Brenda. Wendy didn't live right in Pomona. Her contact with Stevie was sporadic, so when this happened she claimed that she really didn't know, and then all of this stuff started to come out that she said she was unaware of.
Audience: I saw this film when it was first released and it really affected me, especially the two women Tanya and Patricia. Their wisdom was quite affecting. My question is, have you had reactions from the people in the film since it's been released?

James: I'm a strong believer in showing films before they're done to the subjects. And not right before they're done, as in, we're mixing this film next week, and I wanted you to see it before it's done. But when you can still do something if they tell you something you think is relevant and worthy of addressing. Wendy saw the film and she felt fine about the film. She wasn't sure she wanted her daughter to see it for a while. I've lost touch with Wendy so I don't know what her daughter's reaction to the film was. But at the time Wendy felt like the film treated them with some sensitivity in her situation and felt fine about it. So did Brenda. Stevie's mother kept telling me that she could only get about halfway through the film and then she would start crying and couldn't finish it. I talked to her several times, encouraging her to watch it all the way through, and she said she could never get through it. But it was interesting because I would get calls from her occasionally in the years since then, like when the man she was living with passed away she called me in tears over it. I'm not saying I was a close confidant of hers, but for whatever reason she felt like she wanted to talk to me, among other people, I'm sure. I kind of decided she had made it all the way through the film. People would ask me, why did she consent to be in this movie. And my two-bit psychological analysis of this is that on some level, I think this was her penance for what she had done as a mother when he was a child. That she felt in some way, a need to confess her own sins. Even though she doesn't really quite do it, I think by virtue of being in this film, it was that. With Stevie it was very complicated because he was in prison and we tried on several occasions to get the prison officials to let him watch the film, and they would not let him watch it. But he would receive correspondence from people who had seen the film, and he would correspond with them. And guards who had seen the film who would interact with him. When he finally got out, I wanted to go down and show it to him in person, but I didn't want to hold him up from seeing it. So I sent him the film and said, if you want to wait I will come down and watch it. But I won't make you wait if you want to see it. I kept expecting to have this profound discussion with him about the film, but we never really had it. He watched it and told me that it was okay, and that it wasn't Hoop Dreams. I said, no it isn't Hoop Dreams. And he said, I was kind of expecting something more like Hoop Dreams. I wasn't quite sure what he meant by that. And then I tried to talk more about it with him, and he said, somebody's at the door, I've got to go. And that was the last thing we talked about with the film. With Brenda it's interesting. She still lives in southern Illinois, Verna passed away a few years ago. I went down for the funeral, and Brenda at that time was telling me stories about people coming up to her over the film, and she was saying that it was virtually always a really positive experience. She told me this one story, she said one night she was walking across a parking lot in Murphysboro late at night, and this one big, tough tattooed long-haired guy came up to her. And she was fearful in the way he approached her. And he comes up to her and says, you're Brenda in that film, right? I just wanted to say that film really shook me up in a good way. And I just wanted to thank you for being a part of that. I know there are a lot of people who, the last thing they want to do is thank anybody for making this film. But I have found over the years, this film more than Hoop Dreams or any other film I've ever done, I receive these impassioned e-mails out of the blue from people who find me after watching this film. And it's usually people who've had this tremendous pain in their own lives, or a loved one that they have struggled with—sometimes its sex abuse or molestation. A lot of times it's just a difficult person that they've wrestled with and didn't know what to do with. And they felt compelled to write me about it.

Audience: Looking at the film now, what do you think happened among these people because the camera was in the room? What do you think would not have happened between them had you not been there?
James: It's a hard question for me to answer for them. It would be a better question, of course, to put to them. At one point I talked to Brenda about why she agreed to do this, and why she was so courageous. She said that she felt like there were other people like Stevie out there and other families like hers, and if this could in some way help somebody, that would be great. I do think documentaries, especially ones in which you spend significant time with people over time, they become a therapeutic enterprise. We as filmmakers get something from them, clearly. They give over their lives and trust us to tell their stories. I think what the film can give them is to look at their lives in a different way. To see a significance that they didn't see, simply because someone thought it was worthy of a story for a documentary. I think, at its best, documentaries should encourage people to have that kind of reflection. I know that for me, making this film was a complicated experience. That's why the people who criticize it and villify me for having made it, I understand that feeling, because I was doing that myself. So how can I begrudge them for feeling that way? I'm not saying this says something great about me at all, but had I not made this film, I don't know that I would have been in his life to the degree that I was. I think making the film gave me more of a reason to try and be involved, not just for the film's sake, but also, I'd like to think, for his sake. I'm not saying that I would have not been involved once I knew what was going on, but realistically I can't imagine I would have been there with the same degree of consistency and effort, because I live six hours away in Chicago, and I'm a busy person with my own family to raise. I don't know if it would have happened.

Audience: I was really bothered by the Huber Home parents. I felt like they had such a strong connection with him, and I was bothered that in their reunion, they could seem so loving and like they cared so much about him, but they had just abandoned him.

James: I think I did them a disservice if that's how you felt, and maybe that's how all of you felt, God I hope not. I understand why you felt that way, but I hope it's not a universal feeling. At the beginning of the film, Hal left to become a preacher. He had always wanted to be a pastor at a church, and he had gotten an opportunity to something that he loved and wanted to do with his life. And he couldn't do both, he couldn't be a pastor and a foster parent. That's number one. Number two, wasn't in there. I didn't put it in because I felt that they were uncomfortable with me putting it in. But they had young children of their own that were living with them in that home, and they worried about what could happen to them. Stevie was getting sexually abused in that home, they worried about their own children. The other thing is, that is a really hard thing to do. Anybody that even does that for a period of time, my hat's off to them, because that's such a hard job. I think the tragedy of it for me, is that they were Stevie's real chance at turning himself around, they were his best shot. And when they left, for reasons that I don't condemn them for, his last, best chance left with them. Being there that day, I felt like that scene is the film in microcosm. It really is his whole life, everything that went wrong, everything that could have possibly gone right, but didn't. People do move on. And I moved on, and I take myself to task, obviously, in the film. But I don't make myself fully responsible for what happened to him. There were a series of abandonments in his life. I was part of that, and they were in their own way, and his mother was, clearly. His real father, whoever he was, was in his own way.
STF: This film is like Project Nim with a human being.
James: That's a good observation.
Audience: The thing that really mixes me up about this film is, at what point do you continue investing in someone, and at what point do you walk away. I thought what your wife said was very moving, when she said, it's his behavior, it's not who he is. But at what point is somebody's behavior who they are. I think it was heartbreaking, because you see so many moments where you feel like he's coming back, or he'll show remorse, he's open to counseling. And then it's the same pattern over and over again. I guess my bigger question is, is there anything he could do that would make you walk away?

James: I'm not in his life the way I was. I did go visit him in prison, but not as much as I should have. I wrote him in prison, but not as much as a should have, I sent him plenty of money. I think everyone has their limits. Brenda volunteered, when he got out, to oversee the disbursement of this $4,000 from film festival winnings because I was trying to do it from Chicago, and I was constantly telling him no to certain expenses. So I said to Brenda, are you sure you want to do this, because for me this was the perfect solution. She's there and she's responsible. And she said, yeah, I'll do it. I want to do it and I'm the best person to do it. Stevie is extremely frustrating, and prison has not done him well. Some people go to prison, and it's not because prison can be a transformative, positive experience in the way it's set up. But it does, for some people, transform them in a positive way. Stevie, spent all of those years in segregation by himself virtually, He's so damaged that he can't seem to figure out a way to get on the right path. My wife, who works with sex offenders, —she's had tough nuts like this before. She doesn't think it would be impossible for him to change at all.
STF: You talk about people who come out of prison with positive experiences, some of those people populate your new film The Interrupters. Can you say a few words about that film. It's another in-depth study.

James: This film grapples with violence, focusing on the streets of Chicago. This organization in Chicago called Ceasefire has this interesting take on violence—looking it from a public health model, as if it mimics infectious disease. In part of the film, we follow what are called these three violence interrupters. They work for this unique part of Ceasefire that employs ex-gangbangers and drug dealers and convicts, and sometimes all three, who go out and mediate violent crises in the streets, in the neighborhoods they're from. They have their ear to the ground. The creator of the program said they have the ability to intercept whispers, and try to step into the situations before they turn violent, or to prevent retaliation. So we follow these three interrupters. They're all people who have literally turned their lives around in a profound way, they're quite inspirational people. This is a film that has plenty of bleak and tragic things in it. I hope that it's ultimately inspiring in many ways, because these are inspiring people and you see the work that they're doing, and they're effective in ways that I think will surprise you.
Related Film