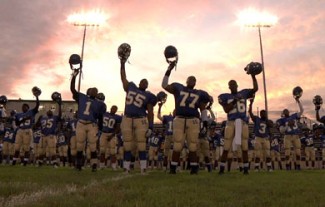 Stranger Than Fiction: Can you tell us how you got into this film, and what you thought the film was going to be at the beginning?
Dan Lindsay: Originally, the way we found the story was the article in the film about O.C. living with one of his coaches. One of our producers, Rich Middlemas, went to the University of Tennessee and is a massive football fan, to the point where he obsesses over Tennessee's recruiting, to the point where he looks at who the best players coming out of high school are. And this name, O.C. Brown started coming up, and he said, I don't know who that is. So he googled the name, and the article came up. Rich had always worked in the studio world, and being our friend he sent it to us and said, I think this could be an interesting documentary. We actually weren't as taken by it as Rich was, but there was something in the article that was at least interesting enough that we would contact O.C. In doing that, we heard about Bill, who we met via conference call, and even on that conference call we were like, this guy is incredible. So we went to Memphis to look at doing a film about O.C. and his senior year. While we were there Bill started telling us stories about years previous and the history of the team, and we just kind of decided to change focus. We didn't know what would happen, but the stakes seemed high enough that if we showed up and were there for everything, we could potentially have something interesting. I don't think we imagined that things would work out the way they did, and that the narratives would reveal themselves in that way.
T.J. Martin: With that said, not knowing what we would capture in our time there, we went into it with an approach in mind. Even if it was going to be O.C.'s story, we did want to take a verite approach. We wanted to capture a moment in time, a coming of age story. By the time we met Bill and he told us the history of the school and we met some of the other students, we kept that intimate approach, it just happened to get bigger and bigger the longer we stayed. And emotionally it got bigger and bigger. I don't think we expected to have an amazing shot of Bill and O.C. hugging and crying at the end of the game, which they lost by one point! That's like a Disney movie, how does that happen? But it did, and we were there.
Audience: How did the players feel after they had seen the film, and seen themselves portrayed in so many intimate, potentially embarrassing situations?
Lindsay: We premiered the film at South by Southwest, but we finished it about two days before we left. We couldnt' show anybody the film beforehand, so we got them into Austin early enough where we could show them the film. But just in case, we talked them through every beat of the film. I think we actually set them up for the worst. Only Money and Chavis could come to the premiere, O.C. wasn't allowed to come because he would be "endorsing" the film, according to NCAA regulations, which is ridiculous. He's endorsing his own life. But Chavis ended up missing his flight and shows up like an hour before the screening. Money shows up and watches it in the hotel room. The only thing he was upset about was, in the doctor's office, when he asks, is that my brain? He said, people are going to think I'm stupid. I was like, no it's an endearing moment, trust me. Chavis shows up and he's in the hotel room trying to change for the big premiere and he's all flustered. So I'm holding my computer and trying to show him all the scenes he's in, and I think we got through about two scenes and he goes, ah fuck it, I said it, it's cool. So we went to the premiere and he watched it for the first time with everyone. In the Q&A Money was the one who said, that was really emotional, I didn't even know you guys were even filming half of that stuff. We were able to go to Memphis and get O.C. to watch it. He said afterwards, you guys got it right.
Martin: I think that's unanimously been the response. Everybody who was profiled in the film has said you captured the experience accurately. That was an accurate portrayal of our lives, in that moment, specifically. We had a screening in Memphis recently, and that was really nerve-wracking. I didn't know what to say, I was so nervous. Everyone who opened up their homes for us was there. After the screening it was completely silent and we thought they didn't like the film, and everyone shuttled out to the mezzanine. There were no questions. And then people didn't leave, there were like 200 people that didn't leave for two to three hours because they were so enthralled by watching the film. One of the best compliments we got was from one of the kids on the team who said, I actually thought we were gonna win the game, but I was there! I was like, wow, you just made my day.
Audience: I was wondering if any of the students became interested in the process of documentary filmmaking?
Lindsay: When we went there and met the principal for the first time we said, we're moving here. We thought we'd have all of this free time and we offered to teach a class in video production. We talked about it, and then nothing happened. And then in November, maybe, a teacher we had never talked to came up and said he heard about our offer to make a movie with some of the students. He taught a history class, so for their senior project we ended up going to their class every Tuesday and Thursday, and we started Documentary 101. They made a five or seven minute video about the new curriculum that was being implemented in the school that we showed to all the teachers.
Martin: There was one student on the team who we keep in touch with to this day. He was really interested in filmmaking and photography, and we've always extended the invitation for him to come and visit us in L.A.
Audience: I'm curious about when you decided to follow which characters, and how the other students reacted to not being focused on in the film. Or was that clear to them as the season was going on?
Lindsay: We met Money on the first trip we took to Memphis in the spring. For us it was about finding the characters that had the potential for a dramatic arc, that had a goal in mind. And it was either going to be realized or not at the end of the school year. So for O.C., he was either going to qualify or he wasn't. The first time we met Money he was waiting for Bill at the weight room. Here's this kid, and everyone else is late, and he's just sitting there. As Bill was walking in he was saying some kid had gotten suspended, and Money overhears it and says, you'll never catch me suspended coach. I was like, who is that kid? We went over to his house and the first thing we ever shot with him were his turtles. Chavis showed up to the team, and he was obviously so dynamic, and his actions were affecting the team, so we knew he had to be a character. Then there was one or two other players that we kind of started following, but we kind of knew who the characters would be. We got lucky that Chavis and Money's storylines crossed.
Martin: We didn't know what would happen, but we knew our approach going in. We wanted to craft a more narrative structural film to the point where people forgot they were watching a documentary. Part of that is to find who could have the most dramatic arc in a short period of time, and that's when these characters started revealing themselves. The truth of the matter is that every kid had a very compelling story, but we wanted to make sure the storylines affected each other, and intersected each other. And that it wasn't like a series of vignettes in different worlds, that it was a cohesive narrative at the end of the day.
Lindsay: O.C. and Money were friends, and O.C. is getting all of the support and Money has no support, but they're still trying to achieve the same things. Chavis was important because of what he did to the team. I think we were halfway through production and we were like, we should probably start focusing on the people who score the touchdowns, because they're exciting on the field. We were just interested in characters.
Martin: We fought ourselves in not wanting to make a "football movie," but they were having a pretty amazing season, and then we were like, maybe we should follow the quarterback. We did follow two or three other characters. For example a defensive end, when we met him, he had just turned 18 and been kicked out of the foster system. He was really fortunate to be taken in by one of his coaches, and that was his 19th foster home in four years. So we followed that storyline from day one, but it did not fit in.
Lindsay: He didn't have an effect on the team, he was very separate from the team.
Martin: But there were a lot of stories like that.
Lindsay: We may have known that the rest of the characters weren't going to be as prominent, but we still spent a ton of time with them. It was important to us, we got very attached to all of these guys. We would interview them even knowing it wasn't going to be in the film, it was important for them to at least have the opportunity to tell us their story.
Martin: That's part of the reason we shot 500 hours of footage. Part of that is that we show up from L.A. and we say we want to commit to telling their story. And part of that is showing up every day, and showing up to talent shows that we knew weren't going to be in the film. But we wanted to commit to the team and to the community at large and be present.
STF: Talk to us about two scenes that are so emotional: when the coach is on the phone telling Money that he's going to get this scholarship, and then the scene at the end with the coach and O.C. They're so emotional to watch as a viewer, I want to know what it was like to be shooting and holding up your professional duties to film them.
Lindsay: I don't think we did. I was crying, and you can see the camera is out of focus. When Money found out about his scholarship, if you watch the film it goes out of focus because he starts walking away and I couldn't get my hand up to focus because I was crying. Finally, I had to put the camera down and collect myself, because we were so connected to these guys. I knew what that meant to him.
Martin: After a while practice got redundant, so we would swap out. I was actually at our apartment editing dailies and I got flood of texts—where are you? Get to the practice field! I was like, what is going on?
Lindsay: That was amazing because that's near the end. I was filming something else, and we would always mike up Bill because everything seemed to flow through him. We didn't have a sound guy, we had to be strategic about what we did. I heard Bill in my headphones say, that's amazing. And I thought, what's amazing? And turned my camera over to him, and all of that unfolded. The moment with O.C. and Bill—at games T.J. would film and roam around and I would always follow Bill. The end of the game comes and he hugs Money and starts walking over to O.C. and hugs him. And I don't hear anything, and I was like, his mike just went out at the climax of his movie. And I thought, I have a mike on my camera, I'll circle around and get what he's saying. As I'm circling around, I hear, hold on, I'm trying to tell you something. And I just kept circling around. In my head I was thinking, that was probably pretty cool, but it wasn't until the next day that I thought about it again. We were pretty depressed that night, we went out on a bit of a bender, and we woke up the next day and loaded the footage into the computer. At the end of the game I was going back with the players and Bill and I put the camera down and I looked at Bill and we just hugged each other. I don't think we were thinking about the film at that point, we were just so disappointed for these guys. They had worked so hard to make this happen, and we felt a part of that. It was a very emotional moment for us.
[Q&A has been edited for length and clarity]
Related Film