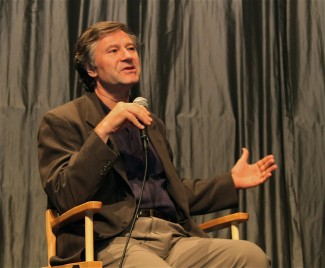 It would be interesting to learn what the subjects of 16 In Webster Groves, if asked today, think of the storytelling skills of Arthur Barron, the film's producer. Alone, the film is an interesting portrayal of a prototypical upper middle class, largely white American suburb of a certain time period. But in tandem with 16 In Webster Groves Revisited, Barron's project takes on a self-reflexiveness that is also an examination of the documentary process, particularly that sort practiced by network news film crews of the era. In the latter film, Barron examines the effect that observation has had on both the observed and the observer. The films shun the traditional "objective" model of journalism, as well as the strict observational direct cinema practices being pioneered by the Drew Associates production company around the same time. Seen as one unit, the films have more in common with the French cinema verite approach, in which the filmmaker is an actor (though not necessarily on-camera) whose presence and influence is made clear to the viewer. In 16 in Webster Groves Revisited, narrator/reporter Charles Kuralt pulls back the production curtain to show viewers still photos of the cameraman in action, a technique intended to draw attention to the filmmakers' manipulation of reality. Barron uses the setting of Webster Groves High School to implicitly criticize attitudes about class stratification, the perils of capitalism, political apathy, and racial segregation. For Barron, investigating the high school as an analogy for Webster Groves' wider society is something like pulling apart a matryoshka doll—piercing one layer yields another almost identical to its precursor, only smaller in scale. Following the screening, Stranger Than Fiction Artistic Director Thom Powers spoke with Ron Simon, a curator at the Paley Center for Media. Click "Read more" below for the Q&A.
[Photo: Ron Simon, courtesy of Simon Luethi]
Stranger Than Fiction: Ron, front and center is Charles Kuralt as the correspondent, but the philosophical force behind these films is Arthur Barron, the producer. You knew him years after this, when he was a professor at Columbia University. Can you tell us a little bit more about who Arthur Barron was and where this fits into his career.
Ron Simon: He saw documentary, especially in the mid-60s, as a different type of vocation from the veteran documentary filmmakers who made up CBS news—you heard at the very end that this was a production of CBS news. It was a corporate product, and Arthur Barron wanted to be an individual. He wanted to bring a new sensibility to the documentary. He saw himself as part novelist, a little bit of a poet, and was trying to make a statement in this film. He had previously produced a film on The Berkeley Rebels, which looked at the Berkeley free speech movement. And he ran into a lot of obstacles at CBS news. He just could not create a document and let parts of it speak. If you had one point of view by the students, you had to let the administration speak, and that was CBS news policy. Arthur wanted to make a film with a very strong point of view, and he had to figure out how to do it. The macguffin in this film is that sociological questionnaire. Arthur said, if we can get the students to give us statistics, then I pretty much can do anything, we don't have to have an opposing point of view. Arthur wanted to give his own viewpoint of what was happening in American society. So he used the questionnaire as a way to allow him to express himself.
STF: He has the scientific backing, then, that passes the muster of CBS news.
Simon: Yes, you can't argue with it, because you would not need another opposing point of view because you had the statistics. That's how Arthur conceived of this project. And he certainly came to Webster Groves, and admitted this, with preconceived notions, and for many documentary filmmakers that is not what you do. You experience the culture and then you try to recreate it in the editing room, especially with cinema verite. Arthur did not want to do that, he wanted to create this part novel, poem, a little bit statistics, talking heads—trying to give his viewpoint. For him it was very much a portrait of what was going on in American society, and he chose Webster Groves. He considered several different communities—he thought of Rye, New York, at one point. But he thought it was better to go to the heartland. And he also tried to make visual statements in this film. I don't know if you noticed, but in the very first scene when the parents are talking, there's car in the background. If you know about technology of the time it would be very hard for anyone to see that car. What Arthur did was flood the front yard with light so that car was present when he shot. It was his way of creating this little symbol of affluence, that you would always think of the parents and this car that dominates. One of the parents said, why are you putting up so much light. And Arthur said to them, well, I like your car. That's what Arthur did in this film, and it was manipulative and he was very honest about it. Many documentary filmmakers would question that, but Arthur wanted to make a statement with his film.
STF: Something that always stood out to me about 16 In Webster Groves Revisited is the father with glasses and the pipe who comes across in the first film as a very rigid, narrow thinker. And then when you see him in the second film, he has a much more nuanced view and you get a different interpretation of what he said in the original film. I wonder if you know more about the circumstances of the making of the second film. I thought the second film came because there were so many complaints about the first film, but clearly they were filming the night it aired, and so there was some intentionality about it.
Simon: If you look at the cover of "Documentary Explorations," you'll see a picture of Mick Jagger and Charlie Watts looking at Gimme Shelter. And that was a big scene, here are participants actually looking at the footage. It was sort of an interesting thing for a documentary film to do. [16 in Webster Groves] was done about four years before Gimme Shelter, and I think it was Arthur very self-consciously wanting to do this experiment. And he thought about that French film Chronicle of Summer. It was really to show what his subjects thought of his film, and he was really making a statement. He wanted to even make a further statement, I think it's part of Arthur trying to explore the impact of his film on his subjects. It did create a controversy, but most of the reviews that I read, especially from the New York press, looked down upon the Midwest. It was not as if any of this was happening in the Northeast, in New York City. It was really a Midwest sort of problem. But as we go along, it's really an interesting portrait of where we are now, and this whole hierarchy. Arthur obviously wanted to deal with the class system, and he dealt with it here. It was a rich picture of what American society was like in 1966 and how we developed.
STF: For all of the quirks of the time that it was made, it's still a strong, nonconformist point of view that's being put across on mainstream television. An equivalent today is hard to imagine.
Simon: Arthur was probably the only filmmaker of the time to have the police chief be the fount of wisdom. No one else did that in a 60s film. Arthur did that, and that was sort of his personality.
STF: Is there anyone in the audience who has experience with Webster Groves or knew anything about the making of this film.
Audience: I'm from St. Louis originally and know Webster Groves really well. It is a nice community. Today it's sort of a beacon of historical preservation of housing and nature. I came into it thinking I would see more of St. Louis in general. Webster Groves is not much different from many neighborhoods in the St. Louis regions, at least of a certain class and background. I'm surprised at the perspective which I think of as being a much more Catholic city. But it was really interesting to see the discussion on race and segregation. For a city that has such a large black population, it's extraordinarily segregated, and it's still a problem that they faced. But at the same time, it wasn't really that shocking.
Simon: There is a famous resident of Webster Groves, Jonathan Franzen, the novelist. And if you go on YouTube, you'll see his statement on the film. He was seven years old at the time. He's been questioned about this film many, many times. Like a lot of residents, he did not like the idea of an outsider, someone like Arthur Barron—Jewish from Brookline, Massachusetts—coming into his community and defining it. I think it was more the outsider bringing some truths to who you are, much like a novelist. And Jonathan sort of questioned that, but I think that's what you do as a novelist too.
STF: Jonathan Franzen mentions this film in his memoir "The Discomfort Zone." Can you talk about where Arthur Barron went with his career after this?
Simon: When he was teaching at Columbia University he looked very much like producers of the time. He had a very bear-like look, with a beard. He reminded me of a Craig Gilbert-type, at least as he was portrayed in Cinema Verite—
STF: Craig Gilbert, who produced An American Family and was played by James Gandolfini in the recent HBO show Cinema Verite.
Simon: Exactly. He had that look about him. But he wanted to have this novelist viewpoint, so he very much wanted to get into fictional film. Around that time at Columbia he had a film at the Cannes Film Festival called Jeremy, which looked at two teenagers from New York who are both very artistically inclined, and it starred Robby Benson. It was that sort of film that he wanted to make, but it didn't really have the resonance that his documentaries had, but he still strove to get into the fictional field. Somehow Jeremy began to define him, and instead of making films as part of the American New Wave, to be the Scorsese that he wanted to be, he was making more projects for juvenile television. He was doing after school specials, he was doing things for Mr. Rogers. I'm not quite sure how that turn in his career came about, because that's not what he wanted to do. For some time he dropped out. When I became curator at the Museum of Television and Radio I was looking for Arthur because there was this one Bob Dylan film that he had made. When he worked at Metromedia he had done a film about Dylan in the studio with Odetta. I wanted to find that film and show it, pair it with Don't Look Back or something. I had great trouble finding Arthur. I talked with several people he had worked with at CBS who said he had dropped out. He had a divorce, he had worked closely with his wife Evelyn and had disappeared, he was very hard to find. In the late 90s he turned up and he was head of the communications department at Emerson. I headed up there and saw him, and did not recognize him at all. He had somehow been ravaged by disease, he didn't have that big, bearish look. He was rather a small man, and he didn't really want to talk about this era at Columbia or his documentary films. He died about a year later and it's surprising that there was nothing in the Times. He was sort of forgotten, and there's very little about him now. But, as I mentioned, in the late 60s, early 70s, he was prominent in many of the books, many of the magazines.
STF: He made a notable film about Johnny Cash [Johnny Cash – The Man, His World, His Music].

Simon: He did, he produced that film. And that film was just remastered a few years ago, I guess Robert Elfstrom was the director of it. A real interesting portrait of Cash as part of his time. So he did that film at Metromedia when he did the Dylan film.
STF: At the Paley Center for Media, you can go in and watch any of these films for the price of your admission.
Simon: Exactly, they're a part of our collection. We have 150,000 programs. We really have a really good documentary collection, especially of the network news in the 60s and 70s, there are a lot of interesting things that were done. A lot of experiments. There were hundreds of hours of documentaries on network television in the 60s, and that sort of changed as economics changed. I very much recommend two documentary portraits that Barron did after this, when he was at PBS. He sort of went back to the black and white verite days. This film Factory is very interesting because he looks at the different layers of management and workers at this ring manufacturer. It really gave a full-bodied portrait of what it was like to work at a New York company. Unlike Salesman, by the Maysles Brothers, which just looks at these four traveling bible salesman, you really get a look at this whole corporation. I think that's what Arthur was after, he wanted to give a full portrait. He did one other documentary called Birth and Death, that's exactly what it was. You experienced the first part of the documentary about a couple giving birth to their first child, and the second half watching a man slowly die of cancer. A real interesting juxtaposition, but that was Arthur. He wanted to try to give a full picture if he could.

STF: One other footnote I wanted to add, if you were watching the credits of 16 In Webster Groves Revisited you might have seen the associate producer on that is Peter Davis who went on to make Hearts and Minds, the Academy Award-winning film about Vietnam. Peter at that time was working within the CBS news documentary crew and made many distinguished programs there including The Selling of the Pentagon, which we've shown here before. But Peter has said to me how much working on this film and working with Arthur helped influence him in his career.

Simon: And if you read the literature of the time, Fred Friendly, who was president of CBS news at the time, really talked about Arthur Barron as someone with a vision of how to change documentary. And I think his career took a change, he was reflecting on what to do at Columbia, then he sort of tried feature films, and it just didn't work. It's sort of sad that he just didn't stay with the form, because I think he worked much better in documentary than he did in any other form.
Related Film