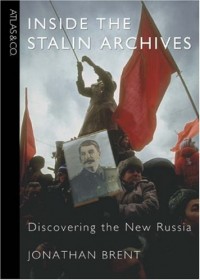 Thom Powers: As a film person, one of the anecdotes that intrigued me was that you found the files of correspondence between Upton Sinclair related to the Eisenstein film. Was there any other example of Stalin's interest in film or connections to film that stood out?
Jonathan Brent: He was always interested in film. He was particularly interested in American Westerns and American films of all sorts. He would call the members of the Politburo together very late at night to come to the Kremlin and watch a film with him, usually an American one. Khrushchev writes about this in his memoirs. In the archives themselves, there is a variety of material about film and Stalin's interest in seeing film used to project Soviet ideology, Soviet power, and all of these things. He clearly understood the power of film. Clearly he recognized that this was the great mass medium and wished to exploit it as much as possible. So he reviewed all films.
Powers: Were the films that he was watching with the Politburo allowed to be seen by the general public?
Brent: (laughs) For the most part, no.
Powers: What was his source for these prints?
Brent: Well, if they could steal atomic bomb secrets, they could get American films a lot easier. (laughs) They had people working in Europe, they had people in America – there were various trading links with the West, even in the 1930s, whereby these materials could enter the Soviet Union. But for the most part, these films and materials like them were restricted to the nomenclatura – the elite of the Soviet system.
Powers: As you concentrate primarily on written documents in your work, do you stay in touch with archivists who are plowing through the film records? What is the state of film archives?
Brent: I know there is a huge film archive. I don't spend that much time dealing with that since my main interest is the politic history of the Soviet Union. But what became extremely apparent to me, and to anybody who studied this, is that that there's almost no differentiation between cultural policy and political policy. And this is a very important thing to understand. In the United States, it's pretty clear that matters of culture are dealt with by the left-brain, statecraft and the budget with the right-brain, and the two hardly ever meet. There is Lincoln Center on one hand and there is the Pentagon on the other. The differentiation was never as distinct in the Soviet Union because they understood the power of culture to shape the mentality of the people and it was precisely this mentality that they recognized as the guarantor of the security of their system. So they had to continuously nail that down.
Powers: Can you describe where your overall project on Communism is today and where it is going in the future?
Brent: Today we are digitizing the personal archive of Joseph Stalin. This is a huge project that will take 3 or 4 years and involves digitizing some 404,000 pieces of paper and putting them up on an electronic platform so that there can be worldwide access to these materials. We have the project underway right now in Moscow and here in the United State and expect to have the first fruits of this about a year from now.
In addition to this project that is going to yield incredible material about Stalin – how he thought, what he wanted, what his real ideas about Soviet ideology were and so forth – there are a number of other projects that are also continuing, including a very major one that I initiated 10 years ago called "The Children of the Gulag". It occurred to me that even after Solzhenitsyn's Gulag Archipelago and One Day In The Life of Ivan Denisovich and a variety of other memoirs and studies, no one really had dealt with the subject of what had happened with the children. What happened with the kids whose parents were both arrested and they had no relatives – who took care of them? And I discovered that the KGB had in fact orphanages for these kids and they were being drawn into the system in this fashion. In fact, the KGB thought these kids would become the shock troops of Soviet power for the future. Instead most of them became criminals or went into the army. Many of them simply disappeared. But a lot of them are people you meet on the street in Moscow today.
Powers: How many people are we talking about?
Brent: We're talking about millions of kids. Of course they also left behind drawings. And I'm trying very hard to get my hands on these drawings. But as of now, they are still classified as top secret, if you can imagine that.
Powers: But they're actually collected and saved… that in itself is extraordinary.
Brent: In these orphanages, kids drew just as they do… they were normal kids. Traumatized, but normal. These drawings, if we could get them, would give us tremendous insight into the psychology of that time because it would be unmediated expression of their feelings and their thoughts. It would be extremely important to see these materials. And I think the KGB recognizes the power of them, which is why, as I understand it, it is still considered top secret.
Powers: As you talk about that it makes me think about documentary work that I've seen done about children illustrations from Nazi concentration camps and makes me wonder that there's so much film documentary work done on that era and nowhere near as much on the Soviet system. Do you find filmmakers approaching you about this kind of work?
Brent: No. It's very very difficult to explain. I don't understand it. There should be a major film, and it should be called Gulag. This is the greatest catastrophe of the 20th century, and I do not wish to minimize the horror of the Holocaust, but this catastrophe of Soviet communism was responsible for the incarceration of at least 50 million people over time – of whom, a minimum of 20 million were sent to the Gulags. The numbers of children who died unrecorded, whose names are unknown, whose births were unknown, whose parents were unknown, and whose causes of death were unknown – that number will never be discovered. They were herded onto trains – and this is before Nazi Germany and Auschwitz – they were herded onto cattle cars in the 1930s, shipped from all regions of the Soviet Unions to Siberia where they were often simply left to die on the tundra. Nobody knows who they were, what they did, why they died. It is a tragedy of unbelievable proportions and nobody is interested in this. It is a disgrace, I feel, in Russia today that despite the opening up of the Archives and the "liberalization of Soviet society" and all of that, there is still no museum of the Gulag.
Powers: From the articles that I've read, it sounds like the archives are getting even harder to access under Vladimir Putin's regime. Is that your experience?
Brent: Well, that is a complicated matter. In a way the publishing of these materials does not contradict the interests of this regime. What they wish to do is not obstruct the publishing of these materials; they wish to centralize and control the publishing of these materials. And there are many reasons for this – and some of them quite legitimate. Just think about how our government protects the secrets of the FBI and national security going back 100 years. Not that there was an FBI 100 years ago, but nevertheless, state secrets. Try to get something on Martin Luther King out of the FBI. What you get is 500 pages, all of it redacted. So there is nothing abnormal about a state wishing to protect its secrets.
What is very strange about this is that in 1991 the Soviet Union was declared defunct. Yeltsin announced the disappearance of the Soviet State. They renamed it, they called it the Russian Federation. Government officials were thrown out of office. A new administration was elected and people thought it would be a break from the past. The protection of these secrets from the 30s, 40s, 50s, 60s and 70s by the present government is a clear signal that they wish to restore continuity with the Soviet past. Now, what the exact nature of that continuity is, we don't know exactly at this point, but obviously it has an authoritarian base. The behavior of Putin in many different areas, and Yeltsin before him by the way, is very authoritarian, not really structured as a liberal democracy and it's not entirely clear where that government is going. However, repudiating the Stalinist past is not antithetical to their present aim. And so in our project, we have almost unfettered access to the Stalin materials. As you get past Stalin into more recent history, it becomes more difficult.
Powers: You asked a provocative question in the book that you were alluding to earlier: why isn't the villainy of Stalin better appreciated and why doesn't it bring the shock of horror that other 20th centuries crimes do? I'm sure there is a unique answer for why that's true in Russia and I'm not quite sure if you answer it in the book…
Brent: No, I don't because I'm not sure there is one answer to it frankly.
Powers: But I wonder what your guesses are for why that's true in the US where his villainy ought to be as appreciated as anyone's villainy.
Brent: Well, it's complicated.
Powers: Is the academia full of Reds?
Brent: Perhaps to some extent, but I don't like to put it that way. There is a bias in academia that has grown up over several generations that it is the protector of liberal democracy over the authoritarian impulses of the Right in this country, as symbolized in Joe McCarthy. And it produced a very very odd consciousness, which was as follows: Joe McCarthy was bad; therefore as an upstanding American citizen, I have to oppose Joe McCarthy. Joe McCarthy hated Stalin; therefore anybody who hates Stalin is somehow sympathetic to Joe McCarthy. And this is a very normal kind of thing. I don't want to call it guilt-by-association, but it's comparable to guilt-by-association. In other words, whoever attacks Communism is inevitably suspected by the Left-wing in this country of harboring Right-wing ambitions and sympathies, which will ultimately lead you back to Joe McCarthy. So, for instance, I am branded by a lot of people as a Right-wing reactionary Joe McCarthyite – which I'm not. I've never been that.
Powers: That's what you get for writing for The New Criterion.
Brent: Yeah, well what did I write for The New Criterion? (laughs) That's the funny thing about the Right in this country that in some places, like in The New Criterion, they're actually open to things. No Left-wing magazine would publish the things I write because it was exposing Russia and exposing Soviet crimes. Certainly not The Nation, but I've also written for The New Republic and The New York Times and elsewhere and they were interested in what I was doing.
Powers: I understand the generation of academics that came up in McCarthy's time and came up with a memory of it, but I wonder if those generations will give way to a new understanding. I think anecdotally of a book like Martin Amis' Koba the Dread which when it came out, there were a certain number of reviewers saying "doesn't everyone already know this"?
Brent: Right. Well, think of how long it took for Susan Sontag to repudiate Stalin. She didn't do that till the late 60s or early 70s. No, no, no. Up until Morton Sobell confessed publicly that he had been an accomplice with Julius Rosenberg, The Nation and Victor Navasky – who I love, who is a wonderful man – was still unwilling to give up the belief that Julius was innocent. There are those kinds of deeply held beliefs. Think of all the controversy that has sprung up even over this last 12 month period about the guilt or innocence of Alger Hiss. It was all over the news when a couple of academics decided Hiss could not have been where the VENONA documents said he was at certain points of time and therefore Hiss could not have been the spy that the Right-wing in this country makes him out to be. And this kind of translates quietly through individuals like Richard Nixon, and is passed on to the Right in this country today. It gets transmogrified into questions of Civil Rights, Civil Liberties, Gay Rights, Women's Rights… and I think although it's true that the image of Stalin is far less vivid and vital in the minds of most young people today, there is still a sensibility that somehow attaches to feelings of sympathy for Socialism. And if you have feelings for sympathy for Socialism, well then maybe the Soviet Union wasn't all that bad. So what are you doing digging up all this dirt? I can't tell you how many people came to me when we first published The Secret World of American Communism. And they said to me – here at Yale – why don't you just let sleeping dogs lie? Why are you interested in stirring all this stuff up again?
Powers: I appreciate your time and your point of view. My own political trajectory is on the Left, but my wife and her family are Latvian Jews who lived through several layers of that before they came over here in the 70s and I think that on the Left, there is a certain disregard for that history or a failure to come to terms with it.
Brent: I think that's a good way of putting it. It's a failure to come to terms with it. Even though Anne Applebaum's book on the Gulag was successful and a couple of others have been fairly successful, there is no real attempt to grapple with that history and to understand America's engagement with it, and that's the thing that's disappointing to me.
Related Film