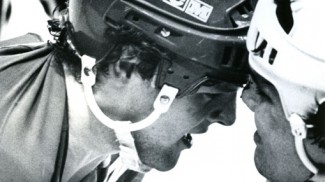 Audience: I was wondering if you spoke to the NHL about what they're doing for substance abuse. There were a few players who passed away this summer. Do they have a solid program in place?
Alex Gibney: The NHL does have a substance abuse program. That guy Dan Cronin, whose face the NHL asked us to blur out, does reach out to people. I think they're also thinking about what to do in light of some of these recent deaths.
Stranger Than Fiction: Maybe for some of the non-hockey fans you could contextualize why this film is so relevant right now.
Gibney: Right. For people who haven't been following hockey, there's that card at the end that says three enforcers have died in the last five months, maybe. A guy named Derek Boogard from the Rangers, Rick Rypien and also a guy named Wade Belak most recently, not too long before the Toronto Film Festival. So there's lots of concerns related to all kinds of things. Not only the role of the enforcer, but in the case of Bob Probert, who died last year, they found plaque buildup in his brain which indicates damage from a concussion. Chris Nilan would say, in his view, there were fewer concussions back in his day because he as an enforcer protected other folks. And it is true, a lot of the concussions come from impact. Players are very fast now. I think the idea that when these enforcers get out, they have a very hard time knowing where to put the stuff that allowed them to be enforcers in the first place, once they're off the ice.
STF: Chris Nilan came to the premiere in Toronto, can you talk about what that experience was like for him?
Gibney: We had not shown Chris the film before we showed it in Toronto, and it was very tough for Chris to watch, particularly the bits with his Dad. That was very hard for him to see, his father talking about how he was ashamed of him, which he hadn't seen before. It was a very moving, emotional experience. But I must say that when Chris came down in front of everybody he got a standing ovation for a long time.
Audience: Can you talk about when you entered Chris's story and his life, and about how you determined you needed to shoot the film a certain way to fill us in on the back details.
Gibney: The original assignment of the story was to—we were approached by a group, some of whom were NHL owners, to do a film about hockey enforcers. We were going out and trying to find good ones to film. Larry found Chris and did the first interview with him, and we began to realize, wow, this guy is something. He's a really powerful character. And it seemed to make sense to dig in deeper and deeper with Chris and follow him over a good period of time. I think that was the key to the production in this case. We didn't have the plan to do the Chris Nilan story at the beginning, it emerged because Chris was such a powerful character. Jim, who's the editor, came up with a structure that would alternate Chris's story with the other enforcers' stories. I think the key thing was realizing over time to have the confidence in Chris's story because he was such a powerful character, and that really guided us.
Audience: I was really curious about whether you had the cooperation of his wife, because I was struck by her absence in the film and the toll it took on his immediate family. Is there a reason why that's not in there?

Gibney: I think, initially, it was because Chris really didn't want to go there.
Audience: How did Chris come to be where he is today with the public speaking?
Larry Weitzman: You always have to make choices about what you're going to put in. It's not like he became a world-renowned public speaker. He's very much at the beginning of this. He met with a speech coach, and he got a chance, and the chance he got was in the Arctic Circle talking to Inuit kids. And subsequent to that he has done some back-up radio work in Montreal, which has been good for him. While he is a compelling speaker in an interview, he does struggle to write stuff down. It's an ongoing struggle for him.
Audience: Are there more NHL programs offered to the enforcers when they're about to retire?
Gibney: Every league has a bunch of that. Every league will get all the players in there and tell them, don't do drugs, watch out for these symptoms, watch out for those symptoms. Every possible program is rolled out there. The real question is, are they effective? What else can be done? And is it just, as some of the commentators have indicated, that once they're out of hockey they're going to have a hard time. That's a real debate.
Weitzman: Chris did say when he was there they had programs, and people talk to them about it until they're blue in the face, and they don't pay any attention until they're out of it, and they're like, oh my god, what do I do now? I don't know how many times he went into rehab, but he could call them at any time and they would go get him and take him to rehab. So they were there for him, I don't think they turned their back on him.
Gibney: To be fair to some of the people trying to help him, Chris had trouble adjusting to authority outside of hockey before his drinking started to really take over.
[Q&A has been edited for length and clarity]
Related Film