This post was written by STF blogger Aaron Cael.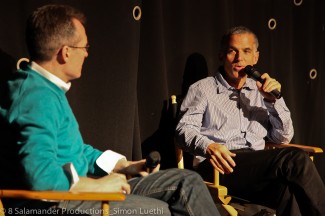 For those who have taken many film classes, there are certain tropes that signal when a film is coming from the same audience it targets. Found footage. Voiceover that puns with the images. Autobiographical fragments piling up to a conclusion about The World or History. It's the sort of feeling you get when you go to a poetry reading and everyone in the audience is either a poet or a poet's significant other. This is the sort of thing that works when it works, and is a trudge when it's got little to say, or when the balance between elements is askew. (I speak from experience here, shuddering to think of someone getting ahold of the spools of 16mm I filled up years ago with black leader and self-reference.)
Jay Rosenblatt's short film Human Remains works. The subject—the personal habits and banal daily details of the 20th century's autocratic rogue's gallery—is immediately compelling. These are big name monsters, after all. Revealing that the sort of men with building sized posters of their face struggled with flatulence and eczema bends the brain a little, forcing in the uncomfortable thought that these were real humans and not grotesque exceptions. In the Q&A that followed the screening, Rosenblatt said Human Remains came about after he saw a photo of Hitler eating and was so disturbed by the thought of Hitler doing such simple, normal things that he pursued the idea into what emerged as the film. He admits that the voiceover is constructed about half from quotes, 40% from biographical facts and "about 10% I made up." That slim bit of historical uncertainty is enough to send you to Google in search of the veracity of the missing testicle theory of dictator formation.
The Darkness of Day is preceded by the explanation that the images for this meditation on suicide were culled from films discarded by school libraries in the shift to video. Considering the graphic, spot-on nature of the raw material—scenes of death, grief, self-harm and madness—it's hard not to picture classrooms of baby-boomers cringing at their desks watching the originals. Afraid So adapts the Jeanne Marie Beaumont poem of the same title, delivering bad news in the voice of Garrison Keillor. King of the Jews offers a guided tour through Rosenblatt's childhood fear of Jesus.
"I started off making more conventional films with actors and writing a script," Rosenblatt explained, but he found it stressful, especially with no budget to speak of. The editing process appealed to him, though. He made his first film from cuttings of training films he found in the dumpster at the psychiatric hospital where he worked. You could call it a reduction to the most pure strain of Eisensteinian montage, but Rosenblatt offers that his found footage style is "kind of a way of avoiding the production process."
[Photo: From left, STF Artistic Director Thom Powers and filmmaker Jay Rosenblatt, courtesy of Simon Luethi]
Related Film