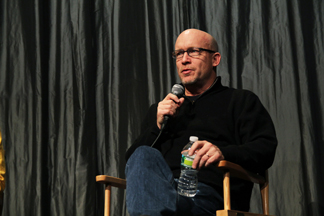 Spitzer's popularity, at its source, was based on the moral authority earned by a man once lionized as the Sheriff of Wall Street. He ably transmuted his status as a government outsider and reformist into enough political capital to win the governorship. But, as shown in Client 9, the confrontational, and somewhat autocratic style that had served him so well as attorney general clashed horribly with the Byzantine politics of the state capital. And regardless of how one might feel about the practice, the fact that Spitzer paid for sex ineluctably undercuts any moral legitimacy he might have had, and—in turn—decimates his political credibility. His continued reluctance to publicly address the reasons behind his infidelity in Client 9 perhaps leaves Spitzer reduced to a tragic hero, but still a man for whom it is hard to feel any empathy. Following the screening STF Artistic Director Thom Powers spoke with Gibney.
STF: Talk to me about getting Eliot Spitzer's cooperation for this film. What did that take?
Gibney: Honestly, time. There was no deal made, there was no quid pro quo. But Peter Elkind and I—Peter is the guy who wrote the book [Rough Justice: The Rise and Fall of Eliot Spitzer], and he also appears in the film—he had known Eliot from before. He had done profiles on him and known him actually at Princeton. And we approached him rather early, and there was a period of time I think for about eight months he was under the cloud of the federal prosecution, so he wasn't going to talk to anybody. The day after the election, miraculously, the Department of Justice said they weren't going to prosecute. And we had a number of informal meetings and said, look, in order to move forward you're going to have to reckon with the past. And we're going to do this film and this book whether you cooperate or not, but I think you're going to want to have your say, and ultimately I think he just agreed with that. So we had a number of informal conversations before he agreed to participate on the record, but ultimately that was the argument.
STF: In the informal conversations, was he quizzing you?
Gibney: Yeah, honestly, I think he wanted to know that we would be fair, and I think he was also intrigued by the idea that it wasn't just about the scandal, that it was a rise and fall story. So for him it was a way to have his say. The only deal we made—and I guess there is kind of a deal, but it's the kind of deal that any journalist would make as a matter of course in terms of fact-checking—was that he said if you discover anything that hasn't been publicly known please share it with me so that I can comment. He had no control over it, but I thought that was perfectly fair.
STF: Did that happen, did you come across anything that you had to go to him with?
Gibney: Well, Angelina would be one. I think everybody thought that Ashley Dupre was the key person, the central player. It turns out that she was really a bit player, and Angelina was really much more the center. And the center in a way that was, I think, relevant to Spitzer's character, but also to evidence about the way that the investigation that took him out was conducted. So she turned out to be a very central character, but one that I think Elliott probably would have preferred that we didn't discover.
STF: How did you get to her when all these other journalists that covered this story didn't?
Gibney: Well that's a good question. I think in part because, and this is something that's interesting about scandal—I think that Ashley, as Angelina said, fit the bill. In other words everybody had the hooker. See, she's the hooker, she's the hooker in the story, we've got her. She likes to have her picture taken, she's got big breasts, it's all good—it's perfect. So they weren't motivated in some way shape or form to look past that. Now, we had access to a lot of records, and a lot of informal stuff—both websites that we were able to discover, and then ultimately, a cell phone of one of the bookers at the Emperors Club. And also, we talked to a number of people who gave us clues that there was this other person that was a regular. That made us want to dig a little bit further. I managed to find out what this person's name was—her real name—through Facebook. Through Facebook I was able to find friends that we had in common. And I reached out to one of them, they made an introduction, we sat down and I said,I know who you are, would you talk to me? And she said that she would be willing, provided I keep her identity a secret, which is why we did what we did in terms of the device [an actor plays Angelina in the film]. I think the reason I found her, and I don't claim to be the world's greatest investigative journalist—I was motivated to find her. In part because Ashley Dupre didn't want to talk, and I pursued her for a long time. But it left a hole in the film because I was convinced that she was very central. And it motivated us, but it was interesting to me that no one else was similarly motivated. As Angelina herself said, her number was clearly leaked to people, but she never answered the calls. So whether it was through perseverance or luck or whatever, we managed to find out who she was and managed to get her to—well not to appear—but at least get her testimony.
STF: Has the film's release shaken loose any other bits of the story? What have been people's reaction to the film who are caught up in the story?
Gibney: Ken Langone has been talking it up. He likes the film. And the other thing that's interesting is that there have been some materials released. There was—in between the moment when we showed the film as a work in progress at the Tribeca Film Festival—mysteriously the suspicious activity report of Eliot Spitzer was leaked to the newspapers. It's funny how that happens. And we've since also submitted a [Freedom of Information Act request], so we're hoping to find out a little more about the federal investigation. But by and large I think the reaction to the film has been pretty good in the sense that I don't think we got too much wrong. No one's really come out and said you really goofed on this one.
Audience: Was the actress's portrayal based on the actual interview, or just a written transcript. Did she have an opportunity to hear or see the woman herself?
Gibney: She didn't for reasons of security, that is to say the promise I made to the real Angelina, I couldn't share [recorded material] with the actress. I didn't videotape the interview with the real Angelina. I did audiotape it, but her voice is distinctive, so I couldn't share that with the actress. So it was purely from a transcript. I did two very long interviews with Angelina. We transcribed them, cut them down and then asked [actor] Wrenn Schmidt to perform. When we'd get to certain parts in the text I would say,Angelina found this funny. She was dismissive here. And so I would direct her so that she would have the same kind of affect as the real Angelina.
Audience: Did you make an effort to interview Eliot Spitzer's wife?
Gibney: I did. I reached out to her directly, and she declined.
Audience: Were you interested in further exploring why people do things like this to seek comfort?
Gibney: To the extent that it was relevant to Eliot as a public figure. In other words, here was a guy who had a lot to lose by doing what he did. And why did he do what he did? So I pursued that avenue. Ultimately, and obviously I flicked at it to some extent and I'm interested in it and part of what this film is about is fidelity, infidelity, marriage, men and women. That's part of what the film is about. At the same time, I felt that I was somewhat constrained in terms of going too far, because there are some aspects that I think are private. So I tried to walk that fine line between investigating what is private, but relevant to the public sphere, and that which is purely private. I felt I took it about as far as I could, or should.
Audience: Before you screened the film initially in public, I'm assuming that you screened it for Eliot, and what was his feedback?
Gibney: I did not screen it for Eliot, I did not screen it for any of the participants before we showed it in public. We showed it once at the Tribeca Film Festival as a work in progress. It was a bit longer than this. It contained some other details, but by and large, it was more or less the same film. And I felt it was unfair for me to screen it for anybody who was involved prior to the first public screening. Once that happened—I invited Eliot to that screening but he didn't come—then I did show it to Eliot. Eliot's view was he felt that it was fair. Not to say between fair and good, but fair and balanced. And his only remark was that he wished I had changed the ending, but that was a joke.
Audience: What influenced your decision to include [performance artist] Karen Finley in the film?
Gibney: I was somewhat criticized for including Karen Finley, and I think unfairly criticized. People were saying, well what is Karen Finley doing here? I like Karen, and she did a really interesting play about this called The Impulse to Suck. But it is an interesting play and there was an earlier cut of the film where I included a great deal more of the play in the rough cut because she mused about these issues that the gentleman back there was asking about. Why do we do these things? What about prostitution? Is prostitution a good thing or a bad thing? What about men and women and their relationships and infidelity and all of that. The other thing that I found interesting about Karen was that she was one of the few people who was frank, open and honest about sex. It's difficult to talk about sex for many people, and she was one who I found very candid about it. Even the remark that she makes in the film, this idea of the whole sex scandal and of course we're all intrigued by a sex scandal when you have a public figure, and particularly when details start to come out. Whether they're true details or false details like the black socks. And the perniciousness and the seductiveness of them is that we see someone's face and then we imagine in our mind's eye, some salacious act. And it becomes part of this very intriguing dance that we all do in our imaginations, and Karen was one to point that out. And then at the very end of the film she has that wonderful statement about how we want our politicians to be like gods. So I found what she had to say to be very smart. And smart about a subject that a lot of people don't normally like to talk about. And I thought it was important. I put her in that section of the film finally because it seemed to be about the culture of the whole scandal and that seemed to be where she fit. I think she's an important component of the film.
Audience: Was a set used to interview Spitzer?
Gibney: I interviewed Spitzer five times, but I asked him to wear the same tie each time so that it would have the appearance of the same interview. It was the apartment of one of my producers. So we had access to it, and it was near his home, so it was easy for him to get there. So it wasn't a film set, it was a real apartment, but it was one to which we had ongoing access, which was important because I felt that we might interview him a number of times.
Audience: Was Angelina supportive or defensive of the industry that she worked in? And can you shed any light on her becoming a commodities trader?
Gibney: Angelina was very proud of what she did, she felt it was a calling. And so she was very unapologetic about it, even though she was concerned about revealing her identity because there were members of her family who probably wouldn't share the same view. As far as her becoming a commodities trader, it won't surprise you to learn that she had a number of high-net worth clients, and they taught her very much about the financial industry. And so that ended up becoming one of the things that she then used to make a lot of money as a kind of sideline.
[Q&A has been edited for length and clarity]
Related Film