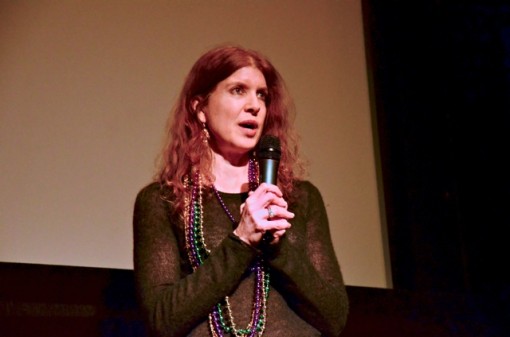 The photographer Michael P. Smith once described the Mardi Gras Indians of New Orleans as "a classic example of a submerged culture quietly serving the spiritual needs and interests of a tightly knit traditional community." The Indians have always existed foremost for their immediate neighborhoods, a seeming anachronism of hyperlocality in the interconnected global age. But Lisa Katzman's TOOTIE'S LAST SUIT shows us that everyone has a tremendous amount to learn from the Mardi Gras Indians, some of whom trace their artistic lineage to the Yorubas of West Africa. Centering on Big Chief Allison "Tootie" Montana of the Yellow Pocahontas tribe—known in the Crescent City as the chief of chiefs—Katzman's film delves beyond the anthopological, exploring the generational tension between Tootie and his son, Darryl, the ostensible successor to his mantle. The film also works as a stand-in conversation for the complicated issues of class and race that New Orleans is struggling with post-Katrina. Following the screening, Stranger Than Fiction Artistic Director Thom Powers spoke with Katzman. Click "Read more" below for the Q&A.
Stranger Than Fiction: Lisa, I wanted to start by asking you how you got into this world. I guess part of my question is that my perception is that that's a kind of closed community. How did you get them to allow you to film?
Lisa Katzman: The first time I was in New Orleans a good friend of mine introduced me to Michael P. Smith, a very well known photographer who had been documenting the Mardi Gras Indians and all of the street parade cultures of New Orleans for many years. I was immediately struck by the profundity of the Mardi Gras Indian culture and the beauty of it, and just thought it would be wonderful to make a film about this. I'd never made a film, so it was quite some years before I got around to it. In subsequent trips to New Orleans I got to go out with Mike Smith. The first event I ever went out on was the St. Joseph's night parade, and I found that completely magical and enchanting. And then I started to speak to Mike about my interest in making a film, and he suggested that Tootie would be a great subject. I made yet another trip to New Orleans, and when I called Tootie up—New Orleans is like a small town in a lot of ways—and he had already heard that I was in town. He knew I'd been there for three days, so he said, what took you so long? Then he invited me to come over and talk to him about the film. By the end of our phone conversation I knew that he would be the main character in the film.

Audience: How old was Tootie?

Katzman: When I first met him, I guess about 78. He passed away at the age of 82.

Audience: Have any of these suits been archived or placed in museums?
Katzman: I think the Smithsonian may have one of them, and Ripley's Believe It Or Not has one of Tootie's suits, but that's not really archived. It's a very important question, what's going to come of these suits. There was some talk years ago, Daryl Montana wanted to build a museum, but I don't think that's going to come to pass. There was a great exhibition of Chief Fi Ya Ya's suits that was part of Prospect 1. Those suits were shown for a couple of months at the New Orleans Museum of Art.
Audience: Does the museum still have the suits?
Katzman: No. They had had an earlier show of Tootie's suits, and they had another show with Victor's suits on display, but they haven't made any major acquisitions.

Audience: What happened to the neighborhood during Katrina?

Katzman: There were some pretty famous pictures of the water rising near Circle Foods, it's been closed since then. On the other side of St. Bernard, fortunately, it didn't flood. Tootie's house was fine and most of the other houses in that area of the 7th Ward were fine.
Audience: What was the impetus behind the police coming after the parade, and what has the police presence been like since then?
Katzman: There's a long history, which Tootie narrates at the end, of antagonism. Since that meeting where Tootie died, nothing really happened because Katrina reordered everything in NE Orleans, and things that seemed really pressing before then never got addressed. Very recently, I understand, there have now been some efforts made on the part of the police. The police are actually interested in undergoing a kind of sensitivity training, and some people I know are developing a video to try and help the police understand better the significance of the culture. One thing that was changed as of this year is that Mardi Gras Indians are permitted now to stay on the street until midnight. In the past, in Tootie's neighborhood, usually by dusk, you would hear sirens and there was a kind of roundup, and encircling of the Indians. The sirens were so loud they would generally drown out the music and then people would be forced to have to go home. It was always a very ugly ending to a beautiful day. Some positive change is under way right now.
STF: Lisa, the film leaves off at a kind of fragile moment in the history of New Orleans. After Katrina you see people talking about trying to keep these traditions alive. Now that we're seven years after that point, what's your sense of how well that tradition is continuing?
Katzman: I think the culture is very, very resilient and healthy. Bob Thompson, who's in the film, remarked to me once that African cultures have this built in resilience. And the African cultures of the New World manifest that very strongly. I think its the feeling that if there are only three people left in New Orleans, there would still be Mardi Gras Indian culture. My own experience is that after Katrina there was a kind of strengthening, and people outside of the culture, a lot of white people who had maybe been on the sidelines in the past, really looked to the Indians for spiritual uplift after Katrina. I noticed in the years after Katrina the practices around Mardi Gras were attended by people outside of the community, and more white people. I think that since Katrina, Mardi Gras Indians have gained a kind of popularity that they didn't have before, and some of the fear has abated.
Audience: How did you pull a crew together to shoot it, how many Mardi Gras did you attend, and how did you finance the film?
Katzman: The crew was, at any given time, I was usually just working with one person. On Mardi Gras I had two crews because we had to cover a few locations. But things were pretty skeletal. There were a lot of people who worked on the film. I used a lot of camera people and a lot of people did sound. For Mardi Gras, 2004, was the first I attended. So we shot in '04 and '05. We shot in '06 and shot Daryl making his suit for '07, just to have that little coda at the end, because that was so important. That he had made this little effigy of his father as part of his suit.
STF: Can you say anything about keeping this personal project alive financially?
Katzman: Randy Furtell is the executive producer, and his mother was the founder of Ruth's Chris Steak House. He had very deep and broad ties to people in New Orleans that he was able to raise money from, so there was a fair amount of private investment. Lots of other people, friends in New York, contributed. There was a pretty sizable grant from the Ford Foundation, and some grants from smaller foundations as well, including the New York State Arts Council.
Audience: I was curious if the respect that Tootie had in the community was representative of the community's ability to respect elders more than you might see in other American communities?
Katzman: That's part of it. In some sense I'd say that's a Southern tradition too, and very much an African American tradition. And very evident in his community. There was a lot of respect for him, and I'd seen it toward other elders as well.
Related Film