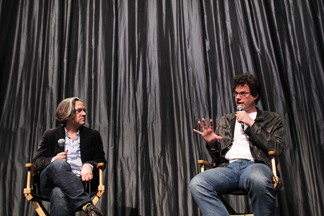 STF: Which came first, your interest in Brecht, or your interest in making this film. How did this film come about?
John Walter: I'd been interested in Brecht for a while and read a lot about his plays and his poems. I read books about Brecht and the plays. I remember distinctly I was having coffee with my friend Adam and he said what are you going to do with all of this Brecht information that you have?
STF: Did you have a Brecht archive?
Walter: I kind of had a Brecht archive, I had a lot of choice Brecht items.
STF: Which you acquired on eBay?
Walter: This was pre-eBay, this was circa 1995 or something like that. It was years ago and my answer to his question was, maybe I'll make a film about Brecht. It started kind of as a formal puzzle. How would I do it? What kind of film would I make about Brecht? I didn't want to make a PBS-style documentary. I was interested in Chris Marker-esque filmmaking and taking Brecht's approach and playing with it and seeing what I could do with it in film. The solution I came up with to the problem was that I would pick one single play, and see that play in action and watch a group of people putting on that play so the audience, through the movie, could learn the play along with the actors. Along the way there'd be lots of opportunities to get in lots of other stuff. I'd imagined a couple of different versions of the film. I had the Threepenny documentary, I had a whole thing based on Brecht's production of Galileo—he's put on trial and he's forced to recant. This was right before Brecht was forced to testify [before the House committee on Un-American Activities], and he pulled that little performance there. Really, it wasn't until I heard that Meryl Streep was doing this production and Tony Kushner was doing the new translation—I thought, that's a good cast for a movie. Nina Santisi, our producer, got a meeting set up with Meryl Streep. I said, this is my idea, and I had the sense that her motives for putting on that play at that time would sort of overlap with my project. So I didn't try to talk her into anything—not that I could have.
STF: So you presented your idea and expected or hoped that your film would—
Walter: Not to speak for her, but I had the sense she saw my film as part of this larger project. And there was this idea that I had about political films and political filmmaking. And if not political than at least a film that's, like Tony said, in dialogue with this moment. At the time I had the sense, and it's obvious watching it tonight, that I really wanted to make something that could only have been made at that moment. If you tried to make this film today, it would have been different in many ways. I wanted to be as precise about the historical moment—2006—so that I could put that moment in dialogue with other historical moments, and then see what they said to each other and what that historical conversation says to me.
Audience: Why didn't you show Barbara Brecht in the film?
Walter: I was lucky to get her speaking. When I first talked to her about the project, she said, I'm an old lady, I speak no English and I have nothing to say. So I don't want to participate in your film in any way. Then I kept bothering her in as pleasant a way I could. That was one of the motives for going to Berlin—I set up an editing room in Berlin and worked there for a while. Brecht had a little summer house out in a little town near the Polish border. Out in back of the house there's a garage where they keep the prop wagon—they called it the courage garage. My wife and I went over to have tea and cakes with Barbara Brecht and I brought my camera along, and she said I could take some pictures of the courage garage. After our hour together, she turned to me and said, would you have to film me. And I said no, and she said, when we get back to Berlin you can talk to me for 10 minutes. So I went over to her apartment with a little digital recorder and we talked for a while, it was longer than 10 minutes, even longer than an hour. It was heartbreaking too, she's such a born actress, she actually performed with the Berliner Ensemble. She would do quotes around words and the way she moved, so much of what she was saying was conveyed with her face and hands while she was talking to me. I'd been going through the Brecht archive and there were all these great photographs of Barbara as a child. One of the ways I thought to make that work was to just use the parts of the interview where she's speaking of her childhood experience. Interestingly, of the several Brecht biographies that I've read, none of them ever really talk about him as a Dad. I was so moved by that statement that Barbara made about how she had a happy childhood and that her parents made it seem that she was living in a safe and happy world. That was one of those things that doesn't make it into the history books. That was kind of the texture, the Brecht biography that I wanted to do in the film, was his testimony, and from his daughter's perspective.
Audience: You said you wanted to create a dialogue between historical moments. What was it about 2006 that, in particular, you were trying to convey?
Walter: As far as 2006 was concerned I wasn't trying to convey anything. I was trying to be sensitive and record what was happening. It was raining. It was really hot. Israel had invaded Lebanon. There were pictures of the invasion on the newspapers every day. We were just into Bush's second term. There was tons of rhetoric all the time about the war on terror. There were Critical Mass bike rides happening right outside the theater. All these things were going on that summer. There were rag tag antiwar marches. The stuff you see in 2006 was what was happening outside the windows of the theater. One story I tell, it was actually at Stranger Than Fiction. We saw the documentary Jane from 1962 about young Jane Fonda doing her first play on Broadway. Afterward, D.A. Pennebaker who had shot the film was on stage, and he said, remember that scene in the dressing room and the guy was reading the newspaper. Did anyone notice what was on the front page of the newspaper? And nobody had noticed because the filmmakers didn't want them to notice, because it wasn't something they were trying to draw attention to. And he said, the headline was about the Cuban missile crisis—the Cuban missile crisis is going on the whole time Jane's worried about whether Dad's going to come to opening night. I thought, wow, they cut the Cuban missile crisis out of the movie. And I thought, what would the movie been like had they kept cutting back to the Cuban missile crisis? It would have been an entirely different movie. So they focused on the eternal psychological story, or whatever. That's not the kind of film that I wanted to make. We didn't have the Cuban missile crisis, but we had whatever I got going on outside. I wasn't trying to say, this is my take on 2006. I wasn't trying to editorialize about 2006, I was trying to take the opportunity I had in making this film to really explore. I had more questions than statements about things.
Related Film