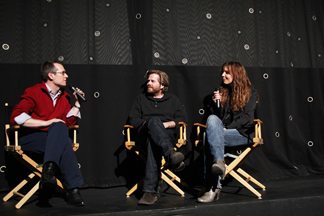 STF: Sine, you're trained as an anthropologist and here finishing your PhD at Columbia University. This film kind of grew out your film research, is that true?
Sine Plambech: Yeah, I began my field work among these Thai women in 2003, in a small village. And I spent time with them for about three years on and off, while doing my undergraduate and then some of my graduate work. Then I met Janus and he was interested in doing a film on global migration patters and human migration, and I had the access.
STF: Talk about the subjects and their willingness to be filmed, because there seems to be no detail that's spared in this film.
Plambech: Of course a lot of this had to do with the fact that I knew them so well before Janus started to film. But they were also hesitant in the beginning of filming, but because Janus also spent so much time with them, they had confidence in him and the began to tell their stories. And also, they wanted to tell their stories, and they wanted to tell about their lives and give another perspective, another portrait of Thai women and these kinds of marriages.
STF: Janus can you talk about the crew you were using? There are a couple of scenes where it's all women in the room, at least in front of the camera, talking very frankly. I wondered about their comfort level with you there, and your cameraperson, who is a man. What was that like?
Janus Metz: It's something that we gave a great deal of consideration, the fact that I was a man. It was obviously a very female environment, a very intimate space. We thought that if it's too difficult for me to actually be close to the shoot, than we have the advantage of being with Sine. But as it turned out they were actually quite straightforward, they were very good company and there was a lot of joking on shoots about the whole sex issue and some of them come from tourist bars in Pattaya, which is one of the biggest cities for sex tourism in the world. In a lot of ways they were quite comfortable talking about these issues. We did a sequel to this film, which we usually call a prequel, because it's set in the village in Thailand and you really learn about the conditions that they com from. It follows a young girl who ends up going to Pattaya because she's too young to marry a Danish guy, and it's the only way to support her family.
STF: That film is called Ticket to Paradise.
Metz: Yes. In that environment we were filming in Pattaya in sex bars with the bar girls and some of that was too vulnerable for me to be a part of and Sine had to be the front figure of the filming. Secondly I think, probably because they were speaking Thai, they felt like they had their own space, they tended to forget that I had an interpreter whispering into my ear and telling me everything they were saying to each other. I think they felt comfortable in talking behind everyone's back, or at least thinking they were talking behind everyone's back.
STF: Sine, after every documentary people have this craving to know where the characters are now. Do you have any knowledge about where they are now?
Plambech: Both of us still have some contact with the women, particularly Sommai. Of course, if you see the sequel you will see some of what will happen, but just a short update. Kjeld and Kae who get married in the film, they are still together and she got her son to Denmark. He had a stroke, but he is alive and doing better. Niels and Sammai did not move to Thailand yet, but they are still discussing whether to stay or go. Mong, who is showing photos from her village and wanted to build a house, she succeeded in building the biggest house ever seen in the village. And, of course, Samlee the young boy, is now in Denmark with his mother Basit.
Audience: What were the women's reactions to the film when the first saw it?
Metz: Their initial reaction was to say, that's the way we are. They're quite proud of the film in a lot of ways. These relationships suffer from a whole lot of prejudice, which is also a theme in the film, and I think it was Sammai's will to open up to the world or to other Danes. It was originally made for television, and after being screened, there was a huge audience, and they became national TV darlings overnight. The second film is a lot tougher than this one. I think what has happened to this women is some kind of empowerment realized through making this film. They've realized who they are, where they come from, what they've achieved and also the importance of this kind of female agency that in some ways they carry with them, or have become representatives of. I think in a general sense they were quite happy with the film, although it was a kind of close up thing for them to watch. It's also the first time they've ever been exposed to such an image. If they had the chance of doing themselves, if they edited themselves, it would have been a picture-pretty, one-sided portrait with orchids and colors.
Plambech: Within the Thai community in Denmark there were quite different opinions about the film. Many of them felt it portrayed their lives and motivations for migrating to Denmark, and it was the true story. Others felt that it portrayed them as too materialistic and not looking for real love. It was interesting for me as an anthropologist to look at those different debates within the Thai community, which I felt was a bit more complex, than the debate among the majority of Danish people. It was far more complex.
Audience: Did many of the women have children in Thailand?
Plambech: Most of the women that I have worked with have children that they leave behind. They cannot leave them for more than two years, as is explained in the film. Then they have to get them to Denmark otherwise it's not possible. There's also a group of younger Thai women who are better educated meeting Danes in Bangkok—it's the first time they're marrying. The large majority of the women I work with, they come from the poorest area in Thailand and they have been married before. Their husbands were abusive or alcoholics. Also, there is a bad unemployment situation in Thailand. The main reason is, of course, to have greater social mobility and a better life for themselves, but most of all for the children.
Audience: Why is it Thailand that these women are coming from?
Plambech: There's different reasons for that. Some of that is because the main increase in migration from Thailand to Europe and to Denmark was when the tourism began going towards Thailand. So the men met Thai women there, and the Thai women came to Denmark, and, as we see in the film, they set up this migration system. Some of it also is based upon the American military bases in Thailand during the Vietnam war, when a lot of American men married Thais and also set up these migration systems between the U.S. and Thailand. That kind of created an environment in this northeast part of Thailand called Isan where quite a lot of Thai women are marrying men from Europe and the U.S.
Audience: Is Sammai getting paid for her matchmaking services?
Plambech: I have never seen her getting paid for these services, and I really believe in my heart that she doesn't. I have seen other women getting paid for it, and she has been accused by the police and different authorities of receiving money for it. She's doing it for other reasons. She's doing it to gain respect in her village in Thailand, and because of her background in the sex industry, it's a way for her to gain respect in the Denmark community, and for herself. There are other reasons than money.
Audience: Was there a conscience decision behind showing Kae frowning a lot? Was that representative?
Metz: It was certainly representative of the material we got with Kae. The first time we met her was in the airport, on camera, for obvious reasons. She was over there in Thailand and we were waiting for her to arrive. We kind of had this deal with Sammai that we wanted to follow one of these migrations and, all of a sudden, her own niece was coming. That made for a perfect story.
STF: Did Kae understand when she got off the plane what was happening?
Metz: I think part of her frowning—she didn't always like the idea of us pointing a camera at her in these sitautions. Unfortunately that's part of the film as well. I would have loved to have more shots of her smiling because I know she had that side as well, even though she had a lot of doubt—that was a conscious decision of editing in the film. It's an incredible thing to travel to the other end of the world to marry someone that you've never met before within a time span of a couple of weeks. So dramaturgically, yes, there is a build-up in that sense, but we really had to look hard for material where she was smiling or being flirtatious, or these other kinds of things we needed to build the story. Looking from the filmmaker's perspective this is a kind of awkward, painfully sweet love story, in a sense.
Audience: How did you get the Danish young man and his family to cooperate?
Metz: That was a strange thing. Kae was actually meant to marry someone else—this guy that we called the masturbator, because he wasn't very charming. So fortunately they chose against this guy—the women didn't like him, and he absolutely refused to have anything to do with the film. He didn't want any camera near him. So for a long time we were wondering how we were going to make a film about a marriage where you never see the groom. We were thinking we could represent him as a farmhouse, or some tractor driving around in the far distance. All of a sudden they didn't want to know about this guy, and they had this personal ad out. Kjeld replied and I called him up and told him we were making this film about Kae, and I was expecting this whole resistance from him. He said, all right, well come and film. I was like, okay, we'll just camp in your living room for the first three, four days you meet this woman. Of course, we gave them a bit of privacy as well. It was very easy. The family—he took us there and we just barged in on them. The scene where they're having coffee is the first time she ever meets the parents and the first time we meet them. It was just a stroke of luck, basically.
Audience: You probably had a translator when Kae and Kjeld were alone, but she didn't. Was there ever a moment when they wanted you guys to help translate, or you felt drawn into that?
Metz: It was always very clear that there were filming times, and non-filming times. If we could help in some way, we would help, it wasn't a complete gaze into the zoo.
Audience: How do you think your presence influenced the way that they were able to get to know each other?
Metz: The camera always influences the situation to some kind of extent. I can't give you a precise answer to that but I think there was no fooling around, because this was being documented. This was going to go out on national television, and maybe the cinemas as well. In relation to what I said before, the fact that Kjeld was so willing to let the cameras into his home was proof to the women that he was serious about it. It probably affected the situation a whole lot of ways, but I can't tell you exactly how. If you could do a perfect fly on the wall, maybe you would have seen Kae smile a bit more, because she was, at times, annoyed by the fact that we were intruding. Which I don't blame her for, I think it's sort of a good character trait.
Plambech: In terms of the anthropology and filming, those two processes, because I have followed them for such a long time—not Kae though, because she came directly from Thailand—there was not really any point where I felt, this is not what they would have done if the camera was not here. Or that they started to behave completely differently after the camera was introduced into their lives, that was not what happened. They were, of course, a bit more hesitant in the beginning to tell their stories, but the camera also disappears in a way after some time.
Metz: One of the great pleasures of making this film, of this collaboration, was that we had an anthropologist who'd known these women for three years—knew each and every step in terms of making these kind of arrangements. In that sense the film was very scripted. We would always be able to be one step ahead of the process in that sense. I would have the advantage of being able to check out if this was out of the ordinary, or something that was not corresponding to the way she had experienced these things before. That was a real strong point of the film—we only had 20 days to shoot for the film. For anyone who makes documentaries you know that's an insanely short period of shooting.
STF: Sine, you have finished your own film that recently screened at Copenhagen Docs. Can you tell us about your own film?

Plambech: It's the first film that I have directed myself, together with another woman. It goes more into the exploitation parts of these relationships, and even further into human trafficking. We have been asked quite a lot about what kind of exploitation goes into these kinds of marriages, and I was interested in that during the process of making the Thai film. For my PhD I'm working on human trafficking. I got access to film in a police station in Denmark to record women after they have been caught in the street selling sex. It's kind of the same theme, but it's more following a police unit, and not an intimate portrait of these marriages. So it's a different kind of focus, but it's still within the relationship of gender and migration and global forces.
STF: Janus I wanted to ask you about the output of Danish films in general. There's been so many strong films—Burma VJ, The Monastery, Ghosts of Cite Soleil. What is it that's making such a small country have such a rich output of documentary.
Metz: I think first of all, there's good institutional, government-backed funding for making documentaries in Denmark. We don't have to fundraise only through markets or advocacy driven types of funding bodies.
STF: The principal funding body is what?
Metz: The Danish Film Institute, which is a government art institution, that supports filmmaking.
STF: So you can get full funding?
Metz: No, you don't get full funding. You can get partial funding. You obviously need a broadcasting partner, and if you want to make something on an international scale, you need to go pitch your project in the international arena to try to get partners. That's one side of it. I think funding opportunities are good in Denmark which creates a good basis for filmmaking. Secondly, I think documentary filmmaking has always been seen as an art form in Denmark, ever since the Danish film industry was born—the Danish film industry is actually one of the oldest in the world, along with French and American. There's a very strong documentary direction department in film school, and also some of the people that work in fictional film cross over and work in documentary film as well. So the two worlds are not completely separated. We use the same cinematographers, the same editors. A lot of documentary film directors can work in fiction as well as documentary. I think that really gives a good impact on storytelling and image consciousness in terms of photography.
Related Film