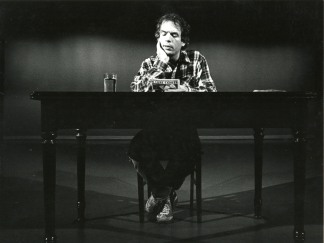 Another STF aim is to bring fresh attention to older work. A notable example is the pioneering classic MAN WITH A MOVIE CAMERA (1929), directed by Dziga Vertov and showing on May 25. Filmmaker John Walter (HOW TO DRAW A BUNNY; THEATER OF WAR) has painstakingly edited a new modern score to accompany this film. The season also features docs from the world's best festivals: Amsterdam (IDFA), Full Frame, Sheffield, Slamdance, Sundance, SXSW, and Toronto (TIFF).
"This season will round out five years of STF," said Artistic Director Thom Powers, who also serves as the documentary programmer for the Toronto International Film Festival. "We started in fall 2005 with Doug Block's 51 BIRCH STREET as our first film. Now we're proud to have him back with his latest, THE KIDS GROW UP."
The STF spring season takes place at the IFC Center every Tuesday night at 8:00 pm for ten weeks, through June 8. Each event includes a discussion with the filmmakers, followed by a gathering at the nearby bar Alibi Lounge. Tickets for Stranger Than Fiction screenings are $16 for the general public and $13 for IFC Center members. A Season Pass, good for admission to all 10 evenings per season (plus additional specials) is available for $110, or for $85 for IFC Center members.
See below for complete line-up.
STF Spring 2010 Line-Up:
APR 6: Opening Night – AND EVERYTHING IS GOING FINE (2010, Q&A w/ dir Steven Soderbergh)
APR 13: HORSES (2010, Q&A w/ dir Liz Mermin)
APR 14: Wednesday Night Spring Special – FAMILY AFFAIR (2010, Q&A w/ dir Chico Colvard)
APR 20: THE KIDS GROW UP (2009, Q&A w/ dir Doug Block)
APR 27: CLEANFLIX (2009, Q&A w/ dirs Andrew James and Joshua Ligairi)
MAY 4: PIN GODS (1996, Q&A w/ dir Larry Locke)
MAY 11: LIFE 2.0 (2010, Q&A w/ dir Jason Spingarn-Koff)
MAY 18: MY PERESTROIKA (2010, Q&A w/ dir Robin Hessman)
MAY 25: MAN WITH A MOVIE CAMERA (1929, Q&A w/ John Walter, editor of a new soundtrack)
JUNE 1: HAYNESVILLE (2009, Q&A w/ dir Gregory Kallenberg)
JUNE 8: Closing night – TBA
(Note: Ticket links are currently active through May 4 screening; others will go live in coming days)
Related Film