This post was written by STF blogger Jeff Halpin.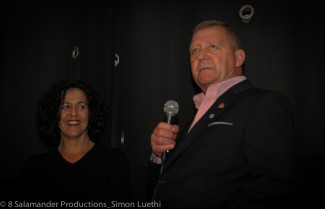 When United States Marine Corps Master Sgt. Jerry Ensminger's daughter Janey fell ill and died of leukemia at the age of nine, he was devastated. For years after, he found himself seeking answers to how such a sudden illness could occur in a healthy child. After watching a local news broadcast detailing possible water contamination during his family's time at Camp Lejune, the largest military installation on the east coast and home base of the U.S. Marine Corps, he began to dig for answers and uncovered one of the largest water contamination incidents in U.S. history.
After years of painstaking research, and relying on only a second-hand computer and a dial-up modem, Ensminger built his case and eventually brought it to Washington. Venturing from his single-wide trailer to Capitol Hill for the first time, he recalled that he "felt like a vacuum cleaner salesman." His initial efforts led to a full-page article in the Washington Post, and a slot testifying before Congress in 2004. The film, Semper Fi, which follows his journey, is a intensely crafted narrative that captures the raw emotion of the loss of loved ones to a completely preventable tragedy, the fight against government bureaucracy and one father's search for truth. To continue reading, click "Read more" below.
[Photo: from left, director Rachel Libert and Jerry Ensminger, courtesy of Simon Luethi]
Raphaela Niehausen, executive director of Stranger Than Fiction, welcomed Sgt. Ensminger and film directors Rachel Libert and Tony Hardmon to the IFC Center stage for the audience question and answer session following the screening to explain how they came to collaborate on this powerful documentary. Libert and Hardmon were researching a different film about a public health organization, and were about to exit the project when then press secretary for the group told them about her brother who had "uncovered a case of water contamination at a Marine Corps base." Skeptical, they agreed to shoot the hearing. After meeting Ensminger and viewing his volumes of evidence, they were intrigued "the notion of a soldier becoming activist." Libert also explained that Ensminger personally does not like the title of "activist."
Despite his frustration and anger with the conduct senior officials in the Marine Corps, Ensminger took pains to make it clear he still firmly believes in the fundamental character of the Marines. "I'm always very careful to tell every audience that I speak to, that while I am absolutely appalled at the conduct and the demonstration of deceitfulness by the very highest levels of leadership in the United States Marine Corps, I will assure you of this one thing: our motto 'Semper Fidelis,' and our slogan, 'We take care of our own,' are still very much alive and well down at the unit and operation levels."
Ensminger added, "When any institution and the people that are in charge of that institution, out of some sort of weird justification, try to protect that institution over the protection of people, they are wrong. No matter how they try and justify their misguided intentions, they are wrong. People come first. For god's sake, without people, there would be no institutions." When asked how he found the strength to take on such a daunting adversary, he replied, "If you know you're right why would you ever quit?"
You can download Sgt. Ensminger's Camp Lejune chronology of significant environmental events here. And for more information on his case you can visit www.semperfialwaysfaithful.com.
Related Film