So what if you're not going to Sundance. You can meet great filmmakers in person all winter long at STF. The year kicked off with pre-season events featuring docs on the Oscar shortlist, WHICH WAY HOME and VALENTINO: THE LAST EMPEROR. Last Tuesday, the STF Winter Season officially got started with the opening night presentation of SNOWBLIND, featuring a Q&A with director Vikram Jayanti. SNOWBLIND was the last film to be funded by Discovery Films that produced MAN ON WIRE and ENCOUNTERS AT THE EDGE OF THE WORLD before closing down. As a result of the division's closure, SNOWBLIND has been left orphaned for distribution. Jayanti told the STF audience that the screening boosted his morale.
On Jan 19, STF is proud to welcome Albert Maysles to present one of his most memorable collaborations with the artists Christo and Jeanne-Claude, RUNNING FENCE. There are two more special bonus winter screenings that will be announced next week. That means if you buy a season pass now, you can get 11 shows for just $110.
Below are some fun photos from earlier this week – (click "read more")
VALENTINO SCREENING (Mon. Jan. 11):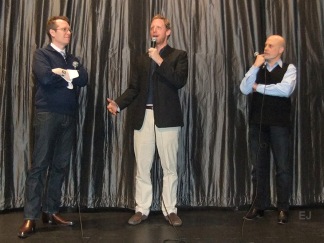 VALENTINO Q&A with STF host Thom Powers, director Matt Tyrnauer and editor Bob Eisenhardt. Photo credit: EJ/Bear.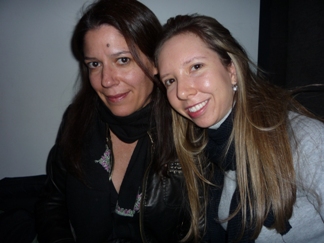 Photographer/filmmaker
Gwendolen Cates
and former student of Thom's NYU doc class Kiira Benzing.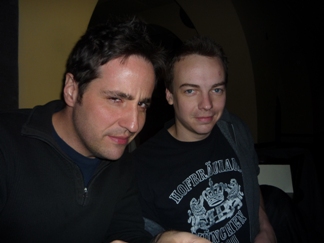 Filmmakers AJ Schnack and Nathan Truesdell (CONVENTION) are in town for Friday's
Cinema Eye Honors
SNOWBLIND (Tues. Jan. 12): (Thanks to Joshua Z. Weinstein for some great photos!)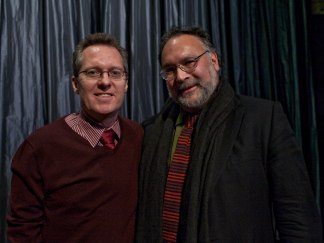 STF host Thom Powers with SNOWBLIND director Vikram Jayanti.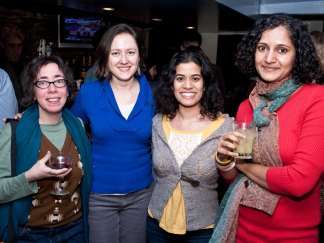 STF passholders editor Melissa Hacker, filmmaker Laura Minnear, Jennifer Samuel, and filmmaker Hemal Trivedi.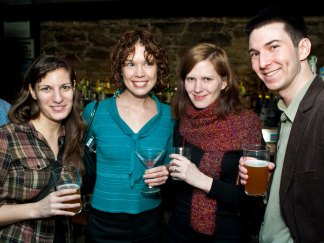 L to R: Nadia Sussman (student at CUNY Journalism), former NYU student of Thom's – Cat Bright (straight from New Zealand!), and STF passholders editor Carla Ruff and filmmaker Jonathan Goodman Levitt.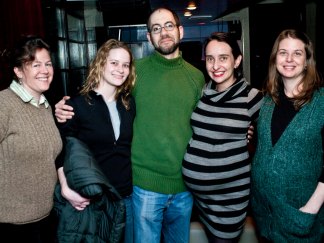 STF passholders editor Cheree Dillon (
OFF AND RUNNING
) and DP
Meg Kettel
with filmmaker Robert Bahar (
MADE IN LA
, also founder of
Doculink
), STF ED Raphaela Neihausen and filmmaker Almudena Carracedo (
MADE in LA
)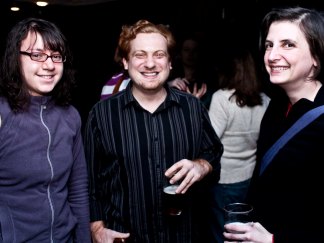 L to R: Joanna Arnow, Jonah Bossewitch (who will be speaking on a panel at the upcoming Real Abilities film festival after the film
CROOKED BEAUTY
on Fri. Jan 29, 4pm), and Annie Berman (director of FAITHFUL).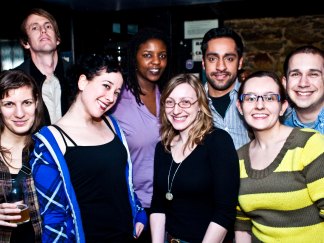 CUNY Journalism professor Yoruba Richen (director of
PROMISED LAND
) brought her students to SNOWBLIND.
Related Film