Written by STF blogger Rahul Chadha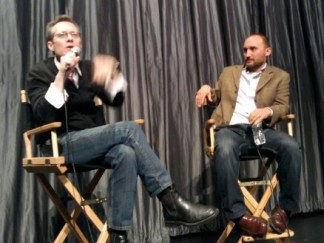 Q: When you were going through all of the material to tell Pat Tillman's story, did you realize that the story already on the table from Dannie's [Tillman's mother] research, or were you going and digging up more in the process of making this film?
A: We did benefit greatly from Dannie. What we found on our own was a lot of the archival material [of Tillman] that had obviously been seen before. But putting something in this totally different context was almost like finding things anew. It's an interesting question because the answer is yes and no. It wasn't new but it felt new. And similarly with [Dannie's military research] documents, with that box of documents, you could actually download from a military site a pdf of all 3,500 pages. It was still redacted, but even the stuff that you could find in there was actually shocking to read that nobody had reported on, that anyone could have downloaded. That was a funny feeling of, "Why isn't anyone doing any real journalism about this?"
Q: Was there any one person that you wanted to talk to that you couldn't?
A: Sure, we would have loved to have spoken with the [Army rangers who shot and killed Tillman], but for obvious reasons they didn't want to speak to us. We got one or two of them on the phone and I think they literally laughed at us. It is known who they are and what their names are and we made a decision not to put their faces and their name in the film because we felt like it would have been gratuitous. You, as an audience member, might have felt like you wanted to know that. But just as a scene, given that they wouldn't consent to an interview, it just felt kind of underhanded and like it diverted attention away from what we felt like the film was really about. I would have loved to have them, but not in that way.
Q: Did you have any experiences with people you expected to have a different reaction to the film?
A: Molly and I went up to West Point and had a really good screening. And then a guy came up to me afterwards and was like, "You know I'm kind of involved in this story in a way. I worked for Pete Geren at the time"—that's the secretary of the army. And then he offered me a compliment. He said, "I thought you did a wonderful job getting the family's perspective." We were driving home and I said to Molly, "Well that was nice, that guy who worked for Pete Geren who felt the film was valid." And she said no, that was an underhanded compliment. She realized that he was actually insulting the film and insulting me, and that went right over my head. He basically said I think you did a great job of making the family feel better about their perspective, or something like that. And I thought, great, that's what we set out to do. But he didn't mean it as a compliment.
Q: So much of this film is dependent on people telling stories in an interview setting. I was wondering if you can tell me on a filmmaking level, what was that like?
A: In terms of sitting with [Tillman's family], the main thing there was we kind of jumped up at the opportunity to not engage in the hagiography that had been a part of the telling of Pat Tillman's life since when he enlisted. Some of our early conversations with them involved us saying things like, "Pat was such a humble guy he would probably hate all of this attention." And Marie [Tillman's wife] would tell us, he would love this attention. They really wanted us to bring him back down to earth, and they wanted us to portray him as a complex guy with contradictions. And it took us a little bit of time to figure out, ok that's great. Complex storytelling and not putting him up on such a high pedestal that he's out of reach and he's not human. So once we realized that that's what they wanted us to do and they realized that we were comfortable doing that then it became a pretty interesting conversation. And the only other thing I can say about the craft of it is that they are deeply private. You expect that a family who has had tragedy like this is going to have a hard time talking about the tragic part of it. but they also had a hard time talking about their positive feelings about Pat, because they had seen it cheapened so many times. The reason Kevin [Tillman's brother] didn't want to talk to us was he said, "What am I going to do, just sit there and talk about how much I fucking love my brother?" It cheapens it, he didn't want to have it spoonfed back to him as a sound bite.
Audience: I'm curious, after you lived with this subject for so long, why do you think they shot Pat?
A: This is not a satisfying answer. The best answer that anyone can come up with is [the shooters'] own words, which are "I wanted to stay in the firefight, I was excited." I think that people are conflicted. Many that go into combat don't want their life to be in danger—nobody does. But at the same time very few soldiers want to come home and tell their great grandkids that they didn't see any action back in Afghanistan in 2004. So you have these conflicting tendencies as a soldier. When you think that there's an ambush happening, on one hand you're scared and confused, and on the other hand you're psyched because you finally get to do what you've been trained to do. And it makes for a great adventure story. Which is part of the reason why people go off to war. I mean it's complicated. But that's why I think they shot at him for that long. It doesn't totally answer the question of how you shoot at somebody for a minute at 40 meters. But the reality is just that there is no proof that the soldiers had it in for him, or that there was anything deliberate about it.
Audience: What did the family think of the movie?
A: We were holding our breath when we showed it to them. I can tell you we sent them dvds and pat's youngest brother—Richard—who was not in the movie in our first cut, which was meant to be our final cut. He made the mistake of saying, boy you guys did a good job and I wish I had said yes to you. And I said, can you get on a redeye, and we put him on a redeye and opened up the cut and put him in there. So there was originally a cut without him, as crazy as it seems, considering what a great asset he is to the film. We were very nervous, but the reality is that we worked really closely with them. We went native, we do buy into their position. I'd love to see the documentary that supports the government's position on this, but we didn't feel the need to bean count on both sides. So they were happy with that.
Audience: What are some of the myths about Tillman's death coming from the right?
A: The one that interests me the most is that Pat is this paragon of moral certitude. The thing is, Pat was a guy who had really strong beliefs, but his best quality—according to the people who loved him and knew him—was that he could change his mind. That he would constantly think about things from different people's perspectives, and try and see the other side of his beliefs—culturally, intellectually. And that's what the right calls flip flopping. When 9/11 happened the right basically decreed that we had shook the Vietnam syndrome and had returned to a time of moral certitude and collective purpose like the halcyon days of World War II. And Pat Tillman was seen as the poster boy for that. A guy who dropped everything right away because he had his patriotism and everything else was secondary. And that's a very facile way of looking at what he did, and a really wrongheaded way of looking at his personality.
[Q&A has been edited for length and clarity]
Related Film