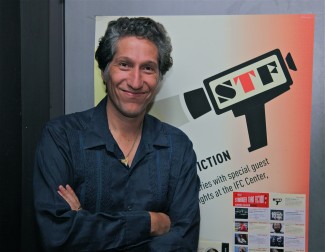 Stranger Than Fiction: So you say at the beginning of the film that you started out not necessarily with the intention of making a documentary. You were thinking about doing interviews for a fiction story. Can you talk about how it turned into a documentary?
Carlos Hagerman: I think it turned itself into a documentary. I think that some of these stories are around and they want to be told. They pick up the director that is more, maybe, distracted, and go wherever they want. We didn't set out to do a documentary, we set out to do research, to write a script. For quite a few years I had been trying to get resources to do a fiction film in Mexico and I was getting tired of knocking on the same doors. Then, one day, John [Grillo] starts telling me this story. And he says, Carlos, why can't we do this. I said, okay—an empty beach, 25 people in shorts, no art design, no lighting, no production, a camera. Yeah, we can do that. We had to know what happened, so we started interviewing the witnesses. We had a really tight schedule. We were with Roberto Balderas for two hours and then we were with Raphaela Martinez for two hours. But of course, you come to Roberto Balderas and after two hours you cannot end the talk. And after six hours you run out of tape and you have to have an assistant producer—hey, can you run to the supermarket and get some more tape? We spent days with them and it was wonderful. I knew that something was happening at the moment, but it was after that first visit that we came back with all the material and I started doing a demo for applications. I said, wow, who's going to tell the story better than them. It became an homage to storytelling, I guess.
STF: Martha, I want to ask you as a producer. In a way, it's a hard film to describe because it's a simple film and so much of its artistry comes in the telling. For you, what were some of the challenges in working on the film as a producer?

Martha Sosa Elizando: I think that it was a pleasure. This film is very special to me because it was an incredible creative process with Carlos. I'm also very curious about the creative process in a director's head or a writer's head. I'm kind of a co-pilot. It was a real joy because this film speaks about many things that I was wondering about. What is family? What does it mean to be from one place or another? Where do you belong? And I think that those issues are—we speak about them in this film in a very direct and simple way. Things, as they are right now in our country, having a film that speaks of another part of what we are is important. People in Mexico are building the country, and most of them are like the people in this film. There are some Americans that go there and find something, some life. It's a very personal matter to me to be with Carlos and to believe in his way of storytelling, so it's been great. So, challenges? Yes, but it's been more for the fun of it.
STF: I wanted to ask you about the scenes where you recreate the shark fishing. They have such a sense of vitality and fun. But actual shooting is not that fun, people have to do things over again and these aren't actors. Can you talk about how you kept the sense of fun?
Hagerman: They are from Acapulco, so keeping them having fun is not a challenge at all. Trying to work is a challenge, because you are the one who is working more than having fun. What I told them was that we were going to do an homage. It was not about getting the shot. It was, why don't we go to the same place that this happened and do the same thing? They were there, so everybody's telling each other—no, no, no, it was over here. No, no, no, it was over there. I said, can we decide where it was? They were up to it, they were wonderful. And that ceviche was made and we ate it with a lot of beer. When everybody had finished their food and drinks, I said, well let's pull that line. It was a beautiful day—it was very tiring, yes. But it was so important, that day in their lives. It was something they can truly say, it was one of the most important things that happened to them. For me to try and make it as if we were doing it again, it was for them a joy to be part of.
Audience: Who's story did you feel that you were ultimately talking about? Was it Perro Largo or the characters that he was interacting with?
Hagerman: That's a very good question. It took like 17 cuts to figure that out. It was the most difficult part of the process actually. We didn't have that much material. Usually in a documentary you get hundreds of hours, we only had about 60 hours. The balance between John's story and Robyn's story and Long Dog's story kept on tricking us. It became very melodramatic so we had to go back. And then we had to add the anecdote, so we had to go back. And then we had to add some depth, and then it was boring. It was very tough to have a motor running, especially in a documentary in which you only see people talking all the time. People were telling me, you're crazy! Talking head documentaries are out. I couldn't help it, this was the film I had. At the end, I can say it was fun, but it was very hard work. But I think it's the story of Long Dog and how he affected the people around him and changed their lives.
STF: Can you talk about the music in the film, because it's so instrumental to the film.
Hagerman: It's my favorite part. I think that a big part of the post-production budget was for the film. I think that in a film like this nostalgia has a very profound way of bringing you to the time and place. For Mexicans, Acapulco is that sort of place where you have a memory of your childhood. You can ask almost anyone, we went a lot of times on vacation to Acapulco with our parents. These songs that were playing on the radio at the time just bring you back. And the shark song was the most popular song in Mexico at the time, so everybody knew that song. You just start to hear it, you hear Robyn singing it and start to wonder what's going on. There's always this contrast—are you from where you were born, or are you from where you live. It's always this clashing, the jazz musician and all these standards and the big bands of the 60s in Mexico. I was all the time in love with the music. I had to take out some songs, but I was always like, but don't take out Tito Puente, please! A lot of what you see, the beach scene, was actually acted upon the song. We had a large stereo playing when people entered. I have the dream of making a musical one day, a Mexican musical. We already have the script.
Audience: What was your target audience, and how has it been received in Mexico.
Sosa Elizondo: As you know, documentaries don't get the same opportunities as fictional films do. Right now we're working on an alternative way to release a film theatrically in Mexico. We think the film is more enjoyable when we watch it together, it's not a film that should just be seen on tv. It has to be seen with a bunch of people like today. We've been having a good festival circuit, we've been going everywhere. I really don't know about the target, because when you make a film like this, Carlos was always thinking about what we are talking about. He was always going deeper and deeper and deeper, like the hook in the shark. First it was an anecdote, then we were talking about families, then we were talking about differences, then we were talking about wounds. We were talking about many things and it was really the job of [editor] Valentina Leduc and Carlos to find out what it's about. We were not thinking if it was a film for children or not. I think it's a film for everyone who wants to have a good time and discover what modern families are all about.
Hagerman: One of the things that I like to do, is, when this is screened in Mexico, I go to the bathroom just before it ends. And then everybody comes into the bathroom and people start talking about it. "If I had known I would have brought my mother, you should bring your father!" Everybody's talking like that in the bathroom. I guess we are going to have a good audience if we manage to convince people to go and see a documentary. If that happens I think word of mouth is going to be positive. At least we have had the film play in Brazil and people were laughing. And in Italy everyone was in a rage. It's not the type of film where everybody comes out and says, we should save the world tomorrow. It's the kind of film that people come out of and say, hey, let's go and get a beer. So let's get a beer.
STF: Can you say something about your film Those Who Remain?
Hagerman: Those Who Remain is a documentary about nine families that we followed during a year in Mexico in six different states. It's kind of a voyage to the emotional consequences of migration, and it's a family film as well. It's the intimacy of the families that are longing for someone, and how they miss their loved ones. We are very excited because it's opening in the U.S. in AMC theaters near Mexican communities July 8. We start at a test screening in Houston, Texas. Of course, the problem with documentary is that you see the statistics and Mexicans don't go to see documentaries, how are we going to put the documentary there. But since the film is talking about their lives we've had very strong emotional reactions from audiences. We hopefully will get a nationwide release in September. We won't do a bunch of prints. We'll go little by little with a lot of outreach from help from the consulates and the organizations that are backing us up. We are trying to do this new thing, and hopefully that will open up a circuit that will allow more movies into a new market of Mexican American audiences in a more commercial way. We're very excited.
[Q&A has been edited for length and clarity]
After the Q&A, the audience attended a packed reception at a nearby bar, enjoying free shots of delicious Mezcal, courtesy of the sponsor Pierde Almas (Oaxaca's finest!). A perfect finish to the evening.
Related Film