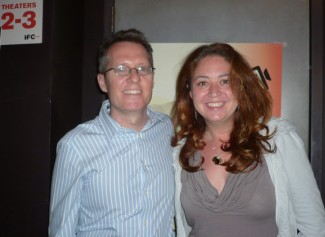 Stranger Than Fiction: What got you started on Bobby Fischer as a subject?

Liz Garbus: On January 18, 2008, the day after Bobby Fischer died I was on an airplane and read his obituary. I had four or five hours on the plane to obsess about it and think about it. I got off the plane and immediately looked into it more and became convinced that I wanted to make a film about it.

STF: Had you been interested in Fischer before, or was it really that obituary that put it in your mind?
Garbus: I, like most Americans, knew something about him. I played chess, although not seriously at all. He was in the twilight in between remembering and forgetting, and for me, learning more about him was kind of this delicious journey of all these things that I had sort of known about, but was only the tip of the iceberg. That was the process for me, and I hope also for the viewer.

STF: There's so much rich archival footage in here. You've got Bobby Fischer when he's very young, the confrontation at the end with Dick Schaap's son. Can you talk about finding these pieces?
Garbus: I had a crack archival team. It was probably a year of banging down doors all over the world trying to search for things we knew existed, or thought existed but couldn't get. That was a huge effort.

STF: How about the interview process, picking who you were going to interview. Were there people you couldn't get that you wanted?

Garbus: Yeah, there were definitely people we tried to get who ultimately weren't in the film, and there always are in films. For instance, Zita Raiczanyi, who was the girlfriend of Bobby's who helped arrange the 1992 revenge match with [Boris] Spassky, was someone we were talking too and hoped would come around to the table. But she was like, sorry, I want to close this chapter of my life. Of course Spassky was someone we spoke to a lot. At some points he seemed open to it, at other points not. His health kind of declined and we seemed to have missed the window on that.

Audience: Can you talk about how you approached the interviews and where you shot them?

Garbus: I wanted to create architectural spaces for the interviews that in some ways echoed chess games and a journey into psychology and knowing. We looked for spaces that had that kind of depth and those kind of architectural elements that in some way evoked chess but also had great depth to them, which was our journey in trying to know Bobby. In some ways, he's always unknowable, but we continue to walk down that hall that's sort of endless. Of course we couldn't always carry that out. Henry Kissenger said be at my office at 5 p.m. and be out at 5:15. Where we could and where we had a little more control of the circumstances we tried to create those environments.

Audience: I noticed the score was all original, can you talk about that?

Garbus: The composer was Philip Sheppard, who's extraordinary. But there were also about seven or eight licensed songs in the film.

Audience: There's no mention Fischer after the 1992 match until his resurfacing in 2004. Do you have any information on that?

Garbus: What we understand from that period in time was that Fischer was going from country to country. The way that one could access Bobby Fischer from that time was to listen to his call-ins to radio shows. That was the way he would interface with the public. And we listened to those 200-some hours of call-ins for some sort of clue—some sort of insight into Bobby's state of being, his thoughts. It was that kind of needle stuck in the record of that anti-Semitism and anti-Americanism, conspiracy theories. A little of that goes a long way, I think, in terms of understanding where Bobby's mind was during those years.

Audience: The beginning of the film's structure is sort of circular, going back in time, and then catching up with yourself. About halfway through it becomes more linear, and I was curious about that.

Garbus: I want to acknowledge Michael Levine, who took over editing after the passing of our editor Karen Schmeer, who the film is dedicated to. Michael and I worked on the structure somewhat endlessly. We wanted the match of 1972, which was so exciting and had such great narrative elements, to be the narrative spine of the film. But at a certain point Bobby won, and after that is the beginning of the end in terms of how his life unraveled. The way we saw it was that the first two acts of the film are the match of 1972 interviewed with his background, and then time catches up to itself. And then there's 1975, when he refuses to defend his title, and that's the beginning of the end.
Audience: How did you recover from the loss of editor Karen Schmeer?

Garbus: Obviously Karen's death was a shock. She was 39 years old and was hit by a car while crossing the street after getting some groceries. She was taken from all of us, and many of us were friends with her. She was extraordinarily talented and there are some segments of the film which she edited which are largely the same. Michael Levine, who is also a friend of Karen's, came on board. I said, Michael I don't know how you feel about this because we're in the middle of this film, and this is hard. He said, there's nothing I want to do more than finish this in her honor, and he worked amazingly hard to finish it without ego, and respecting her. It was an extraordinary gift that he gave the project.

STF: There's so much to dislike about Bobby Fischer, but one thing I like about the film is that it acknowledged his highly problematic side, but also gives due to his accomplishments. Can you talk about working that balance out?
Garbus: People ask a lot about the unlikeability of Fischer. In a certain way, I never had that problem because working with all this material I felt empathetic to him. It was so clear that that later Bobby was not some organized ideology of somebody who was going to commit a violent act, but was somebody who was suffering, who was ill. I found the early Bobby arrogant and narcissistic but also very charming. I was surprised how often he could be relaxed and have a laugh at himself openly and honestly. We look at all of this footage and see this relentless pursuit of him by the media. For somebody who's in the limelight so young it's tremendous pressure. I approached him with empathy and tried to make other people not hate him.
Audience: His mother and sister were such fascinating characters, was there more there?
Garbus: I kept looking for more of Regina [mother] and Joan [sister]. When we were pouring over the 200 hours of Bobby calling in to the radio shows, which is the most Bobby anywhere, I kept thinking, he's got to talk about his mother, he's got to talk more about his sister. But he really didn't. I think the only film footage that existed of Regina was when she would go to these protests, and we included all of that. Bobby's comments on them were limited to what he said on the bench, that he didn't see them that much. He never got more into it. We were limited in our access to that information. Bobby did not go there, so it was difficult for us to go there.

Audience: I noticed near the end you showed him walking with Miyoko Watai, now officially declared to have been his wife. You must have tried to contact Marilyn Young, and Jenky. What happened?
Garbus: Miyoko Watai is the women walking with Bobby in Reykjavik who became friends with Bobby during his years Japan and was instrumental in getting him released from prison. Upon his death, she presented the marriage certificate which some people doubted but was later upheld by an Icelandic court as valid. Most of the people who knew them describe the relationship as a friendship, as companionship, but they seem to have been married. She never responded to any of our requests for interviews. We did interview Marilyn Young, who was a Filipino girlfriend of Bobby's who claimed to have a daughter by him. Later it was proven by DNA results that she was not his daughter. We interviewed her, ultimately it did not make it into the film. Their relationship, in the scope of Bobby Fischer's life, was not a major one. And of course the daughter is not his. It just doesn't shed that much light onto Bobby Fischer.

Audience: One of the more interesting rumors about Bobby was that he would play chess online. Did you come across anything about that?
Garbus: Many people playing chess online would recognize Fischer in the play and would feel that they were playing Bobby Fischer. That came from many different corners. I don't think there's any way we'll ever know, he never confessed to doing so.
Related Film