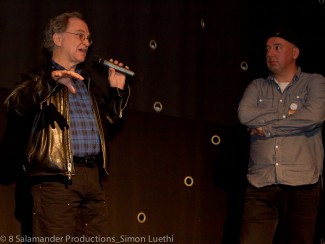 Stranger Than Fiction: Shoba, you grew up with these movies. When you watch this film, what is your reaction? What is it in this film that resonates with you? And you were talking earlier about other parts of Yugoslav film history that aren't included in this film that were meaningful to you.
Shoba: This movie is absolutely realistic, there's nothing much to add to the story. There remain so many interesting movies which have nothing to do with Communism. Numerous movies, in film noir style, movies for children that I grew up with. There were so many things happening. My entire childhood was like in the movie. Tito wanted to see a movie a day, it was like that for us, for children as well. There's also the dark side of Yugoslavian cinema, of which not much was really said. There were movies that were banned, directors who were imprisoned, like Lazar Stojanović, who made the film Plastic Jesus. Literally after one screening, the film was banned for 30 years, which was not even that radical. This was in 1974, 1975. It was a time when Yugoslavia was at a crossroads. Everybody knew that Tito, sooner or later, would die, and that something will happen. Things were going in that direction. There were little nationalist uprisings in Croatia, Serbia and other republics. People already had ideas about what was going to happen. Artists are the first to react to the situation, and, of course, artists were reacting. And some of those situations were brutal.

STF: David, let me ask you as an outsider to this world, but as a lover of cinema, what were the things that struck you about this film?

David Leitner: I was aware of a lot of the history of that cinema. I was struck on so many levels. I think the reason I'm up here is because I wrote a note to Thom after I learned that the film had been programmed, because it's a brilliant film. The film is very sly, it wraps a tremendous amount of subtle history in what I call candy coating—a beautiful film score, it's very well directed. But embedded in this film is the history of the 20th century, and it's an ugly history. It's a history that, having been born in the middle of the last century, I can't escape. In East Germany I saw film studios just like this, where the timbers holding up the flat still had bark on them. I saw the critiques that were threaded through this, and I also saw the sense of loss, the elegy in this, and was extremely moved. The Battle of Neretva is an incredible battle in the war against Germany, and I think it could be made into another kind of film. Tito was a brilliant antifascist, and a brilliant military leader. Now, that doesn't mean he had to extend his stay and become president for life. There are so many critiques of him in this film. I don't know what it is with dictators and cinema. I think Lenin said, "For us, cinema is the most important of all the arts." And it was every single one of them. In our time, it's Saddam Hussein, it's Kim Jong Il with his film collection. Stalin inherited Joseph Goebbels library, he watched a film every night. I don't know what it is, but it has something to do with the 20th century, because cinema doesn't have the same power that it did. This is the time of social media, when everyone has an HD camera embedded in their phone. In those days, it wasn't interactive. The projector projected the image out to you, and you received the messages meant to be received. This film is telling that story too, in a very sly way.
STF: Shoba, I wonder what some of your personal favorite films are from that era.

Shoba: It's really hard to say. Every Sunday morning we would watch some kind of show about the Yugoslavian army, and its strength, and then it would go to a partisan movie. But honestly, as a kid, that represented reality. Actually, Western movies were shown at night, there was always this weird combination of Western movies and Communist, partisan movies. It's hard to pick your favorite, but mine was Walter Defends Sarajevo. The main character kills like 6,000 Germans within 10 minutes, which is a funny thing. I remember movie propaganda was so strong. I remember as a kid running through the streets and collecting the movie fliers which had been thrown out of airplanes. Cinema was so huge. But the way movies were filmed in Yugoslavia, every single republic had its own studio for movies, and every republic had a movie quota. It was a government plan.

Leitner: Did each republic have a studio?
Shoba: Pretty much. For example, every major republic capital had it's own film laboratory and distribution house.
Leitner: At that time, there had been many attempts at European unification. Tito tried it by forcing a number of ethnicities, nations to band together. During the Yugoslavian period, was some kind of nationalism tolerated in these films?
Shoba: All Communist movies were pretty much about unity, about brotherhood. But no single nation was deprived of it. They didn't avoid showing religious leaders in movies, like priests or bishops. It was also very visible which partisan brigade was Serb or Croat or Montenegran. There was always this kind of representation, that was important to show in Communist cinema.
Leitner: People were allowed to have pride in their nationalist background.
Shoba: Absolutely, that was key in how everybody must be represented.
STF: Shoba, in your return visits to Sarajevo, you frequently go to the Sarajevo film festival. Can you describe what that festival means for contemporary cinema in Sarajevo.
Shoba: Sarajevo did have it's own film studios, which were unfortunately totally destroyed in the war. We had all of the facilities that you see in Avala in Belgrade, although Avala was much bigger. But it was all destroyed, all the equipment was destroyed. We had to start from scratch. Then, by the will of individuals and interest, movies started being made again after the war. Right now we can't speak about some kind of film industry, but we can speak of a really strong movie scene, and really good films. We have the best original festival in the Balkans, that's for sure. Every year many important movies are shown there. I'm just afraid that there's no development to organize production, movie studios. Not like it used to be.
Leitner: Is there an independent movie scene?
Shoba: Well, everything is independent. You as a filmmaker in Bosnia, you have to struggle a lot to make a film. You have to beg, and go around to try and find sponsors all over Europe and the world, which is complicated. The state itself does not fund films properly, they give some limited funding. Just renting the equipment is more than 50% of the film budget normally.
Related Film