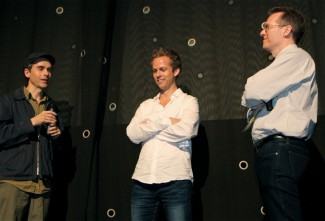 Stranger Than Fiction: Ian, can you talk about how you met Garrett, and the evolution of this project?

Ian Olds: First, it's really wild to see a bunch of people I haven't seen for years, and hearing Garrett's voice and seeing him those shots of him in that yellow shirt—that's something. So, Garrett was really stuck with this film, and I was sort of an editor, although I hadn't really edited anything. I was trying to make my own films and was stuck, and was doing corporate video to make a living. One of my roommates was an editor and Garrett came and left a big stack of papers on the kitchen table, which was essentially a manuscript of a version of the film, and was looking for an editor. So I read this manuscript and it was really strange and really moving in its way. It wasn't structured in this way, but had many of the same elements. We just worked together out of mutual desperation. He was kind of stuck and didn't have any technical skill. I had the technical skill as an editor so we just worked together to try to figure out how to put this thing together. He had done so many interviews, so we just waded through this footage for weeks and weeks and had a paper outline that we sent back and forth. We slowly learned a language together. It was through long conversations and playing around with footage that I started to understand what he was saying, and we, together, learned a film vocabulary that in some ways was the beginning of work I did in the future and the work that he and I did together. It was a very confused but wonderful period. The first cut of the film is essentially the finished film, which is a way that I've edited all of my films, sort of by accident. We just did a minute or two a day, and then looked at it at the end and said, holy shit, this is a movie. Or there's something here. There were changes, but…
STF: One of the things Garrett did once you had this film was he sent it to Jem Cohen for feedback. Jem, I'd like to hear what you made of this package that came out of nowhere.

Jem Cohen: First I should tell the whole story of how it got to me. I got a cold call one night, I was at home in Brooklyn, from a guy I'd never heard of, Garrett. To be honest, the phone rings and this guy says, you don't know me but I'm a filmmaker struggling with this project. My recollection, actually, is that he was getting negative feedback, I think from a professor. So he says, I've seen some of your work and I know you don't know me, but I wondered if you'd look at this thing. To be honest, I remember saying, man, how did you get my number? And he said, the Internet. This was back in the early days when I didn't really realize that people could do that. I was surprised, I basically hesitated and gave him a little bit of a hard time. I said, what's it about, and he told me. And I said, actually, that sounds really interesting. So what the hell, send it along. He was obviously very conflicted, and kind of stuck. And he wanted to know what was wrong with the film. So I sat down and put it in. I had a pad on my knee to take copious notes, and the movie ended and I had no notes. I called him back and was like, I think this is great, I don't think you've got a problem here. I was mesmerized. That's how I came upon the film, and then I did try to kind of push it a little bit. The culmination of that was that I sent it to Chris Marker, whom I greatly revered. Marker got back to me and said he thought it was one of the most interesting things he'd seen about America. He said that he thought it was a masterpiece. At first I was sort of hesitant, I was like, don't let it swell your head. Sometimes people are just on the right track.
STF: There's a story about this film that I really love, which is how Garrett came across that footage of the TV newsman going back to the mine.
Olds: That was amazing because we had done much of the film, but that section, we knew we didn't have enough stuff of the gold mine. Garrett had heard about this footage for years, I think. But no one had it, the TV station didn't have it, the archives didn't have it. We were editing and he came back from a trip to San Diego, and he said, hey man, I met this guy on the beach and he said he had the footage. So I gave him $125 and it should be coming soon. And I was like, are you serious? And two weeks later a VHS tape showed up that had that footage on it. The guy recorded news regularly and had that footage. He had had so many bad breaks, Garrett, and no one had supported the film early on, so this was one of those amazing moments where you're like, holy smokes, something's gone right.
STF: So if you're looking for footage you can go to the National Archives, or you can go to the San Diego beach.

Audience: I couldn't help but keep thinking about Occupation Dreamland. This is like the inversion of that movie.
Olds: There's an overarching theme of all of Garrett's stuff, or in his thinking beyond all of the films he made, which is often about labor and about the idea of people caught up in webs of history that they could not see. There's connections that exist that people are in the middle of, and are experiencing and affected by, but cannot themselves see. When the Iraq War happened and we went there, there was a feeling that there was some crossover of this working class community involved in a job and a labor of occupation. Let's examine [the war] with a similar sensibility, although more verite and less of an essay. But certainly the same sensibility that you recognize is there. I haven't seen this in a while too, and it hit me about that when I was watching.

STF: Something that strikes me about this film and Occupation Dreamland is that in a way they were works of self-appointed people. No one was giving you an assignment to make these films. Can you talk about when you and Garrett went to Iraq the degree to which you had no support?

Olds: Because of this film, we got the involvement of Nancy [Roth] and Greenhouse Pictures. We got essentially tape stock, body armor and airplane tickets. We couldn't even rent cameras because we couldn't get insurance. So it was again, us just going, doing this and coming back and showing footage to raise the money. This film in a way, proved to me that if you make interesting work it will somehow make a home, a life. I don't think I would have gone to Iraq with anybody but Garrett. Not because he was expert military man, because neither of us were that. But because I knew that we would make something that I was proud of. You know there is some weird, not healthy urge to go and see what war is like, and I was very skeptical of that instinct. But I knew going with Garrett, we would be able to keep perspective on that. A great person to work with in that regard.

STF: One of the things that prompted us to show Cul de Sac tonight is that Icarus Films has finally brought it out on DVD. One of the reasons so many of you may have heard of this film but never seen it is because it's never been available. Now it's available in a very nice package with essays by Ian and Christian Parenti. So, because it's out there, please continue to spread the word that it's out there because we want people to discover this film.
Related Film