This post was written by STF blogger Jeff Halpin.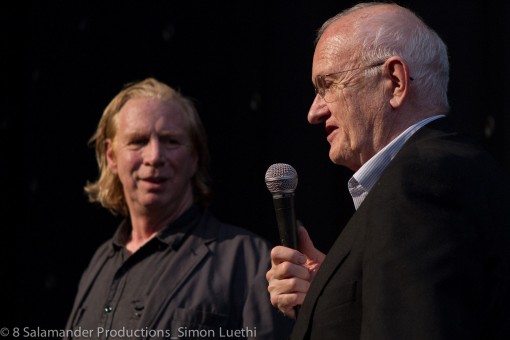 Jerry Brown angrily fusses with his hair, Bill Clinton practices his petulant bottom-lip biting and George H.W. Bush glibly chats with off-screen staffers as they all prepare for their closeup in 1992's FEED by directors James Ridgeway and Kevin Rafferty. The film combines traditional media footage from interviews, photo ops, general campaign hand-shaking and baby-hoisting with a behind-the-scenes window into candidates' makeup application and review of talking points.
After first working together on BLOOD ON THE FACE, the critically-acclaimed 1991 adaptation of Ridgeway's book of the same title, Ridgeway and Rafferty headed to New Hampshire to begin work on FEED. Citing his love of the documentary work of Frederick Wiseman, Rafferty recalled the inspiration he received after watching BASIC TRAINING for the first time in 1972. After watching the work of Wiseman, Rafferty embarked on a career in film and documentary.
FEED's main element is the B-roll or off-camera moments that are deftly captured by Brian Springer from his satellite monitoring in Buffalo, NY, combined with Rafferty's on the ground footage from New Hampshire. Springer during the 1988 presidential campaign had come up with the technique of pirating the satellite uplink material footage from the major television networks. Because these bits of material were cut from broadcast, they were essentially "electronic garbage" and were free to be used in the film.
Rafferty explained the subtlety of the film during the post-screening Q&A."We weren't shooting what was happening, we were shooting what wasn't happening," he said. "There was so much high energy all around us, but it was kind of to no avail."
Describing his personal affinity for California Governor Jerry Brown, and praising Massachusetts Senator Paul Tsongas as the "last politician that could speak to anybody," Ridgeway hailed Rafferty's "dead eye" in having the visual sense to compose the frame as he was capturing it in real time.
While Ridgeway described Bill Clinton as a "pain in the ass," both filmmakers described the "Elvis-like" presence that Clinton brought to the room. Both men also recalled the fun that they had following the Pat Buchanan campaign, despite being firmly against his political views. Rafferty recalled, "He was having so much fun campaigning, he was a jolly kind of fascist."
Related Film