This post was written by STF blogger Jeff Halpin.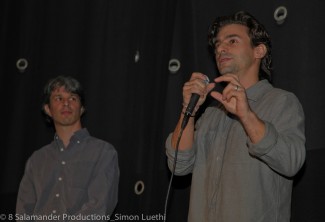 Directors Curry and Cullman were on hand to join Stranger Than Fiction Artistic Director Thom Powers for the post-screening question and answer session about a documentary that raises so many questions terrorism, environmentalism, modern dissent and protest.
Suffused with mainstream media accounts of the group's actions and extensive interviews with both federal prosecutors and ELF members, the film's structure makes for a balanced and compelling story that successfully achieved Curry's goal to probe deeper into the case. "The interesting thing was not that he did it, but why he did it," said Curry.
When asked about his thoughts on the finished film, Curry was insightful. "I feel this film has a strong point of view, but it's a complex point of view and it reflects the actual complexity of the situation," he said. In response to an audience question on the genesis of the project, Curry replied that "the idea for the film dropped in our lap." He added, "My wife was running a domestic violence organization in Brooklyn and came home from work one day and said, 'You'll never guess what happened at work today, four federal agents came in and arrested Daniel McGowan.' I had met him before and looking at his face he does not look like someone that could be facing life in prison for domestic terrorism."
With more interviews came more questions on the nature of the crimes committed and the rationale for causing the millions in damage by the ELF. "When we sat down in the edit room we realized our point of view had been stretched by the people we had interviewed and we tried to portray this in the film," Curry said.
Referencing the scenes of police rubbing pepper spray into the eyes of non-violent protestors chained to old-growth trees in the film, Curry noted that it is a cautionary tale for both sides. "For demonstrators, what are the legal ramifications of your tactics? What are the ethical ramifications of your tactics? It is also a cautionary tale for law enforcement and the rest of society to think about what kind of reactions you get when you use violence against non-violent protesters."
Both the federal agents involved the case and the former spokesman for the ELF have said that it is an important film, with federal agents going so far as to do publicity for the film's premiere. "I hope the film gives people an opportunity to step away from the ideology and out of their comfort zone and think things through," Curry said.
Related Film