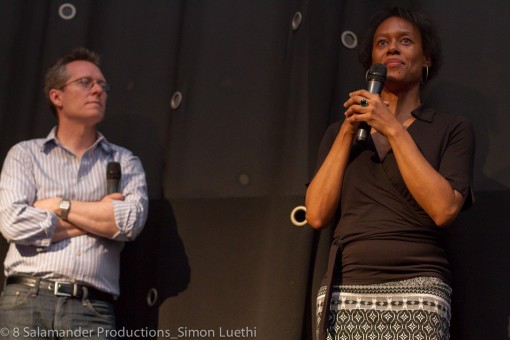 Jesse Owens' sporting career will forever be defined by his stunning performance at the 1936 Olympics held in Berlin, Germany. Owens' domination proved to be a timely finger in the eye of Hitler, who had hoped to use the sporting event to showcase his theory of Aryan supremacy. As Laurens Grant's film JESSE OWENS shows, Owens embodied not only the era's pinnacle of sporting performance, but also a strength of character rarely seen in sports today. The irony was that Owens returned from his victories abroad to a segregated United States that treated him as a second class citizen. While Hitler was roundly condemned in the press for refusing to congratulate Owens' after his wins, little attention was paid to the fact that FDR neglected to acknowledge his feats with a phone call or invitation to the White House. Years later Owens would recall, "When I came back, after all those stories about Hitler and his snub, I came back to my native country, and I couldn't ride in the front of the bus. I had to go to the back door. I couldn't live where I wanted. Now what's the difference?" Following the screening, Stranger Than Fiction Artistic Director spoke with director and producer Laurens Grant. Click "Read more" below for the Q&A.
Stranger Than Fiction: Laurens, what I love about this film is that so many of us know Jesse Owens from one line in a history book, and this brings so many other details to the story. What did Jesse Owens mean to you, and what attracted you to to the story?
Laurens Grant: I thought it would be the perfect challenge at the time, since I'm not a sports buff. I thought sports was a perfect gateway to address many themes in society and culture. And maybe some of the traditional and resonating stories of segregation, the African American migration north. Maybe this could be a different way to get at a similar story.
STF: As you started researching this story, what were the things that stood out or were surprising?
Grant: It was really hard and complicating in that he's a male subject, and I think that era they weren't very emotive. So it was a very internal subject. And I think if you're a track runner, you're whole process is almost internal. I think the biggest challenges were in taking some of those internal things and putting them on the screen. Certainly, his early life, what can we can show there? The whole point of the story is that he goes to the Olympics, but is there something we can show before that? It was scary to find out if there was going to be any archival footage of his early years. So after combing the Earth, we found more of his competitions and other bits and pieces. I also didn't realize how well he was known before the Games. That added a different challenge, because he was already famous. It was unusual or unexpected challenges like that in terms of trying to tell the story.
Audience: How do you think it would have been different if Owens hadn't been banned from athletic competitions after the Games?
Grant: In that circuit event era, it was all about competition and being in these meets. Since he couldn't do that—and it really did extend internationally—he couldn't compete with other Olympians, so he had to do these sort of exhibition meets. That was the era of traveling matches, traveling games, traveling sports events. So he found himself in that area until a little bit later when he could actually cash in.
Audience: What do you think Jesse can tell us today about African Americans in sports. The proliferation of endorsements in sports has clearly changed.
Grant: I think he had to invent that template, of what it means after your "expiration date." Now we know that you must be a spokesman and get some endorsements. That wasn't around at all, and I think he maybe helped put that into context—this is something you can actually have a career doing. I think some of the athletes today may be speaking out more. In his time, he couldn't as much as perhaps he wanted to, although I don't think he was a very confrontational person. Society has changed a lot, and athletes can and should be more vocal in terms of the world around them. What little Jesse did speaks volumes to this day. The kinship with Luz Long and some of those profound gestures, maybe they're not done enough today. They have so much more latitude and gravitas to do things. And maybe that's the takeaway.
STF: Since you mentioned Luz Long, do you know what became of him? How did he live through the war?
Grant: He was killed in the war. I couldn't concretely find that the next day he had repercussions or anything like that. He was from a prominent family, but he was killed in the war. And years later Jesse Owens got in touch with his son, and kept up a relationship with him.
Audience: When he was interviewed by Edward R. Murrow, he said we have the best system in the world. This was before the Civil Rights movement. Did he really believe that, or is that just what he was supposed to say because it was the Cold War and he was being sent abroad?
Grant: I think both. He did hold onto the American Dream. Coming from Alabama to Cleveland, that was huge. He already survived that. I think he believed in if I work hard and put my nose to the grindstone I will get results. Maybe I won't get all the results, but that's okay because society is changing and it's going to be better for the next generation. I think he really did believe that because, to him, he had a chance. He went to Ohio State. Yes, it was segregated but he got to go. He got to be on the team, he got a chance to win the medals. [Avery] Brundage was an S.O.B., but he got to be a goodwill ambassador.
Audience: Brundage had a long career. When Owens was named a goodwill ambassador, was Brundage still in power?
Grant: Brundage, he's almost like the Hoover of the sports world. He just reigned supreme forever. I watched a lot of track films, narratives to documentaries. So many athletes, white and black, had run-ins with him. He enjoyed his power, and he kept it up until the 70s. So he was involved in the 1968 games in Munich, he was just a force, a one of a kind force.
STF: Am I right that Leni Riefenstahl filmed the 1936 Olympics for the film OLYMPIAD? How did she deal with Owens? That's a part of the film I can't remember.
Grant: Yes, she did that film and a number of films. She, in an interesting way, invented sports filmmaking, and sports coverage—all the different angles and dollies and digging trenches and stuff. But she had this very interesting fascination with Owens and the other black male athletes. [audience laughter] It was quite interesting. Later in life she went to Africa with a partner. So I think it was that she idolized them and has amazing camera angles on their bodies.
STF: So did you use any of that footage? Or did you purposely decide not to?
Grant: Intentionally and knowingly we did not use any of her footage. I guess that's the good way to put it. It's all contingent to what did she shoot or not shoot. Seventy-five years later all different people are claiming ownership. But I think her cinematography is so noted, and what she was doing was so stylized. What I was trying to do was put the viewer in the moment, almost like news footage. But she did capture so many of the events, because she was there and had six cameras. But it's a bit contentious, I guess, who owns the footage, but the Olympics claim ownership.
[Q&A has been edited for length and clarity]
Related Film