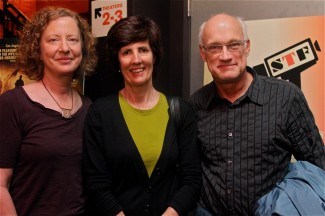 Stranger Than Fiction: About 12 years ago I was trying to develop a documentary about a mall, and one of the things that was an impediment to it was that a mall is private space. It's hard to even get on the property to film there. What was that like, filming within that location?

Vera Aronow: We had mixed experiences. As you point out, the contrast between the private space and the public space was stark. At all the public meetings we were welcomed by the town, but when we went to the mall we had to ask permission. During much of the time they granted it willingly they were trying to maintain good relations with the community, and we were part of the community. We were all part of the community and lived within a mile of the mall site. Generally speaking, they granted us permission when we wanted to go, as long as we were escorted. That did introduce some limitations. The day the mall opened, Nancy Kerrigan was going to sign autographs inside one of the stores, then it wasn't the developers say so anymore, it was the store chain. Then we had to call up to Massachusetts to their headquarters to get permission, and they said, we don't really see what's in it for us, so we'll take a pass. So we stopped having so much access. Also, there were some things that we wanted to shoot that we just went ahead and shot.

Sarah Mondale: The Palisades Center, we just contacted them and said, if you want your point of view portrayed, then you need to grant us the interview time, as with Tom Valenti. So they did. We had more trouble filming other malls in the surrounding areas. We were almost arrested in New Jersey.
Roger Grange: Yeah, after 9/11 they said we were terrorists.
Mondale: I also wanted to mention that Shirley Lasker is here, who led the anti-mall activism.
Audience: I thought you should have done more filming of the people losing their businesses. Also, did they receive any incentives to help them with their survival?
Mondale: I don't know. In Rockland, [James Howard] Kunstler, who's the man who has written a lot about suburban sprawl, he said that a phenomenon that happens often is that businesspeople in the town feel that, they're businesspeople, we're business people. We're all in the same business together. So they see the malls as friendly, at least at first. You even saw that Tom Valenti got the business leader of the year award. Ultimately, I think they were harmed by it. Shirley could answer this better, the town has all of these revitalization programs going on to help those businesses, especially in towns that have suffered.
Shirley Lasker: What happened initially is that business owners thought that the mall would help them. And of course it didn't help them. And when it didn't help them, they said, can you help us? And what we did is push for revitalization of all our hamlet centers, which are really back to the Main Street neighborhoods that everybody wanted. I've been in office for 12 years now, I'm now deputy supervisor. The whole trajectory of the town has changed since I've been in office. What we've done is, hamlet center by hamlet center, we're all now creating these Main Street neighborhoods where businesses can thrive, and that's what people really want. Because what you have now at the Mall are people coming from the outside. And the people from the community just want to shop locally.

Audience: Was the mall really sinking?

Grange: I don't think it was ever really sinking, but there are places in the basement—which is a parking garage—where the asphalt really dips. And then they would pour more asphalt on it. But the pilings that were holding the mall up were never really sinking. They put pilings down to bedrock, even though there's a toxic waste dump in between. The mall's structure isn't going to fall. But they do have enormous cracks in the concrete. Rosie O'Donnell did a spoof at the mall because she liked shopping there [about the sinking mall], but we couldn't use it because NBC wouldn't let us, it was way to expensive. It was a rumor, but I don't think it was really sinking. The cracks are bad, but I think that was just cheap construction.

STF: Did you have an opportunity to show this film in Syracuse where this new Destiny mall is coming in?

Mondale: We have not shown it in Syracuse.

Audience: The film could be used as a powerful organizing tool. Is there a organization strategy associated with the film? And also, one of the lessons learned was that, in the end, the mall was built. So for other communities, how would you advise them so the next mall doesn't get built?
Grange: That's exactly why we wanted to make the film in the first place. It was to say, okay, this is what they're saying, it's going to bring all of this great tax money into the town. We wanted to be able to take this to other communities. We don't really have a strategy yet for getting it to every community in a systematic way. We certainly hope the word gets out and people come to us and ask for it. I think it is a great tool for people to see what the problems are in dealing with a large developer, not just for malls, but for any large development. Towns are not really prepared to deal with the kind of large business machine that they're up against. Big cities can do it much better because they have more resources. But hopefully it will be helpful to smaller towns that have to deal with this. We've had quite a bit of interest from planning schools and architecture schools too. I think they understand how important this is because students of architecture don't get to go before a town board when they're students and deal with these issues. So it's good for them.

Audience: Shirley, looking back at what happened, is there anything that you would do differently, knowing what you know now?

Lasker: I really don't think we could have stopped the mall. There was too much money involved, there was a lot of corruption. Personally, I think Paul Adler was the fall guy. He went to jail and he didn't rat out a lot of other people. I think there were a lot of politicians and planning people involved—our building inspector at the time, our highway superintendent at the time. None of them were touched and Paul Adler took the fall for everybody and now he's reinstituted himself as a good citizen in the community. And he's tried to get back into politics, but I'm one of the people who sort of won't let him. I think people have learned from this experience. We passed a bond in 2000 to save $22 million worth of open space. We signed on to the mayor's climate protection agreement, we just had an all-day environmental summit. We pledged to have a climate action plan to reduce emissions in Clarkstown by 20% by 2020. We've done a lot of things that we might not have done if it hadn't been for the mall. So I think consciousness has changed in Clarkstown, and in the county, for the better.

Audience: You mentioned in the film that the town where Valenti came from banned malls. What was different about that town, and what can we learn from towns that have succeeded in that way?

Mondale: One thing Kunstler says is that you're zoning laws are really important, as boring as that sounds, because that's your vision for your community. He basically says that we all dream of these nostalgic Elm Streets and Main Streets of Leave it to Beaver yore, but in fact our zoning laws don't allow that to be built in most places in America. You can't have a corner store in residential. The commercial strip is where the stores go. A lot of it boils down to a community having a vision for itself, and then enforcing that with strict zoning laws and people getting involved. That's the message of the film for us, you have to get involved, you have to come to those meetings. To us it's all about democracy, really, people coming out and saying what they want their community to be like and letting their leaders know. People are busy, and they have their lives and they hadn't really stopped and thought about what their community meant to them before the mall came along. I think it forced people to reexamine that. It couldn't happen again, I don't think.

Aronow: I think there's kind of a shift in paradigms, you might say. I think the planning board, in the past, saw their role as to facilitate development. The suburb was new, they wanted to help businesses come in and go through the process to get approval and to get opened and built. Now it's a more mature suburb, and it has a stronger identity of what the people want the place to be, and then institute laws to force developers to adhere a bit more to their vision.
Lasker: I'll say one more thing. We do know have a comprehensive plan that now is a model for the state. A lot of the anti-mall people are now on our zoning boards, our architectural review boards. All of those activists and environmentalists are now involved. And I know they're boring meetings and they happen at night. But they're private citizens who care and they take interest in their government, and it makes all the difference.
Related Film