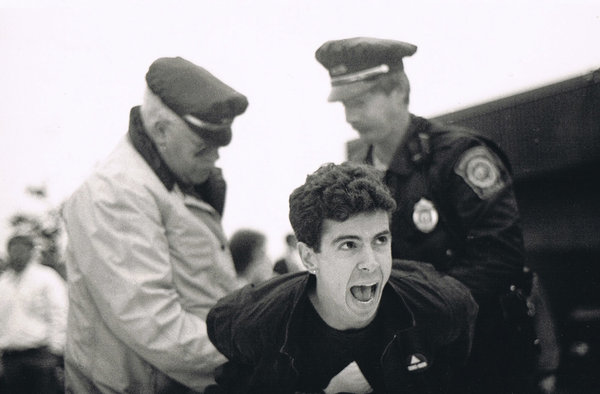 David France's film HOW TO SURVIVE A PLAGUE, about the efforts of AIDS activist groups AIDS Coalition to Unleash Power (ACT UP) and the Treatment Action Group (TAG), hit theaters this week after garnering good buzz on the festival circuit. Christopher Campbell at the Documentary Channel Blog spoke with France, along with the film's producer, Howard Getler. The filmmakers shared with Campbell their approach to hunting down archival footage, much of which had been shot by activists, some of whom had passed away years before. Tom Roston at the POV blog also spoke with France about his film, touching on parallels between the AIDS activist movement and Occupy Wall Street. And Anthony Kaufman, in his Docutopia blog, examined the film's strategy of investigating the past, and compared it to a number of other docs that do the same. You can also catch a video interview with France at the Sundance Institute's website.
Although the Toronto International Film Festival concluded on Sunday, Sept. 16, a few pieces on the festival came trickling in this week as critics and festival-goers had a chance to process all of the work they had seen. At Realscreen, Adam Benzine had a comprehensive take on all of the doc news that went down in Toronto, noting that Sarah Polley's STORIES WE TELL left the festival as the most buzzed about doc. Benzine also had a moment to interview Spike Lee about his Michael Jackson BAD 25, which celebrates the 25th anniversary of Jackson's album Bad and had its premiere at TIFF.
The good word on Polley's film was also helped along after it was named TIFF's best doc by Indiewire's Criticwire members. Basil Tsiokos of the What Not to Doc blog also published the second part of his two-part roundup of TIFF docs. Christopher Campbell, writing for Movies.com, wondered if the year's best docs had their premiere at TIFF, and provided a roundup of reviews. And Julie Miller of Vanity Fair had an interview with rapper/actor/fimmaker Ice-T and Jorge Hinojosa, the executive producer and director, respectively, of ICEBERG SLIM: PORTRAIT OF A PIMP.
This week marks the launch of the Stranger Than Fiction fall season, which is kicking off with a special Thursday, Sept. 27, 8 p.m. screening of Katie Dellamaggiore's festival darling BROOKLYN CASTLE, about the chess team at Brooklyn's Intermediate School 318. Dellamaggiore will be in attendance for a Q&A following the film. You can find more information about the film or purchase tickets here. Also keep in mind that season passes for the fall season are available for $99, which gets you a ticket to all of the fall season's films, along with a free popcorn.
Chilean documentarian Patricio Guzman shared with the British Film Institute his recollections of the recently passed away filmmaker Chris Marker, beautifully describing him as "a very slim man who spoke Spanish with a Martian accent." Guzman also recounts the instrumental role Marker played in securing him with film stock to shoot THE BATTLE FOR CHILE, and his efforts in helping Guzman raise funds for post-production work on the epic.
PBS doc series Independent Lens on Monday, Sept. 17 announced that actor Stanley Tucci would be hosting the show for its 11th season, set to officially begin Oct. 29 with a screening of Macky Alston's LOVE FREE OR DIE. Senior Series producer Lois Vossen also gave readers an overview of the upcoming season in a post, noting that it will feature such films as HALF THE SKY: TURNING OPPRESSION INTO OPPORTUNITY FOR WOMEN WORLDWIDE on Oct. 1, and Brad Lichtenstein's AS GOES JANESVILLE on Oct. 8 in previews, of sorts (I guess).
Heather McIntosh of the Documentary Site blog pulled guest duties on the POV blog this week, sharing the first installment of a series of posts about a visit she made to the Kartemquin House, the home of nonprofit doc production outfit Kartemquin Films. POV this week also announced some of the events to be held this fall in celebration of the show's 25th anniversary.
Speaking of Kartemquin, Tim Horsburgh took note of a new, massive archive of broadcast television news aired since 2009 to be hosted at the Internet Archive. The archive will be searchable via closed captioning transcripts, making the process of hunting down old news footage for that doc you've been working on significantly easier.
In distro news, U.S. and Canadian rights for Alex Gibney's hockey enforcer film (and STF alum) THE LAST GLADIATORS were picked up by Phase 4, with a Canadian theatrical release set for October, and one in U.S. scheduled for 2013.
At Indiewire, Chris Pomorski took a look at a recently posted YouTube video of a months-old panel from the Sheffield Doc/Fest featuring BBC Storyville Editor Nick Fraser, Mette Hoffman Meyer of Denmark's DR TV, About.com writer Jennifer Merin, and Shine UK's Alex Connock, from Shine UK that examined documentary funding. Since the video clocks in at 90 minutes, Pomorski did the work of watching it and distilling its collected wisdom into seven tips about funding your doc without selling your soul.
Back at the What Not to Doc blog, Tsiokos provided an overview of the New York Film Festival's documentary offerings, noting special excitement for Lucien Castaing-Taylor & Véréna Paravel's LEVIATHAN and Dror Moreh's THE GATEKEEPERS.
The International Documentary Film Festival in Amsterdam (IDFA) this week handed out its WorldView Award to two projects: WOMAN WITH A CAMERA by Karima Zoubir and RED WEDDING by Guillaume Suon and Lida Chan. The award comes with an $8,100 production grant to help the projects get finished. In addition, the filmmaking teams in June had participated in the IDFAcademy Summer School.
Roman Kroitor, a filmmaker credited with being one of the pioneering members of the direct cinema movement, passed away on Sunday, Sept. 16 at the age of 86. Kroitor was also one of the forces behind the development of the IMAX film format, and an important member of the National Film Board over the course of his career.
ITVS International this week announced that it was doing away with its once-a-year submission process, and would now accept doc applications on a rolling basis.
At Filmmaker Magazine's "The Week in Camera" feature, Michael Murie took a look at Sony's latest full-frame sensor cameras, the NEX-VG30 and the NEX-VG900, pondered the death of film in favor of digital, and noted that a slew of new HDSLRs were slated to be announced in upcoming weeks.
Filmmaker Magazine also had a piece on the overlap of romantic relationships and documentary filmmaking teams by Valentina Canavesio, a doc filmmaker who married a fellow documentarian, Omar Mullick.
Back at the Documentary Channel blog, Campbell nabbed an interview with Steve James about his latest work HEAD GAMES, which examines the lingering effects of concussions in sports.
Realscreen's Kevin Ritchie had news of the doc lineup at the 2012 Hamptons Film Festival, set to run Oct. 4-8. Liz Garbus' LOVE, MARILYN will open the festival, which will also include T.C. Johnstone's RISING FROM ASHES; Annie Eastman's BAY OF ALL SAINTS; Tora Mårtens' COLOMBIANOS; Carlo Guillermo Proto's EL HUASO; and Jessie Vile's JASON BECKER: NOT DEAD YET.
Indiewire's Bryce J. Renninger took a look at the relatively new online film distribution platform VHX, which, like Distrify and Dynamo, gives artists the ability to make their film work available for renting or purchase online. This area is getting crowded quite quickly, and with some relatively big players, such as Google's YouTube, which recently promoted its rental service during Sundance.
With a bunch of releases crowding theaters this week, Campbell was again forced to split his tally of theatrical releases into two posts. You can find the first post here, and the second here. Among those films being released are James' HEAD GAMES; KNUCKLEBALL! by Ricki Stern and Anne Sundberg; and RADIO UNNAMEABLE by Paul Lovelace and Jessica Wolfson. Over at the New York Times, A.O. Scott penned a review of RADIO UNNAMEABLE for interested parties.
That's it for this week. Please keep in mind that you can email tips and recommendations for the memo .(JavaScript must be enabled to view this email address), or tweet them to @GuerrillaFace. Have a great week all!
Related Film