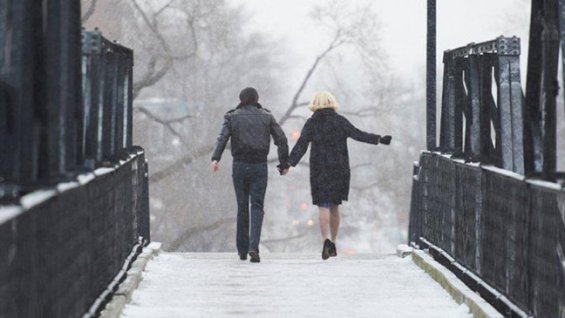 The Toronto International Film Festival got underway on Sept. 6, drawing attention from various media outlets. At the CBC, Andre Mayer took a look at the rise of the "hybrid doc," which really seems to be another way of expanding the definition of documentary film. The Toronto Star's Linda Bernard shined a spotlight on the number of women directors showing work at TIFF this year, among them doc directors Liz Garbus and Amy Berg. Writing for Movieline, Frank DiGiacomo highlighted 10 TIFF docs he was eager to see, with Sarah Polley's STORIES WE TELL topping the list. And Indiewire's Alison Wilmore reported that HBO had already picked up the Alex Gibney film MEA MAXIMA CULPA, about the Roman Catholic Church sex abuse scandal, for theatrical release in November. Both Realscreen and Canada's POV Magazine had interviews with director Peter Mettler regarding his film THE END OF TIME. The radio station 680 news also took a minute (several, actually) to speak with Jamie Kastner, director of THE SECRET DISCO REVOLUTION. And Thom Powers was kind enough to provide a thorough run-down of the documentary buyers at TIFF that regular readers of the STF blog may have already seen.
Roger Ebert on Sept. 7 announced via Twitter that Steve James had been tapped to direct a documentary about his life, with Martin Scorsese and screenwriter Steven Zaillian named as producers on the project. Christopher Campbell at the Documentary Channel noted the natural fit for James on the film, pointing out that Ebert had been a strong supporter of James' HOOP DREAMS back in the day. Kartemquin Films, the nonprofit production house with which James has had a long professional relationship, also expressed excitement at the news in a post on its site.
Calls for the release of Syrian filmmaker Orwa Nyrabia continued unabated this week, with the International Documentary Association (IDA) posting a list of film organizations agitating for his release. Nyrabia, a co-founder of the DOX BOX film festival, has been missing since August 23, and is widely suspected to be in the custody of the oppressive regime of President Bashar al-Assad due to his pro-democracy beliefs.
The board of the Academy of Motion Picture Arts and Sciences on Sept. 5 named seminal documentary filmmaker D.A. Pennebaker among those slated to be given an Honorary Academy Award. Christopher Campbell took a deeper look into Pennebaker's offerings to the doc world, as well as some other documentarians who have also received some special awards from AMPAS in the past. However, he noted that this was effectively the first time an Honorary Oscar will be handed to a documentary filmmaker.
In other awards news, SCARED STRAIGHT! director Arnold Shapiro was named the recipient of the IDA's 2012 lifetime achievement award. The actual hardware will be handed over at the IDA's 28th annual awards ceremony, scheduled to take place in December in Los Angeles. The IDA also said it would hand its Pioneer Award to the Sundance Institute's Documentary Film Program and Fund, which has supported more than 425 films during its existence by providing between $1 million and $2 million in grants annually. The nominees for the rest of the IDA awards are set to be announced in October.
Christopher Campbell gave us the list of those docs hitting theaters in two easily digestible posts, with the first noting the release of GIRL MODEL and BABY PEGGY. Almost a full year ago, Filmmaker Magazine's Scott Macaulay spoke with GIRL MODEL directors Ashley Sabin and David Redmon about the film, while at the Cinereach blog, Reva Goldberg got the pair to open up about the effect the making of the film had on them. In his weekly Docutopia post, Anthony Kaufman zeroed in on the body of work produced thus far by Sabin and Redmon, focusing on its exploration of the effects of globalization.
In his second theatrical release post, Campbell took note of BEAUTY IS EMBARRASSING, DETROPIA, MULBERRY CHILD and VERSAILLES '73. Director Neil Berkeley's BEAUTY IS EMBARRASSING, about artist Wayne White, who worked as a puppeteer on the classic children's television show "Pee-Wee's Playhouse," earned a critic's pick from New York Times writer Andy Webster. Campbell netted an excellent interview with DETROPIA co-director Heidi Ewing that touches on the wide net cast by the filmmakers in making the film. And Marketplace's Kai Ryssdal also spoke with Ewing and film subject Tommy Stephens about the genesis of the film and its ambivalent ending.
Across the pond, the folks at Doc Geeks took note of the fact that the International Documentary Film Festival Amsterdam (IDFA) would be celebrating its 25th anniversary in November, and pointed out some of the benefits that milestone would bring doc fans. Doc Geeks also pointed out some of the doc-related panels and events going on as part of The Smalls Film Festival, scheduled to take place in London from Sept. 17-21.
Doc Soup Man Tom Roston tackled the polemical film 2016: OBAMA'S AMERICA for his latest column at POV, describing it as the most "offensively funny" film he had seen yet this year, but later adding the caveat that "all great comedy is rooted in tragedy." In a post for movies.com, Campbell said the financial success of 2016 got him thinking about the potential resource that Frank Capra's fictional films could serve for those making political documentaries. According to Box Office Mojo, the film has earned an estimated $26.1 million at the box office as of Sept. 9.
I missed this one last week (please accept my late pass), but Dennis Lim wrote a great piece for the Times about Harvard filmmaker/anthropologist Lucien Castaing-Taylor, and a class he teaches at Harvard University that Lim argues is responsible for making some of the most interesting docs to come out in recent years.
A memorial fund for Brian Gerber was established this week by friends of the late documentary producer and IDA board member. Donations will be used to aid Gerber's wife and two young children. Gerber passed away in late August in an apparent suicide.
In distro news, Icarus Films announced that they had cornered North American rights for Silvio Da Rin's film 10TH PARALLEL, which follows a trekkers journey into the Amazonian jungles of Brazil.
STF regular and DOC NYC volunteer Kiira Benzing is in the midst of an IndieGoGo fundraising campaign for her project THE WAVE MAKER, about alternative science proponent Irving Dardik. For more information on the campaign, please go here.
That's it for this week's Memo. As always, please e-mail your tips and recommendations .(JavaScript must be enabled to view this email address), or tweet them to @GuerrillaFace. Have a great week!
Related Film