The below blog is by Brian Geldin and reprinted from The Film Panel Notetaker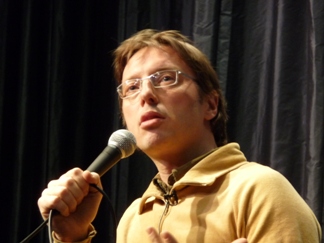 Nugent: In looking at the film again I realized, with the exception of one shot, there really isn't sync sound footage in the film. What sort of guiding principle do you have in your editing choices?

Dews: I think a lot of the things I'm happiest with about the film happened through necessity. I really had no sync film, except for…the black and white television interview with Charley…The majority of the footage of the original material is from about 10 years earlier…I basically worked out this idea where I would use the images in a very poetic, sort of metaphorical way…One of the things that interested me about the material was that in the visual, you're presenting a classical view of the '50s where everything's kind of shiny and new and everybody's very happy, but on the tapes, it's a very subterranean view of what's going on, sort of whispered secrets…I really thought the juxtaposition was very beautiful because I feel like a lot of the pressure of the '50s and the later explosion from the '60s that were put onto people was this idea that everything had to be perfect on the outside and I think that caused a lot of anguish. The guiding principle I used was can I use a person that's talking? If I can't use a person that's talking, is there some image that I have that says something to what they're saying or contradicts it in some way?…It really became like trying to make one puzzle out of a box of maybe 20 different images.
Nugent: How much do you think the time period compares now from 40 years ago in respect to the social morays, the state of psychiatry and communication challenges?

Dews: I was really shocked in just the way the whole situation seems extremely conditioned by the times and the belief system of the times. The whole thing with their sort of love of psychiatry comes true in the visual footage of their love of trains and airplanes and tape recorders. All of this stuff somehow is part of the same thing…It made me wonder how much of what I do or how my life is conditioned by my time, emails and cell phones, things like that that they didn't have. I always kept thinking that my grandmother had one of the first driver's licenses in the state when she was young and they didn't have telephones when she was born. Her father was a great fan of telegrams…I think they were a transitional couple maybe. That they were sort of stepping from the 19th Century into the 21st in some way because of the decisions they made and the beliefs they had, but…for some reason or another they couldn't see through to get divorced…I struggled with this idea that they were so advanced and so modern in some senses and just not in others.

Nugent: How do you think this film would have been different if it wasn't your family?

Dews: I can't really answer that, but I try to think of it as if it was somebody else's family, but they were just characters in a way. I don't know in what sense that I succeeded, but a lot of people at first found this material and decided to make a film kind of pushed me in a direction where I can do a personal documentary about my discovery of these secrets of my family. I just felt that it would be such a disservice of the material. The material was so powerful and these voices kind of whispering at you from beyond the grave would be so much more compelling than whatever experience I could have of the material.
—————————————————
Some photos from the reception that followed at 99 Below:
Hampton International Film Festival programmer David Nugent and Hampton's supporter Anne Chaisson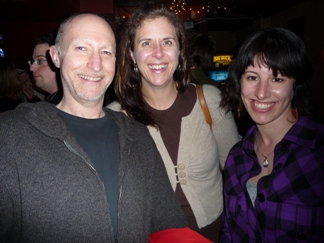 Mark Lipsky of Gigantic Releasing, producer Alison Bourke and filmmaker Jessica Wolfson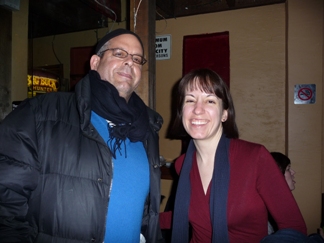 STF sponsors Andrew Mer of
SnagFilms
and April Benavides of
New Video / Docurama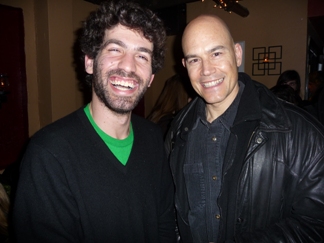 Filmmakers
Joshua Weinstein
and
Paul Devlin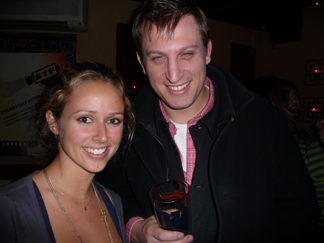 STF first-timers: filmmaker Beth Earl and Matt Waxman.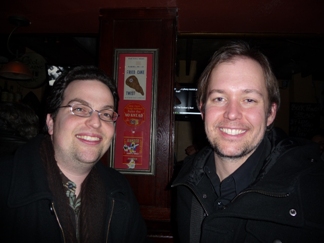 Film Panel Notetaker
Brian Geldin and STF intern Erik Guzinski.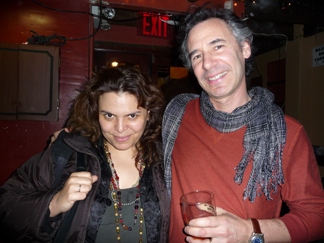 Filmmakers
Judith Helfand
and
Adam Zucker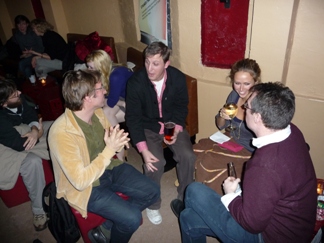 The crowd at 99 Below (director Morgan Dews with Matt Waxman, Beth Earl, Thom Powers)
Related Film