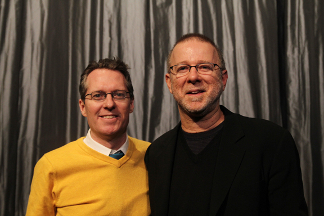 STF: What was your father's reaction to this film when he saw it?
Berliner: It's probably one of the top two, or maybe three, moments of my life. I had the very good fortune of premiering this film at the New York Film Festival at Alice Tully Hall. The filmmaker sits in the director's box, which is the mezzanine level, and in anticipation of the screening I asked the people at the festival if maybe my father could sit in the orchestra far away. I was really nervous, he hadn't seen the film and I wasn't sure what was going to happen and I didn't want the pressure of him sitting next to me. There is a tradition at the New York Film Festival in which at the end of the film a light shines on the director and the audience applauds.
And I said, they can take the light and after they shine it on me, they can shine it on him, it might look nice. And they said, Alan, stop it. That's the place he's going to sit in. So, begrudgingly I had to agree. Then a rather amazing and unforgettable thing happened. The film was over and I stood up and received nice applause. My father stood up, then the applause got bigger, and then we both sat down which was the signal to the person in charge of the lights to shut the lights down and then we'd all go home. But that's not what happened. We sat down and the applause was still going on and the light is still there, and now we're in unscripted territory because I don't know what to do. I motion to my father that he should stand up again, so my father stood up and about 1,100 people in the room all stood up, in effect giving him a standing ovation.
People were crying and I was crying, and it was just this amazing moment for me. And of course, during the course of the film I'm watching him watch the film and it wasn't a very good screening for me because I was very nervous. He never mentioned it to me, really, but about three weeks later someone told me that he had mentioned to them that it was the happiest night of his life. In the mythology of this film, that's a sort of signature moment. But then it was aired on POV, on public television. At that point I had been showing it at a lot of festivals, and screening it at a lot of different places. So I decided to buy him a closed captioned television so he could actually read the film—he had hearing issues, I wasn't sure he was getting everything. So I went in his room and I set it up, and the film went on. So he's listening, reading, watching the film. He was living in this senior citizen's home, and because he was such an isolated person, I didn't put a sign in the lobby or anything. So I went out in the hallway when he was watching the film—he was in room 710—and I walk down the hallway and in 708 I'm hearing my father's voice, and again in 707. It's a 16-story building on 95th Street and West End Avenue, and I realize that this whole building, or at least lots of it, is watching the film.
My father went from being completely anonymous—the next day men where shaking his hand, saying, oh man, you had a wife like that? He's getting extra mashed potatoes in the cafeteria from the servers. His whole life changed. People now know is name. He used to sit by himself, now people are inviting him to sit next to them at meals. Now people are—in the ensuing weeks and months—now know who I am. People are keeping an eye out for him and I'm getting feedback. He's getting recognized on the streets of Manhattan. You must know my son, he would tell them. No, I saw you on television. And so we flirted with this idea that he was a movie star in some sense. And the truth is, if I may say, and friends of mine who are social workers told me, having known him before and after, for about two years after this film, my father's life changed. And they actually called it one of the most successful interventions—the film as intervention—that they'd ever witnessed.
I realize it wasn't that I changed the way my father looked at himself, because as I introduced the film I said that he never really got it. And he really never did get it. But what the film did do, was that it changed the way people looked at him, and it forced him to deal with the world and with life differently. Because now he's getting invited to sit with people at dinner, and so now he has to talk, even though he can't hear—and that was another problem, his hearing really got in the way of many social interactions. But he had to deal, he wasn't anonymous anymore, and in effect he had to rise to the occasion. And for about two years he got love letters and marriage proposals in the mail. But to my father, anyone who wrote to me or him, or especially to him, was a whacko—that's his word. It was all quite silly, more than silly. It was a very interesting run we had with him for a few years, and then slowly, but surely, dementia started to set in. In fact he didn't get his wish to be remembered as a man who has all his marbles. He, in effect lost all of his marbles.
Audience: How did you start this project? What made you want to make a film about your father?
Berliner: There are lots of different ways of answering that question. He was always there as a presence in my life, and his sadness was so heavy for me, always. Believe me I spent years and years trying to change him, trying to snap him out of this malaise. Here I am in the verbal prime of my life thinking I can do lots of things with words, and taking him here and there and sharing with him, and he would have none of it. I sometimes used to say, by way of analogy, in trying to reach him—and I'm not the only person in this room who has wanted to change their parent in some way—I rang the doorbell and he didn't answer. And I knocked on the door and he didn't answer. And then I knocked harder, and he didn't answer. And then I stepped back and screamed up at the window, and he didn't answer. And the only thing left to do was throw a rock through the window. This film is my rock through the window.
Audience: He seems so combative, how did you get him to sit down and talk with you in the first place?
Berliner: There are a lot of answers to that question. One is, we loved one another. And in a way, it was as if he was helping me with my homework. After, lo, many many years, he was helping me once again with my homework. But the other thing is this: my father's life was very much an open book with one or two lines in it. I would call my father up and say, I'm going to do an interview with you on film on Friday. But before that I'm going to bring someone named David [Leitner] over on Wednesday at 10 o'clock just so you can meet him. Now I know my father's schedule because he did the same thing everyday. So my father could never say, oh 10 o'clock on Wednesday, I'm going to a Mets game or a movie. He didn't do anything. When I went through his things after he died, I thought I would find a special journal—even a bottlecap collection would have done it for me.
I went he was there at 10 o'clock on Wednesday because he had nothing else to do. And we went at 10 o'clock on Friday and he was there. But he also loved me, and I loved him. He was helping me with my homework. He's a human being, and his son—I'm not sure how it would have been if it were someone else—but when I show up with a notebook with 400 questions saying I want to know everything about his life—there's a vanity dimension to this and I think that appealed to him as well. And by the way, he threatened to get up out of the room several times—never did.
STF: How long did you actually spend interviewing him?
Berliner: This was shot on motion 16mm film, and we were shooting on eleven 400-foot increments and I had three magazines. Every ten minutes we have to stop, take a magazine off the camera, put another one in, shoot another ten minutes, stop. And then, at the end of that 30 minutes we have to unload each of the magazines and reload film in it, and it's a delicate process. I think we shot three or four hours. There were several big interviews, but that three or four hours would take all day just based on logistics. And there were another couple pick up interviews I did with him, just audio interviews, for instance when I came back from Poland. I had to give him a chance to say I told you so, you wouldn't find anything. After my sister gave birth to her daughter, I need him to weigh in about being a grandparent.
Audience: How much of the final film was in you mind when you started?
Berliner: As a filmmaker I'm a big believer in the idea that you should never really know where you're going when you start. You should be changed by the process of doing what you do. I'm a big believer, also, in bad ideas, because I believe the way to good ideas is only through bad ideas. So I'm not afraid to have them, I'm proud of them. So I had a lot of bad ideas when I started making this film. I thought I was making a portrait of my father. That was a naive idea. For one thing, there's no such thing as a portrait of a person, particularly because I'm asking him hundreds of questions over a period of time. I realize it's about our relationship. And then when you think, naively, that you're making a portrait of someone, it's really about the universe of subjects and ideas and dynamics that are contained in that relationship, in that subject. So I wasn't making a film about my father, I wasn't even really making a film about our relationship. I was making a film about love and hate and generations and culture and history. And who owns the memories, how do we mediate the memories, who owns the past, how can we talk about the future? And that's just the tip of the iceberg. I didn't realize what kind of universe there was in his story. The evolution of my thinking was radical in terms of thinking what this movie could contain.
I had identified—through an expression my father once used to describe our combativeness—he used the phrase verbal sparring, it was a playful expression he had. Somehow I internalized that and started to think as a boxing match as a kind of visual metaphor. So I had that in the back of my head as I started to think about archival imagery, which I knew would be a layer to the film. My first inkling was to create a film that was structured around a heavyweight boxing match. And I was going to have title cards—round one, round two, round three. It seemed interesting, and then I realized it was a bad idea because if you have a bout and you actually have 15 rounds, then someone has to win. This isn't about winning—someone in the audience saying, well we just finished round 10. I got the kid six-four, what about you? I didn't want that kind of thinking. It's about resiliency, the oedipal drama is about resiliency. It's perpetual, and ideal.
So I let go of that idea, but I kept the boxing match, I tried to use it strategically throughout the film. When I began, I didn't really understand the breadth of that metaphor. For instance, at some point my father says, you keep on hounding me and pounding me. Over the boxing footage, it takes on a different meaning. There was a certain point where we're talking about the divorce—and keep in mind I'm the filmmaker so I have all the power—and my father says to me, apropos my parents' divorce, that just shows your lack of feeling, that shows your lack of understanding, your lack of sensitivity, of understanding. And I kept those words in because I wanted my father to be able to hit me too. In a film I'm making, I don't necessarily want those words in. But I consciously, purposely wanted to empower him to hit me, to land some body blows, or some psycho blows as it were. And I might not have put them in without the push and pull of how it helped the boxing metaphor somehow.
STF: In the film Wide Awake you bring us into your library of footage and you have cans and cans of footage that you've been collecting over the years and that you've drawn upon over the years. Can you talk about your collecting and how that began, where you get footage from?
Berliner: The first thing is that I recognized at a young age that my affinities were for making collage. I liked putting things together: ideas, moving images, still images. I liked making connections between things, and I did it when I was a little kid, I still do it now, and I'll die doing it. I just, over the years, without even truly understanding why until later, have been surrounding myself with things—images, sounds, magazine articles—that I can put together. I don't necessarily need to know how it goes together or what it goes together with. I just know the more things I have that go together, the more the algorithms of infinite possibilities exist, that I will find in playful ways, things to do with them. And that has been borne out. When I finish a film, the images that I use are not worn out, they're not gone, they go back in the pool. If you were to look at all my films as a totality, you would see images and sounds reused continually, and that's another little game I play through the body of my work. I'm using sounds and images, giving them new context and meaning by using them in different ways in different circumstances in different films. You probably noticed a few other shots that were in Nobody's Business that were in City Edition. That's a 15- or 16-year gap between those two films. So that's another layer of fun for me.
STF: So where does this footage come from?
Berliner: When I came of age as a filmmaker in the mid- to late-70s, early 80s, film was everywhere. You could go to Willoughbys and buy motion picture film. You could buy reels of film—1960: The Year in Review—you could take home an hour-long film for ten bucks. I used to buy home movies. I had various film-related jobs that I would freelance at, there would be stuff in the garbage. I begged, I borrowed, I stole, filmmakers gave me their outs because they knew I had room on my shelf for them—still do to some extent. As long as there are shelves, there's room for imagery to put on them, and there are collages to be made
Audience: Could you describe your editing process?
Berliner: Each film has its own process and is its own story. This film took about three years and included going to Poland. My personal life was in a bit of disarray in the middle of this, within that three years I took off six or eight months and forgot about it in a certain way. I also make installation projects and I had a gallery project that took me about three months, so it's woven into life. Yes, the primary element of this film is the interview with my father, in a way it's an ongoing conversation. When you start out to make a film—it doesn't matter if you're a poet or painter or writer—in some ways your motivation is because you want to include everything. Everything is potent and everything has meaning and everything's good. It's good to want to include everything, a film, like a novel, can't include everything. How do you do a biography of a person's life in an hour? It's almost absurd. So there are many dimensions of my father's life that we discussed that are not in the film, as interesting as they may have been. In some cases even funnier or more poignant than what's in the film. Every film that I make begins with a kind of soft, faint heartbeat, and ends up during the course of its making with a strong personality. In the course of that building, in the evolution of that process, and I don't mean to be mysterious or mystical here, but the film tells you what's in and what's out. I'm a big believer in listening to your film as your making it. In general, that's a big part of my process, listening to my film.
This film premiered in September 1996 at the New York Film Festival, which means it had to be finished or close to finished for submission in July. My friend Spencer who was visiting from California came to look at it in May, and after about ten minutes told me to stop. He said he wanted to throw up, that it was claustrophobic, that the pathos of my father was just so much that he couldn't bear it. Whatever pretensions I had to universality, it was not working on any level, and that I better do a radical rethink because I'm in big trouble. Not only that, he said to me, where's that footage that you shot of that vault in Utah?
By the way it was really difficult to get permission to shoot in that vault. It's run by the Mormon church, and I was the first person they allowed in 35, maybe 40 years. I wrote them a letter, they initially told me no. Why? Well we don't let anyone in there. We get 100 requests a year and we say no to everybody. And then I got a Guggenheim Fellowship for this film, and I had written in the application that I hoped to get access to this vault. And I thought, maybe they gave it to me because of the vault. And I realized I wrote that in the application I really have to deliver here. And so I wrote to the head of public relations of the Mormon Church. I said to him, I know you said no, and I accept that completely, but can I ask again. Can I write another letter, and you can say no again, but I just needed permission to write another letter. And he's a very courteous and generous guy, and he said, sure you can write another letter, I can't stop you, but they're going to say no because they say no to everybody. Anyway, three months later I get a phone call and he couldn't believe it, he said you've been given permission to film in the granite vault. And he called it providential, which for a Mormon to say that is a heavy thing.
Back to the question, the footage from the vault was not in the film. I said to my friend, I haven't really figured out how to use it and it might not be in the film. Obviously I have many other problems to solve in the making of the film besides how to use this film. Something between May and June, I figured it out. I figured out a way of connecting my father to that, if there are the names and other peripheral documents of more than two billion people in that room, well the key then, what if you could talk to one of them, or to someone who will one day become one of those two billion. I had already asked my father those questions and it was just a matter of recognizing this big crowd. Part of my father's anonymity was his penchant for hiding in big crowds. And that was just another big crowd, that two billion deceased in the vault, and it was just about showing his face, in this case just his voice, in that crowd. And asking him to reflect upon the implications of that, and then it just opened up for me.
[Interview has been edited for clarity and length]
Related Film