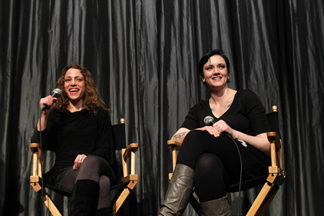 STF: Tim, as you were editing this film, how much was the experience of post-traumatic stress syndrome on your mind, as experienced by a journalist?
Hetherington: I started making the film because I was in hiatus from working on Restrepo and basically I'd been a resident of West Africa for many years. I was living in Liberia, I covered the wars in Sierra Leone, Liberia, Ivory Coast. I was editing Restrepo and I did an interview with a journalist from the BBC who was making a series of programs about artists that are ethically challenged, which kind of made me laugh. I showed her some of the footage from Liberia that didn't make it into the film Libera: An Uncivil War. I saw the look on her face and she was really shocked. I wasn't shocked by the footage but I was really shocked by the look on her face, and then I felt really disturbed by that reaction. I realized, wow, what's happened to me? It was the first time in 10 years where I thought, well what's all this done to me? So I made the film thinking about trauma and what it's done to me, and the film is really my first attempt to locate myself in the work. I've always made the work without myself in it, I'm not in Restrepo, I'm not in any of the work I've ever done. I felt very it very important that as a documentarian that there's a distance that I'm recording and witnessing from. And this is the first time where I was like, let me make something as a way of exploring the material myself. So in that way it was a kind of self-indulgent film to make.
STF: You include a kind of self-deprecating moment where you're talking sort of fumblingly to, I take it, a journalist, trying to describe what it is you do. Do you find it difficult to have that conversation?
Hetherington: There's a process in which you have to extrapolate what's really going on when you're doing this type of work. When I first go into it I try to pretend it's because I really believe in these issues, but in the end you actually realize there's a lot of your own personal motivation in there. Also, I think if you're not open to self-doubt, if you're not saying what am I doing and is this working, then you have issues. I think being able to say I'm primarily there for myself, the byproduct of my work has utility and is useful. Being honest about yourself and those motivations is obviously difficult, and it's difficult to explain that to people sometimes.
STF: There's lots of moments that make you wonder what's going on. One in particular is the driving scene near the end, can you talk more about what was happening?
Hetherington: When we made Liberia: An Uncivil War, Jonathan Stack was the director, and I was with another guy James Brabazon and we were the only outsiders to live with the rebel group in the forest that eventually pushed Charles Taylor from power. Liberia: An Uncivil War is the two sides of that war, Jonathan in Liberia and me and James in the bush with the rebels. That was during a retreat. If you're with an army when it's retreating it's very unpleasant because everybody is demoralized. They had almost run out of ammunition and they were being shot at from two sides. There's one road to get out so it's like a big traffic jam being shot at. It's very frantic, as you can see. The exposure's gone and the car behind us was blown up, so it was a very frantic kind of moment. Coming from that into the hotel scene where you have the plastic on the grapes—there's a kind of romance about covering wars and I think that it's interesting to peel that away and reveal the reality of what it is. There's all these things that are not so romantic about it.
STF: What was the process like digging through these outtakes and putting connections together that didn't exist before?
Hetherington: It wasn't really about finding the most violent footage, as such. It also finding the strange stuff that puts you in a strange kind of zone. Working through stuff backwards was a really big thing for me. This is an experimental art film, basically. I just allowed myself to do things that challenge both myself and the viewer, like turning the frame upside down. Not the most obvious things. The most important thing—instead of finding the most grotesque or funny moments that I filmed—I wanted to give the viewer the simultaneity of the experience. The fact that you can be in Times Square one day and then you can get into a plane and go into another reality, and that all these realities coexist together. What we see in the news media is a kind of separation on the screen, when in fact those realities are happening right now. In Egypt there are tanks on the streets and there are people who may be there from this world, and all these worlds coexist. There are refugees living in New York who have had terrible experiences in Chad and are here for a reason, and that kind of simultaneity of experience was at the heart of making the film.
STF: Restrepo has been out and doing wonderfully. What is next for you?
Hetherington: I have a number of ideas floating in my head. My work goes from art stuff to mainstream—I'm an image maker and I'm interested in the still and moving image, and the different forms that it can take. But one of the things I've been thinking about its the fact that a lot of reporters are formatted into how we receive news and information about the world because of economic necessity. People get sent to areas by Time magazine or they get sent there by ABC and then they make these things. And there are obviously constraints because they're being employed. On the other hand, you have narrative films that are imagined afterward, or there are documentary films that are usually done through talking heads which are kind of reconstructed. I think it'd be really interesting to go into these situations, like in Egypt, and to try to make films. Try to film it and make it, not because you're doing it for television, to try to get myself outside of the financial burden of being there and then just being allowed to make work that is somehow doing something else, but is yet documenting. That's something I'm really interested in.
STF: In a way it seems like you had that kind of liberty in Restrepo, am I right?
Hetherington: Yeah, we did. Everything in life is small footsteps, so Restrepo started to go one way and I thought, that's interesting. You know, I'm interested in science fiction and ideas about opening up genres. I was like, wouldn't it be great to make a science fiction film in Afghanistan, sort of mixing places and ideas.
Following is the Q&A with Nesson and Murray.
STF: Sara, can you talk about how you came to meet Robynn?
Nesson: It happened on Martha's Vineyard. I was hosting a retreat for about 30 veterans who had come out from all over the country. I had been working with Iraq War veterans who were involved in paper-making and Warrior Writers workshops for a little over a year. Then I thought, why don't we combine these two workshops and have all these vets come together and have a retreat for all of them? I lived on Martha's Vineyard for seven years, and I was living in Vermont at the time but I had a friend who gave us 70 acres of land for everyone to come to. Robynn was one of the vets that came, and I didn't stop filming her since then.
STF: Robynn, what was your first notion of letting Sara film you?
Murray: Sara actually didn't set out to make a film about me. Sara was making a film about Combat Paper, and I thought that I was going to be a small part of a big film. Then I got a call from Sara, and she goes, by the way, I made a documentary about you, can I use it? I had to think about it because it's inviting people into my life, and I realized that to do that would be to show people what happens to veterans when we get home, and that's more important to me.
STF: Robynn, this film has been out for six months now, what's that been like?
Murray: For me it's been very odd, because I get people who have seen the film or worked on the film, and I kind of feel like they get to know me but I don't get to know them. Mostly the overall reaction has been positive, but there's been a few jerks who've said, you're an anti-war veteran, I want to punch you in the face. Whatever, screw them anyway. I'm just glad I could be a part of this with Sara.
STF: Robynn, can you bring us up to date on what you've been doing since this film was made?
Murray: Eating a lot more, because I'm not broke, I can afford groceries. I moved out to the country, I got a lot of counseling. I still have PTSD problems, but I have the coping skills to deal with them. I'm in a great relationship, I have two dogs, and I still paint and I still write. I'm nearing the completion of a book of poems, essays and short stories.
STF: Sara, it sounds like you've had a long involvement in this area. What were the challenges in bringing a story out of this? There's a lot to choose from out of all this material.
Nesson: When I first got involved I didn't realize what I was getting myself into. It's definitely challenging to work with someone who's suffering through any kind of trauma because you take on a lot of that. It's painful to hear the stories, but you're exposed to their energy and that's very difficult. When I adapt to situations I take on other people's energies really easily so for me, I needed to learn my own coping mechanisms. In trying to find the story, Robynn was in this other film that I was working on for a couple of years, Iraq Paper Scissors, and I just didn't know what to do with it. I wanted to focus on the VA aspect of what veterans were going through, that elephant in the room that they were dealing with, and the bureaucracy, and the fact that they had no life experienced and they were forced to prove that they had trauma. It's an emotional trauma, it's a psychological trauma, so it's much more difficult to prove. What these vets were trying to tell me was, hey, no one's paying attention to me. And that's why I wanted to try to make this film, to paint a bigger picture to show what they were going through, and I never thought it would go this far. So I had Robynn in this other cut, and I brought it out to L.A. and I showed it to this person, who is now my producer, at a producer's workshop. And he said Robynn clearly stands out as her own story, you have two films here. From there I started working on the film about her, and I didn't tell her because I didn't want her to freak out before I knew what was happening with it. And when HBO finally picked it up, I was like, I guess I can tell her now.
STF: Robynn, from your perspective, where is this country in facing the issue of PTSD, and treating vets the way they should be treated? And what needs to happen to make it right?
Murray: Unfortunately, I think the country learned too late what PTSD was doing to our troops. The U.S. actually waited until the rate of troops committing suicide coming home was higher than that of those who were being killed in combat. I remember going to visit Fort Drum and asking the colonel, do you have more beds for PTSD? Because these soldiers, these people, not just men but the women, are forced to be macho, we have to blend in. And when you want help, not only is it hard enough in the beginning to just admit that you need help, because everyone's going to know. It's like high school, everyone knows everyone. And then there's that stigma attached. So when you're still active duty and you want to make an appointment and your command doesn't want you to, they can still shut you down. Inside the military you really have to fight. I remember telling a military doctor while I was still in, hey I'm thinking of committing suicide, and this is a man that said I didn't even have PTSD. He fell asleep during one of our sessions. Luckily, I think with vets supporting other vets, and with organizations like [Iraq and Afghanistan Veterans of America], Disabled American Veterans and Iraq Veterans Against the War—I think we're just now as a country starting to move in the right direction, but the VA needs a lot more funding, the vet centers need a lot more funding.
STF: Sara, have you given thought to how this film might be used in a public education campaign?
Nesson: I just got an invitation from an international organization on traumatic stress and they want to show the film. I've just been bombarded with invitations from universities and small, grassroots organizations, to other film festivals. I think it's a really great opportunity to get the word out there. Like Robynn was saying, nobody knows that there's an epidemic of suicide among vets—there's 18 a day, which is outrageous if you think about it. The whole reason I wanted to make this film was to bring the public closer to a veteran, through Robynn. Just to personalize the experience to get people to understand what they're going through. Because I think there's a disconnect between the public and veterans today.
Audience: Are there certain things you are doing now to help other soldiers going through the same thing?
Murray: I'm actually on the board of directors for Iraq Veterans Against the War now, and I speak at high schools and colleges on anything related to my military service. PTSD related to combat or even PTSD from military sexual trauma and I really like speaking to students, they're very receptive.
Audience: How do you think this documentary will contribute to the dialog about female combat veterans?
Murray: I think that for the people that watch it, it personalizes it more. They're not just hearing or reading about this happening to women, they can actually see my face. They see me going through these problems, they see me crying, they see me breaking down. Through most of the film my wrist is bandaged because I punched I don't know how many holes in walls because I didn't know how to deal with that anger. I think the job that Sara did of capturing that process is phenomenal, and it's a great jumping off point. People feel like they know me after the film, so hopefully they'll want to help other people through me, I hope.
Audience: Sara, how hard was it not to put down the camera when Robynn was breaking down in the attic scene?
Nesson: That was probably the biggest challenge of all of the shooting that I did. The editor muted my voice out, but I was trying to comfort her with my voice. I wanted to wrap my arms around and put the camer down, but thank God Annie, her mother, came up and hugged her for me. So I kind of got lucky with that.
Audience: What was it like for you and Sara to come together and share narratives through the film project?
Nesson: There's many different ways of looking at that. Between Robynn and myself we developed a vision for what we were doing. On the larger scale, there's Warrior Writers that does writing workshops with veterans and all kinds of art-making with vets. There's Combat Paper. Just getting these projects going and inviting civilians to participate in them really brings a focus, a common goal together. Just using Martha's Vineyard for a microcosm for how communalizing can work—bringing veterans into a community created the best of so many people. So many people came out in droves to support them. We had people coming out leading them in yoga and meditation and massages and people offering their homes and cooking for us. We had people bringing us mattresses and blankets and asking, what can I do to help? I think sometimes it's a mutual effort of finding each other and making it a collaborative effort.
Murray: For me, during the filming of this and being involved with Warrior Writers and Combat Paper, one of the problems I had after I got home was, I felt like no one understood me. I felt like every civilian had nothing in common with me I couldn't talk to them, they would never understand what I was about or even if I told them something they would think I was completely nuts, and I kept myself separated. My friends were either vets or still in the military. And what I found through organizing, through being an activist and through being an artist now, is that I've been introduced to these wonderful people that I'm so glad I could get used to again. I really don't know what it was. The military itself is such a different community, there's a different language that people have to understand, it's like a different culture, and I was reintroduced to a normal culture.
Related Film