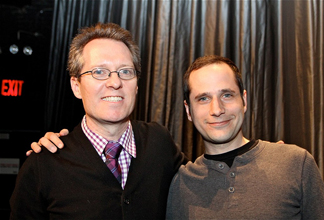 Stranger Than Fiction: Justin, now that this film is complete, in a way there's some closure to this search. How does that feel, after having spent so much time on the search, to have it ended and out there?
Justin Duerr: It feels incredibly satisfying and wonderful and great and superb and spectacular and marvelous. But how do I really feel? That's how I really feel.
STF: Colin is it you who oversees the online discussion about the Toynbee tiles?
Colin Smith: Yes.
STF: And since the film came out at Sundance has that picked up more?
Smith: Not really. People have been really interested, but people who turn up on the discussion board tend to be more interested in speculating about the mystery. There's been a little bit of that.
STF: It's funny, on the way over here I noticed a little tile skeleton man on West 3rd Street. There's a suggestion near the end of the film that there are imitators out there of the Toynbee tiles. Are there any clues to that activity?
Smith: Yeah, there are definitely a number of copycat movements. The yellow stick figure tile that you're referring to is—I think a Philadelphia-based artist, he's definitely active in Philadelphia—who's designs, probably a lot of you have seen them because there are a lot of them, the yellow space man figures. They're all over the U.S. and the West Coast as far off as Seattle. He was influenced by the Toynbee tiles, but obviously he's doing a different design and he has a different material to make his design. But there are people who are making actual Toynbee tiles that are copycats. The House of Hades are the most prolific ones, and they're all over Manhattan, so keep your eyes out for them. Some of them have their own messages that are inspired by the Toynbee tiles and are really well done. And some of them are just copycats of the actual Toynbee tiles.
STF: Jon can you talk about putting this film together. You draw from a lot of disparate sources including archival footage. Talk about the amount of time you spent following these guys around.
Jon Foy: We started in April of 2005 so it's been just about six years. My memory's not so good, I can't remember everything I've done over six years. We shot the ongoing investigation I would say until early 2007, so that's kind of the time frame of the story. Then we just started going back through all of these interviews and sifting through it and figuring out how to build the case that we want to build. From there it was just a matter of, we want to make this clear, we want to make this clear, so what material do we have, and what can we drum up? And how can we use this material of someone we have? That was the process.
STF: Matt you did the illustrations for the film. Can you talk about what went into that, what source material you were drawing from?
Matt Rota: I probably know the least here out of anyone on stage about the Toynbee tiles. Jon contacted me right after I'd gotten out of graduate school, and I'd never heard of it. He sent me a lot of information. I still wasn't one hundred percent clear about what the film was about, it was a mystery. But you sent me these general descriptions, and some of the messages off of the tiles, which were very visual. So the angle I approached it from was the idea of this big mystery and conspiracy so I tried to surround myself with that. There was imagery like the mafia and the Soviets and the government and the media. I did as much as I could to draw from that, knowing little about this, but getting inside those cryptic messages as best as I could. I just tried to give everything a conspiratorial, tense edge to it.
Foy: I loved how your stuff came out. I should say that Matt was very much in the dark—this is the first time he's seen the movie. I would only add that when I saw Matt's work—and Steve was actually the one who had first pointed Matt out to me because he saw his work in the Philadelphia City Paper—I said this is perfect. I don't feel like I needed to give him a lot of direction because I feel like when you pick the right person you let them do their thing, and Matt did his thing and it was perfect.
STF: Steve, I want to ask you as someone who has a great devotion to these tiles. Do they continue to hold as much fascination when you come across a new one?
Steve Weinik: It's been a long process and many years. Honestly, it's not the same as it was when I was 13 or 14 years old and I saw one on the street and was like, wow, what is that and how did it get there and what does it mean? Because we've really answered all of those questions. I do have a sort of obsessiveness that continues on. I will look for them everywhere I go. If I'm visiting a new city I check for them at the intersection I think they would turn up—usually the busiest intersections. That's almost a habit now that I can't break. If I'm at a rest stop or in a city street, every time I cross the street, especially in New York or Philadelphia, I'll look for a new one. That continues on, but the mystery of it we investigated pretty thoroughly and I think answered most of those questions.
STF: Just look both ways when you're standing in the middle of the street.
Smith: That was the most dangerous part of this. We weren't in a war zone or anything, but we're standing in the middle of the street or lying down.
Foy: Steve drove up here with me and some other folks from the movie and Steve was pointing out tiles on the highway.
Weinik: No, I was pointing out where tiles used to be on the highway.
Foy: Justin and I went on a car trip last week and Justin was pointing out where tiles on the highway were.
Audience: Justin, imagine that you wake up and look around and realize that you can see every human that's ever lived and the sky is all these funny colors and you must be on Jupiter. What do you think is happening?
Duerr: It's funny that you asked that question, because often, many, many times in the course of filming this movie when we would almost get beaned by traffic, we would say, you know how this movie is going to end? We're all going to wake up in Jupiter. To answer your question with complete honesty, I would think, well I must have been resurrected dead on the planet Jupiter. And I hope that the Minority Association or the powers that be, if there be any kind of hierarchical power system—the tiler never makes that clear in his writings exactly. He says we should put all forms of government aside to concentrate on this. He doesn't really make clear what kind of hierarchy, if any—I would hope there wouldn't be any on Jupiter after you're resurrected. If there was anything like that I would hope they would be merciful to me. Otherwise I'd be pretty happy, it sounds nice. There's a lot of room there.
Audience: While you were making it, did you see a difference between how street art is discussed versus the tiles. Was street art given a legitimacy that the tiles weren't?
Duerr: It's really strange because in the street art world, or whatever you want to call it, there's a big disconnect between the horizontal and vertical worlds. If you're doing street art that is vertical based—if it's on a wall—people look at that one way. If it's horizontal—on the ground—people look at it in a completely other way. That makes perfect sense. The way we orient ourselves in our environment has a lot to do with how our species evolved. We walk upright, that's pretty strange. And we scan our environment from five to six feet up with our eyes, so we're kind of designed as a species to notice stuff that's in this horizon line. Stuff on the ground, or stuff high up in the air, is a whole different story and I think people compartmentalize them totally differently. I think the street art community at large in regards to graffiti and such always pretty much completely ignored the tiles or anything about the tiles. I never really heard them discussed in street art discussions until they gained a lot more attention in the press and stuff. More legitimacy or less? I don't know about legitimacy but people always thought of them very differently.
[Q&A has been edited for clarity and length]
Photos courtesy Simon Luethi: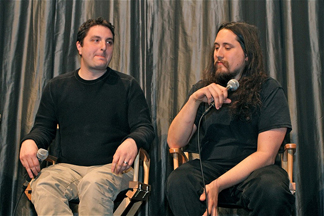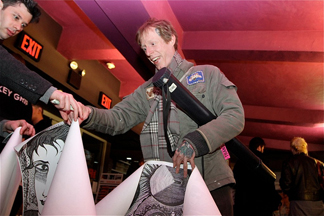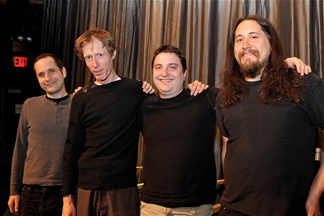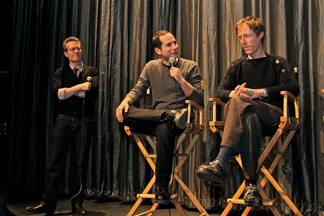 Related Film