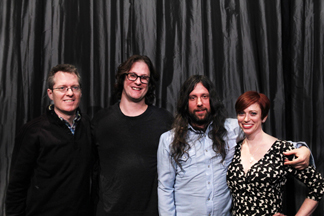 STF: How did you get involved in making this film in the first place?
Don Argott: I had a production company for seven years with a previous business partner. We kind of got together when we graduated college in '95 to make movies and for seven years we did nothing but not make movies. It was one of those things were the necessity of trying to make a living kept getting in the way of us making movies. He really wanted to move the company to Los Angeles—I like Los Angeles fine, I just couldn't see myself living there. So we broke our partnership up and I said all I really wanted was the editing equipment and the camera and I was going to figure it out myself. That was how I started out on my own, and the first thing I really wanted to do was make a movie. I was walking down the street one day in Philadelphia and there were all these amazing wheat pasted posters that you can kind of see in the film—The Paul Green School of Rock presents the music of The Who, basically these glorified recitals. I didn't know anything about them, but I kept seeing these posters, and I was like, I bet that would make a good documentary, literally knowing nothing about Paul or how insane he is. So I called him up out of the blue and he said, yeah, come on down, we'll meet up. I met with him on a Monday and on Friday I was there with a camera. I was there for nine months, and again, I had no idea—as soon as the camera started rolling, he's fucking crazy. And I was like, oh, this is going to be a great movie. That's really how the film started, and at the time Sheena was working at another job and she really wanted to get out of that situation and I said I'm doing this thing and I don't know what it's going to lead to, but maybe we can work on it together. Then [editor Demian Fenton] came along, and you had approached Paul.
Demian Fenton: I was hanging out downtown in Philly and I stumbled onto a Rock School show were some little kids were playing Iron Maiden and I just lost it. Much like these guys, I'd been working in New York for a long time just doing stuff to pay the bills. And I wanted to make a movie too so I approached Paul about it. I was like, hey man I want to make a documentary and he was like, too late, there's already some people doing it. I was like, who the fuck are these jerks. That's why its beautiful to watch this again because it's kind of sentimental for us. We met doing this nights and weekends.
STF: Sheena, do you keep in touch with Paul Green or any of the characters? Do you know what anyone is doing now?
Sheena Joyce: I don't speak to Paul very regularly, but he expanded Rock School and last count there were what, 48 schools across the country? So he's the Ray Kroc of children's rock schools. Last we heard he has a new venture and he's really not associated with the schools anymore. So I believe they dropped the "Paul Green" and it's just School of Rock now. The Collins twins are juniors in high school at a prep school. CJ [Tywoniak] just turned 21. Andrea, the twins' mom, unfortunately got a very aggressive form of breast cancer and passed away about two and a half years ago, but the twins are doing awesome. Will [O'Connor] we totally lost touch with. Madi [Diaz] went to Berklee [College of Music] and is a singer/songwriter now.
Fenton: Musically, I thought CJ would peak somewhere around 13 years old. He's continued to just destroy. He's an amazing, amazing guitar player. It's insane, just look him up on YouTube or something. It's phenomenal.
STF: What was the relationship between the Jack Black film School of Rock and this one?
Argott: It was probably four or five months into shooting—this was in 2002, 2003—Paul would Google himself often. I'll never forget, he called me over to the computer one day and said, hey, you know there's a movie being made with Jack Black in it called School of Rock? Paramount's making it. And I was like, no, I had no idea. Unfortunately, that film came out first, even though I think we probably started shooting earlier—we were a no-budget documentary that had to figure out its way. I think that film really hurt us. That film came out and in a way it was good because it gave us recognition that there was a real-life school of rock. But, I think they kind of marketed our film to the School of Rock crowd. This is an R-rated rough documentary—Paul is telling the kids, fuck you. You're not going to get the Disney kind of School of Rock crowd, and I think that they were hoping to get that one percent of the people that went to see School of Rock, and that one percent never showed up. Unfortunately I think it kind of hurt us in the end more than it helped us.
Joyce: In fact, when we got it rated by the MPAA, they sent you a certificate, which is your rating, and then they'll call you and explain why you got your rating. But they actually go through and kind of tick off how many times you say each word. So we had a conversation with this really nice lady who was like, well, there's 47 "fucks" and you only get two and they have to be adjectives, they can't be verbs. And we were joking that we were going to get t-shirts made that said "47 fucks," but didn't think that would be really appropriate for some of our audience.
Audience: At the end you say the music was given to you, I guess by the performers and original rights holders. How did you convince them?
Argott: It was not given, at all.
Fenton: One side is given, because the students perform.
Argott: Right. Other than doing a foreign language film where the performers are speaking in another language, doing a music film is the dumbest thing you could possibly do. Luckily, at the time that we sold it, the market was much different and they were actually paying good money for documentaries. So we sold it for a decent amount of money, but it cost us $250,000 to license all of the music. People gave us breaks, but not everybody.
Fenton: Black Sabbath was cool, for the record.
Argott: Black Sabbath gave us a good rate. Unfortunately Black Magic Woman, the woman who owned the rights who just passed away. She was evil, she charged us like $36,000 for the rights to that because it was the opening credits. Gail Zappa, unfortunately, was not that pleasant to work with either.
Fenton: It was so tough because with a music documentary, if we can't get a song where we just placed it underneath, it's cool, we just chop it out. But we had all this content married to music. CJ plays this song Eruption by Van Halen, it's just finger-tapping, shredding. We had that cut. Paul, at the end of the film, oddly enough kind of takes over the whole Zappanale Festival. But he gave this beautiful speech, but there was a Zappa song playing in the background that we couldn't license so we had to lose that as well.
Audience: What was Paul's reaction to the film?
Argott: The first time we showed it to him, we went to his living room and watched it with him and his wife. It was kind of a heavy moment for us, it was our first film and we were dealing with real people. When you put it all together in the edit room, everybody gets relegated to a character. Not that they're not real, but they're all characters in the story. We showed it to Paul and there was silence for a good minute. And then he was like, well I don't see how this film is going to help me. So we had a kind of heavy conversation where I was like, this was not a promotional film for the Paul Green School of Rock Music. This is a warts and all film. You saw me there with the camera, I wasn't hiding in the bushes. He was playing to the camera. What was great though, is we premiered it at the Los Angeles Film Festival, where we ended up selling it. He was sitting next to me and it was kind of tense because of course, we wanted him to like it and enjoy it. The film started and we were five minutes in—it was a great crowd, the audience was laughing—and he leans over to me and says, this isn't the same film that you showed me in my living room. He needed the validation that people were going to respond to him.
Fenton: All the success Paul's had comes from getting the kids out there and showing this kind of product that he has. And even for my taste there's still too much concert footage. We never went into this trying to make this concert movie, and I think that's what Paul wanted to see, but we never wanted to make that.
STF: Talk about your new film, Last Days Here.
Argott: Last Days Here which is premiering at South by Southwest was really supposed to be the follow up to Rock School. We started it in 2006, and Demian and I co-directed the film.
Fenton: It's the story of this old rock guy who's been frozen in time in his parents' basement since the 70s. He made all of this amazing music in the 70s that the heavy metal underground recently rediscovered. He was in a band called Pentagram. It's this guy's journey—we went into it not trying to make a rock doc—so it's this guy's journey out of his parents' basement at 55 years old, headed towards a new life. And the story is insane.
Argott: It's really hard to talk about because there are so many things that happen that you don't want to spoil it for the audience. When we started the film it was like, we'll try to keep up with this, Bobby's smoking crack in his basement—he's not doing a lot. We don't want to see him die. So every once in a while something would happen and we would go down and shoot it. We made two films in the meantime, we made this film called Two Days in April for Netflix, and then we did The Art of the Steal, all the while doing this film in the background. And it took four years, which is the only way it could have been done, it couldn't have been done with any funding. It would have been hard to pitch to an investor: we found this guy, he's on crack in a basement. He might die, but we need a couple hundred thousand dollars to do it. The only way we could do it was the way we did it, and we're really excited about it and thrilled that we're going to be at South by Southwest.
[Q&A has been edited for length and clarity]
Related Film