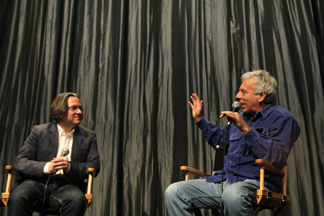 STF: Do you have a personal connection to the garment industry? People you knew, people in your family?
Levin: Yeah, my grandparents ran a hanger and dress form business in Brooklyn that was my great-grandfather's. He immigrated here and in many ways his story is like a lot of the stories you see here. He was a poor Jewish kid that came here as a teenager. He invented and patented, I think around 1910, an adjustable dress form for the company Acme Dress Form, and did very well. And the other side is, my father refused to go into the schmatta business, he ended up becoming a journalist, but both my mother and father became labor organizers. My father-in-law actually worked for [labor leader] Sidney Hillman as a union organizer. When you look back, you discover, like so many others, yeah I'm connected to this story too.
STF: Do you have any memories as a child of visiting these factories?
Levin: I have to admit that I've been kind of fashion illiterate and ignorant most of my life. In fact, when I was making the film I remember once I was on the beach with two of my sisters and I was reading Women's Wear Daily. And I overhead my sister saying, what happened to Marc? They had never even seen me look at anything, although I live right in the Garment District on 26th Street right next to [the Fashion Institute of Technology]. I've been surrounded by it, and I live, actually, in what used to be a garment factory—my studio is in the Starrit-Lehigh Building, which used to be a small industrial building and has now been taken over by fashion marketing, media companies and so on.
STF: For a film that's historical in nature, it had a very personal feeling, that's why I asked.
Levin: Well, it's not just me. One of the things that was an eye opener was how many people, if you just scratch the surface, are in some way connected. When we went to Toronto and opened the film there I was stunned. I never realized that there was a huge schmatta business up there. And Sheila Nevins, who is the head of HBO non-fiction and a force in her own right, we discovered that she had a very profound connection to the story. She had heard stories that her great aunt had been in the Triangle Shirtwaist fire. And during the making of this film Daphne Pinkerson, the producer, did a lot of research, and we were able to discover that Sheila's great-aunt actually died in the Triangle Shirtwaist fire. She was one of the young women who jumped out the window and died, we found her death certificate. That became such a powerful force, not only in the making of the film. The Triangle Shirtwaist fire happened only a few blocks from here, in the Ash building right off of Washington Square, and this March 25th is the 100th anniversary of the Triangle Shirtwaist fire and it's going to be a major event in New York City. We've done a kind of memorial film that is the story of what happened as told through the descendants, through people who are somehow connected to all sides of that story.
The genesis of this film was, I had for years been on Sheila's case about doing something that speaks to the economy and how things are changing and she would always say go with your friend Bill Moyers, or go to Frontline, that kind of thing. And then in the summer of 2007, well before the crash, she said, maybe it's time to do something, let's start looking. And I was actually looking in the hedge fund world because I had some family in that world, and they were beginning to get uneasy about the whole subprime crisis. It was the beginning of a panic, little did I think it would develop into what it did. So I went to her and said, I think I can get access to this world, no one's ever really been inside, no one understands. And she said, hedge funds, no one really cares about that, that's on Bloomberg, CNBC, we don't do that. She said, what about the garment center? And I looked at her like she was crazy. I mean the garment center, does that even exist anymore? Is anybody even making clothes? And she started looking at what she was wearing—this is made in India, this is made in Thailand. And I said, you want me to do something on the schmatta business? And she said, scmattta—great title. And I said, yeah, what's the film? And she said, you'll figure it out. I think you're right, there is a personal element, and I think that's what we struggled with—not only because we were connected—to try to get some human voices, some humanity, some people from all different elements of this world who were affected by it. One of the original ideas was the last season in the garment center, which you see some of the characters struggling with. So I think that idea of personalizing it was there from the beginning.
STF: I also have a connection to the garment industry. My grandparents and my parents were among Cubans who came to the U.S. in the 1960s and my grandmother and my mother worked in some nonunion shops in Queens. So as a kid I remember going to these factories and you'd have the long tables and people cutting fabric, so watching this film reminded me of that world.
Levin: I'm amazed at how many people had some connection to this business.
STF: When you brought Sheila the death certificate of her great aunt, was there a moment there?
Levin: There's a coffee table book coming out about [the Shirtwaist Triangle fire] and she wrote the introduction to it, and it's a letter to her aunt Celia. She broke down, it was very moving, and I think in a way she felt in some way—Sheila, Cecilia—she may have been named after this great aunt. It was a very personal, very moving moment. But I think she may be willing for the first time to step out on a personal level and speak about that.
STF: The rags to riches to rags story is one that is mirrored in wider society. We get to this high point in American labor, and then people are trying to take us back into the 19th century.
Levin: I think it's appropriate that you bring that up because the State of the Union is tonight, and then Mike Pence, who is a very conservative fiscal Republican, is giving the response. And then, if that's not conservative enough for you, Michelle Bachmann is doing a tea party rant. So it actually began in the late 70s and early 80s, this push to deregulation. There were both political forces and technological changes: the automation, outsourcing, that you could find cheap labor anywhere, globalization, containerization. But deregulation was obviously a huge part. The political will was that we have to liberate capital. We've done enough for the working people—that was the New Deal—now we have to rebalance it and do more for capital. Obviously there's a lot of debate to that. I guess what I found fascinating was one, I never thought about looking at these tectonic economic shifts through the lens of fashion, which is what this movie is.
Fashion is such a popular culture force now, it's such a language that people understand, and it's obviously a way of interesting people. If you were going to say we're going to do a history of the political economy people would say, thanks but no thanks. This is a microcosm—the auto industry, the steel industry—all of that manufacturing. The statistic is the mindblowing centerpiece, that we made 95% of clothing in the United States in the early 60s and now it's down to 2% or 3%. That's a huge question, where do we go? There's a line in the upcoming film Remembering the Fire, where one of the relatives says, you hear all this talk about deregulation. You know what deregulation is, look at these young women lying on the street. This idea that business doesn't need to be supervised, doesn't need to be regulated, that it will self-regulate, that the marketplace will take care of itself—how this myth has taken hold and has such power. And even after the crash of 2008, here we are three years later and we're hearing the same mantra. That was one of the unique things about this endeavor, which is, let's look at it through this lens that's different than you normally would.
STF: Can you talk a little bit about your relationship with HBO? You have now made a number of films with them—Soldiers in the Army of God, Protocols of Zion—both excellent films that everybody should see. Can you talk a little bit about how that started?
Levin: I started as a kid with the Maysles, I was 18 years old, I dropped out of Wesleyan University. I'm still friends with Al [Maysles], I look up to him as one of the great figures and as a mentor. What happened was, they were making Gimme Shelter—this was in 1969, 1970—but somebody told me they were doing a film on the Rolling Stones on 1697 Broadway. I just walked in there, and somebody shoved a bunch of 16 mm cans in my hand and said, take that around the corner. So I did, and I came back, and did that for the next couple days. And it was after three days that David Maysles came up to me and said, who the hell are you? And I said my name is Marc Levin and I'd love to just be an intern, an apprentice. I wasn't getting paid, I didn't care, I wasn't thinking about labor organizing or anything. At some point David [Maysles] came down with mononucleosis, and I would go to the hospital and I would screen these scenes, and he would give me notes, and I'd come back. So I'm about to leave, and he says Marc we have something very important to discuss. [Maysles Studios partner] Charlotte [Zwerin] came to me and said all the editors are going to go on strike if I don't pay you. I knew nothing about it. And he looked at me as if I was a subversive who was trying to organize the shop. And I was like David, I'm not asking for anything. He said, well you don't have a choice, they're going to go on strike unless I pay you. So you have a big decision to make. You can either get paid—I think it was $75 or $100 a week—or you can get a credit on the film. So being a wiseass kid, I'm thinking, a credit, what am I? I'm a nothing, I'm an intern. I'll take the $100. And about seven years ago they re-released Gimme Shelter and I went and saw it, and I felt bad that my name isn't on it. It's one of the great films of all time. So I guess it was my first lesson in showbiz. That's how I started as an editor.
I was able to hook up with Bill Moyers. I came up more through the journalistic background and documentaries were white papers on CBS, they were PBS documentaries. Sheila, I see, as a figure who came out of that world—she worked for Don Hewitt, she worked at PBS. But she created this bridge—this world of nonfiction that we see now that cable empires—Discovery, A&E, National Geographic—built around nonfiction storytelling. She was really the one who said, this doesn't just have to be do-good, educational. This can really be something that attracts an audience. I started working with her I think in '89 or '90 on a film called Mob Stories—all of the subject matter that she was the first to kind of popularize—my understanding is that some of those documentaries were getting higher ratings than the Hollywood movies. That was an eye opener. So they're seeing these documentaries, and they start thinking we need to create programming. She's unique in the corporate world in that the way she works is impulsive, it's from the gut, it can change direction. All I can say is that that spoke to me, and also that she said, I want somebody to watch this, I want an audience, and I believe we can get an audience. So for me that was a huge growth, from strictly looking at it from the news world, to oh wow, this is human drama, and it can be shaped. I'm doing a series now called Brick City which is really an outgrowth of that work, which many people compare to The Wire. It's nonfiction but it's not a reality show, and it's not a documentary in the conventional sense, but it plays very much like you're watching The Wire meets West Wing. So I see her as a person who certainly helped me, helped the audience, and helped a whole generation of filmmakers move in that direction. At the same time she's a difficult woman to work with. So you have to know how to be part of that creative dialogue, but it played to my strengths and I give her tremendous credit. At one point she said, where do you think all of the children and grandchildren of these people that made it into the middle class that worked some way in this industry, what's happened to them? And this was post-crash, in the fall of 2008. So right now I've been following for the last six months four families who really had a good life and knew the best of the American dream but have been out of work for over a year and probably will never regain the position that they once had in life. So it's this slow-motion free fall. And, unlike this, it's a very personal story.
STF: I believe Barbara Koppel's first gig was as an intern on Gimme Shelter, and her first day she went to Madison Square Garden and they had about 40 road cases of equipment and they said, "Stand here and make sure nobody steals anything."
Levin: I was with her last night at Sundance, and I certainly remember when she made Harlan County U.S.A. back in the 70s and that was certainly a seminal event in thinking that somebody who was a contemporary making a documentary that opened up on the Upper East Side, it won an Academy Award. It just kind of opened up so many avenues of thinking, well there are different ways of making film. You don't have to just run to Hollywood and do it that way.
Audience: Can you talk a little bit about when in the post production process the music and sound design comes in, and if you conceptualize the music before you shoot, while you shoot, after you shoot?
Levin: This is a musical, first of all. That's the secret to why it was on HBO. So it has a certain kind of entertainment and showtime element. [Musician and composer] John Zorn is a friend of mine, the guy is a genius. This is the only film I think he will ever do where it's a combination of original score and licensing of major songs. John came in, I knew he had an interest in this area, and I just showed him some footage when we were just starting. Some of the geometry of the garment center, and some of the characters to give him a taste of some of the different personalities, from garmento to cutter. And the next week he came back with an album. And he had obviously been thinking his own thing, and he went in the studio with a trio, and they just had a magic moment and they came out with 12 pieces, I think 10 of them are in the film. It was a loop and [editor Richard Lowe] and I would play that music, and that gave us a rhythm and a kind of texture that we started working off of. We would cut scenes to it. So music was key. Now, Rhapsody in Blue, which opens and closes the film—that wasn't just taken out of the air. That was played at Marc Jacobs incredible show that he had in 2008, literally, I think a day before the crash. When Gershwin wrote that song in the early 20s it was very much about New York City, trying to capture, in music the chaos and diversity of the growth of this metropolis. And it was literally at that time that he wrote that that the garment district was being born. It was originally in the Lower East Side, just people working in the Tenement, then it was around [Greenwich Village]. The wealthy people that lived on 5th Avenue and all of the famous shops on 5th Avenue, they got upset that there were all of these immigrants that didn't speak English that would come out of the sweatshops during their lunch hour and be on the street. So they said, we need to move this out of here. And at that time, the midtown area was actually a prostitution and gambling area, and so the garment center and these immigrants were moved into that area. Music was key to the process and kind of a type of feedback. Music was essential, and I know John appreciates the film, but I will admit that came up to me and said, that's the last time I will ever score a film where there's anybody else's music in it. So I'm happy that he allowed us to mix his original score with a lot of licensed music that carried us through the 20th century.
Editing, in the end, it's rhythm. It's about finding a rhythm of storytelling. We talk about beats just like musicians talk about beats. I think that music is essential in filmmaking, because it's very much about the rhythm of storytelling, even in narrative.
[Q&A has been edited for length and clarity]
Related Film