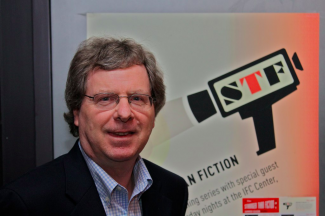 Stranger Than Fiction: Can you convey to us what director Asif Kapadia said about the origins of this film?
Tom O'Keefe: It's been 17 years since Ayrton Senna died in that race on May 1, 1994, and it's been during all that time that people have been saying, when is there going to be a film about Ayrton Senna. One of the main considerations along the way is whether there should have been an actor. Antonio Banderas, in the last 10 years, was thought to be a good candidate, and he kind of looks like Senna. But in the end, no one could ever get the rights, no one could ever get the approval of the people who controlled all of the footage that you just saw. So it never happened until these two guys came along. Asif and [writer] Manish Pandey, a Formula 1 fan principally, the two of them convinced the leader of this sport, an 80-year-old billionaire named Bernie Ecclestone, to give the filmmakers access to hundreds and hundreds of hours of footage under one condition. That they come to the airport where the film archives are kept. They sat there, the way you would at the public library here in New York, and submitted requests, and out would come the archive. They reviewed each race that way, and they finally got more and more sophisticated at it, and realized there were sometimes five or six angles of Senna. Then they went to Brazil and got the local footage. Those of you who watch Formula 1 on ESPN or Speed Channel, you're not seeing the Brazilian coverage that you've seen tonight, which is very special. You can see they have some family footage as well, which is very rare. The film took 17 years because of the nature of it. And I think if you see this film, one of the things that comes across is that Ayrton Senna was an exceptionally intelligent guy, who understood himself and his profession. And is more eloquent, even than the current Formula 1 group of drivers. To have someone else play Ayrton Senna would probably have been a mistake. So this is as close as you're going to get to hearing his story. Although there is a lot of left out, naturally. And there is a five-hour version of the film that in my dreams will come out in a special DVD.
STF: You're steeped in the history of the sport, what does Senna mean to you personally in the pantheon of drivers?
O'Keefe: The reason I think I like this film, is that I really think Senna is a sportsman of the highest order in terms of his perfection and dedication. We have a lot of important things going on in this world, and the idea that someone would race a car, go around in circles and try to beat somebody by a thousandth of a second doesn't seem very important. But he did it as well or better than anyone else, I just admire his commitment and his dedication to the smallest things. One of the things that doesn't come out in that film, is that part of his secret was his relationship with the engineers who worked on his cars. He may have been politically tone-deaf, as you see in his altercations with the officialdom of the FIA [Fédération Internationale de l'Automobile], but behind the scenes he was very close with the Honda mechanics who were working on his car. The last day that he lived, he was sitting in the garage in his civilian clothes. You never see that today, the drivers don't go in early. He was talking to the engineers, the mechanics. He was talking to the most famous aerodynamicist in Formula 1, Adrian Newey. Part of his secret was his relationship with all of his mechanics, particularly the Japanese. Since Honda engines powered most of his victories, they had [Alain] Prost to choose from and Senna to choose from. From the standpoint of the Japanese mechanics, Prost was called "The Computer," and Senna was called "The Samurai."
STF: As someone who comes from outside this film, one thing that really strikes me is the politics of Formula 1 and how Senna had trouble navigating that. How much has the organization changed since then?
O'Keefe: The sport is called Formula 1, however at an earlier stage it was called Grand Prix racing. It really starts in 1903 with the first Grand Prix, and it really has been French-influenced from the beginning. The headquarters of the FIA is actually in the Place de Concorde in Paris. The French have always been very much in control, and during Senna's period, exclusively so. Today there are no French drivers, but in that era France ran driver schools and had ladder systems so young drivers could find their way to the top. Prost was the final working out of the system. At the very top was [racing executive Jean-Marie] Balastre, who is a perfect villain in the piece. The other thing that the filmmakers do, is that all of those drivers meetings that you see are totally private, even today. So the access that the filmmakers had to the archival footage gave all of us an insight into those drivers meetings. And it's in those meetings that you gain insight into Senna's true character. You see that he was his own best defense lawyer, but he could also be a little bit of a spoiled brat.
Audience: I was curious as to how Senna and Prost's relationship came to turn around, how did that happen?
O'Keefe: Why it changed, I don't know. It had to be both sides contributing. You can see that neither one of them is a very forgiving person, but they had both achieved what they had wanted. At early stages of their careers they had both vetoed a driver. In the first scenes you see Senna veto a driver that was going to be competitive with him at Lotus, and then later on Prost vetoed Senna. You see in the garage in the race in which Senna was killed, Alain Prost was sitting right there as an ex-driver in the Williams garage. He was in the garage on the day of the death of his chief rival. So they had reconciled, but how it came about I can't say I really know.
Audience: There was a big court case in which the Italian government prosecuted the Williams team for their car, I was surprised that the filmmakers didn't include any of that.
O'Keefe: I think that's symptomatic of the two filmmakers and how sensitive they are. There's a lot of footage, and it would have been very easy to have gone totally tabloid in this film, particularly on that weekend. There was a person killed in Italy, and that particular weekend there were two people killed. There was a big investigation that went on for years. There are all sorts of conspiracy theories, there is footage from different cameras as to what happened. That car was impounded in Italy for years and years, we believe it's been returned to England. People were indicted—Frank Williams, Adrian Newey. And for many years they didn't go to Italy because they were afraid of getting apprehended. There were two trials that were dropped, and the case is officially over. But it is one of those things that they didn't go into that might be in the five-hour version. Maybe they just threw their hands up at 104 minutes. That whole investigation—where the car is, and the helmet is still a little bit of a mystery.
Audience: Why do you think people have paid so much attention to Senna and his life after all these years, even though other drivers have died in races? Was it his skill on the track, or his relationship to the people?
O'Keefe: You're right that other drivers have died since then. I think part of his secret is that Brazil was very much behind him at that time, and Brazil at that time had a number of good drivers. So we had a country that was way into Formula 1 at just that period. One of the more interesting scenes, if you're a Formula 1 fan, is when Nelson Piquet, one of Senna's archrivals and a Brazlian, basically stood up for Ayrton Senna's altercation with Prost. They were Brazilian first and rivals second. But, to me, he was the most complete driver and person. Jim Clark, who also died in a car at the top of his profession, was a sheep farmer from Scotland and one of my favorite drivers. But he didn't have all the facets that Senna did. There's one brief scene where you see Senna moving construction debris in Sao Paulo. There's no driver in Formula 1 that's doing that now. He had other dimensions and a breadth that I think most drivers didn't have. And he went out at the top of his profession for sure. He certainly had every up and down that anyone would ever want in life. He won, he lost. Women are portrayed very well in this film. No one has asked me if he was married.
STF: Was he?
O'Keefe: A lot of Formula 1 drivers, if you look at their biographies, they have a lot of children but were never married. Senna was married. In the very early scenes, when you see him go to England, he went with his childhood sweetheart. They were married at 20 or 21. He took her to England but it just didn't work out. She went back to Brazil and he went back to England. They were married for technically five years, but that was his only marriage. The girlfriends are very well portrayed. That's a part of Formula 1 that we never see.
Audience: Would you say that Senna was a better wet driver than [Formula One driver Michael] Schumacher?
O'Keefe: Schumacher, in some weird way, was the car right behind Senna when Senna was killed. He succeeded Senna's mantle. Now having had seven championships, Michael Schumacher has technically surpassed Senna in the statistics. But he decided to unretire and is now a mid-level driver, he's not doing very well. I don't think there's any question that Senna was a better driver overall, a more interesting person overall, and probably a better driver in the wet. No one seems to have exceeded him. Some of the footage not shown was when in 1993 he went from fifth to first in one lap in the driving rain.
STF: You were recently at the Indianapolis 500 that was kind of led by a Brazilian team of drivers. Can you tell us about that?
O'Keefe: We were there to show Senna to a Brazilian group. The Brazilians are more into Indy car racing than Formula 1. Brazil has a trade group that backs a lot of Brazilian drivers in the Indianapolis form of racing. They were so keen to have this film that they arranged a special showing within what they call Gasoline Alley at the Indy 500. Brazlian drivers came and introduced the film.
[Q&A has been edited for length and clarity]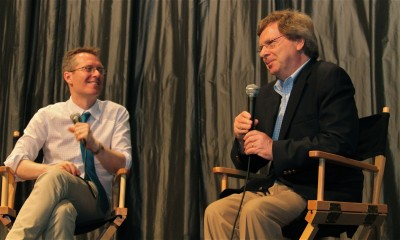 Related Film