At last week's STF screening of BLOOD TRAIL on Oct 7, viewers were treated to a special appearance by the film's subject war photographer Robert King (visiting from Tennessee) joining director Richard Parry (visiting from London) for the Q&A. The film follows King over 15 years, from the start of his career in Bosnia to his breakthrough work in Chechnya to his recent embed in Iraq. The audience had a strong representation of Robert's peers, including a few familiar faces from past STF events.
Here are some of our unprofessional snaps:
Robert King outside the Fat Black Pussycat bar on Third Street where STF loyalists gathered after the screening.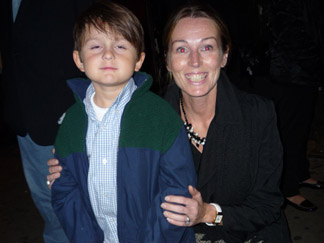 King's wife Olga and son Robert, Jr who each have memorable lines in the film. Olga summarizes her husband's career, saying that she can't understand why someone would risk his life to take pictures that no one wants to see. Despite our appeals to the bouncer at the Fat Black Pussycat, we couldn't get Robert, Jr allowed inside.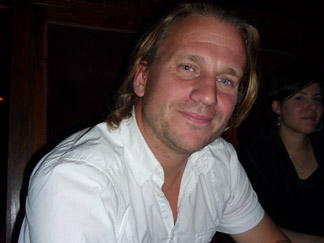 Richard Parry, the director of BLOOD TRAIL.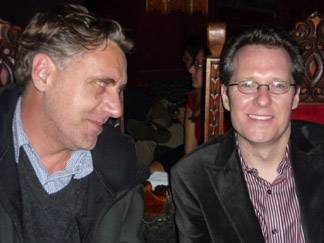 Yours truly on the right, celebrating his Oct 7 birthday, with Michael Tucker, the director of
THE PRISONER OR: HOW I PLANNED TO KILL TONY BLAIR
(which played at STF in Spring 07).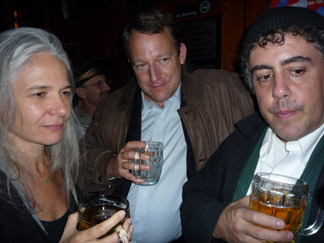 Among the veteran journalists and photographers in the BLOOD TRAIL audience, revisiting their Bosnia days, were (L to R) Emma Daly (now at Human Rights Watch), Santiago Lyon (now at AP) and Ron Haviv (now a co-founder of the VII Agency). They kept their eyes on the McCain-Obama debate, live on television, at the Fat Black Pussycat after the screening.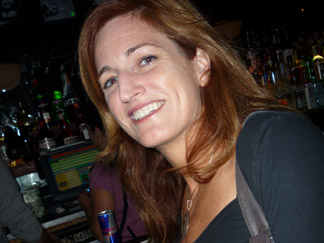 Stacy Sullivan, who covered Bosnia for Newsweek and has recently been covering detainees at Guantamo Bay for Human Rights Watch. Her book about the war in Kosovo
BE NOT AFRAID, FOR YOU HAVE SONS IN AMERICA
was adapted into the documentary
THE BROOKLYN CONNECTION
, available from Docurama.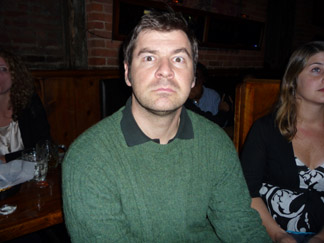 Getty photographer Chris Hondros, who showcased his photographs at STF's
IRAQ UNSEEN
event in Spring 06, a few months before he won the Robert Capa award from the Overseas Press Club. Here he looks surprised to find himself on the other side of the camera.
Related Film