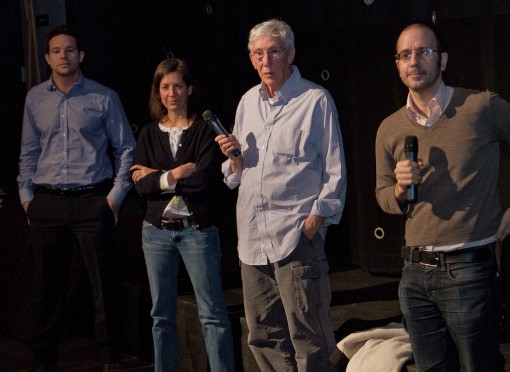 Photographer Ron Galella in Leon Gast's SMASH HIS CAMERA already seems like a paparazzo out of his era. By today's standards, Galella's approach to stalking the bushes around the homes of public figures for the purpose of putting them on film (actual film!) seems pretty tame. The guy is old school. And he seems to have a clear sense that the paparazzi world—which today ascribes high value to grainy textured cell phone videos and saturating its subjects with an insane number of camera flashes—has already passed him by. Though Galella's photographs are derided by some as falling short of the aesthetic standard for high art, they are certainly more artful than the images that populate TMZ.com. As former Metropolitian Museum of Art Director Thomas Hoving notes in the film, history will ultimately be the final arbiter of Galella's work. His role in helping to foster the now ubiquitous media coverage of so-called celebrities is already cemented. Following the screening film programmer and friend of Stranger Than Fiction Basil Tsiokos spoke with Gast and producers Linda Saffire and Adam Schlesinger. Click "Read more" below for the Q&A.
Stranger Than Fiction: How did this project come about?
Leon Gast: I got a telephone call from Linda and Adam. They both asked me if I was interested in working on a film about a paparazzi named Ron Galella, have you ever heard of him? I grew up around these parts, and for years and years, every single day in the newspaper, in a magazine on the local news, there was some kind of story about Ron Galella. I remembered him very well. They offered to bring me out to his estate in Montclair, New Jersey. We went, sat in his great room. I saw his gardens. I live in the country, and I mentioned that I had some property and we had planted trees and bushes. He said, you see that row of evergreens over there? Every other one is artificial. I said, what? He said, exactly as he says in the film, you go after Christmas and you get them on sale, they're $20 and they come with lights on them. We drove back, and I said, I would love to be involved in any way. Just about anybody I was interested in interviewing, they were able to get. Adam had a relationship with Chuck Close, it just worked out perfectly. Ron was so much fun, accommodating. We just followed him, and he let us into his life. I wonder, looking at this, after spending a couple of years on a film, an audience is going to see it. And they're going to spend 90 minutes of their life watching something that you've worked on. And is it worth it? Not for me, I got paid. But is it worth it for you guys to spend 90 minutes looking at something you might think is self-indulgent?
STF: What did everybody think?
[Audience applauds]
Gast: He took, probably by now, three and a half million pictures. He's the price tag of the First Amendment. But do the means justify the ends? If somebody 50 years from now wants to do a paper on Tony Danza, he's probably got 400-500 pictures of Tony Danza. He took almost 5,000 pictures of Jacqueline Onassis.
STF: With that kind of an archive, how much of it did he show you? How much of it were you looking at when trying to put together a film? There must have been an insane amount of footage that you could have used.
Linda Saffire: Every time we went back to his house, it was like a treasure. We'd find more and more. It was amazing. He shot everybody and was everywhere. There are all the pictures of Jackie, but he has everybody.
Adam Schlesinger: There's a scene that didn't make it into the film, called the Italian Scene. He was honored in his father's town in Italy. And the people from the town came to pick photos, they were going to do an exhibit of Italians. Every person they asked him about, he had. It was an archivists nightmare, because they were flying through all of the photos in his archive and drinking wine and just having a great time. But he had everybody.
Saffire: Italian directors, Italian actors, models, everybody.
STF: Who, primarily, was taking the photos of him taking the photos of celebrities?
Gast: The pictures of him in the football helmet when he found out about Brando, he brought a photographer along. He paid him $200 to turn over the film when the shoot was over.
Saffire: It was Paul Schmalbach.
Schlesinger: Galella was really a dream because he saved everything. He had all the old footage. He always had somebody around, because he really wants to be famous himself.
STF: Did you approach him, or did he approach you? How did you decided he was going to be the subject of this film?
Schlesinger: I actually had read an article in the New York Times about a retrospective of his work somewhere, and they talked about all the celebrities that came to that. I thought it was really interesting that the same guy that all the celebrities were running away from were now going and celebrating him. I thought it was an interesting way of looking at paparazzi, then versus now. Of course, he exceeded our expectations as a character or subject. I went to him, and approached him. He was like, oh sure, sure.
STF: For somebody who is so obviously a storyteller and has been in the presence of pretty much everyone famous for the last 50 years, how did you edit that back. How did you focus him and get what you were trying to get? It seems like he could tell stories for days if you just let him go.
Gast: We did a rough cut. Linda I think you may have put together a group up by Columbia University. We had a bunch of screenings and got feedback. There were students who said, I have no idea who any of those people were, it made me laugh. We just kept refining it. They were ideal producers to work with.
Schlesinger: We also had a great editor on the project, Doug Abel.
Gast: He got it immediately.
Audience: I'm curious about how your following him around affected his access as a paparazzi.
Gast: He was aware of the camera, but he almost acted as if he wasn't aware of the camera. With most people there's a camera consciousness, and they react in a certain way. Ron seemed to react to everything the same way all the time. He never tried to look at the camera. A lot of people do when they know they're being photographed. He was an ideal subject.
STF: But did it affect his ability to access the things he was trying to get pictures of?
Schlesinger: No, because at this stage in his life, as Bobby Kennedy said, he wasn't hiding in the bushes anymore. He's so well known amongst the paparazzi now, and primarily he's going to events at this point.
Saffire: It was fun when we were shooting Ron and there were all of these celebrities, and we didn't really care about the celebrities. The camera was on Ron.
Audience: I know that Princess Diana was not one of his big subjects. Did you get into the subject of her death and the paparazzi?
Gast: We did in one cut. We put together the funeral, her brother doing that beautiful eulogy. We decided that—
Saffire: It was too big. You can't tell it in two minutes or five minutes. Was the driver drunk? Was it the paparazzi? She loved the paparazzi. She waited for certain cameramen to take a picture.
Gast: We got the pictures from the hotel. We had shots of her in the elevator looking up at the mirror, smiling. When I first saw them I thought, oh my God, look at these pictures of her. In a few minutes, she's going to be dead. It had a profound effect on me. I wanted that scene in the film.
Schlesinger: We debated it, but as he says in the film, he had very few shots of her and none of Marilyn Monroe. The feeling was that it took you out of the film.
Saffire: It was like a little news piece in the middle of the film.
Audience: Could you speak about your relationship with the cinematographer Don Lenzer?
Gast: I've known Don for a long time. I believe I met Don when I was working with Barbara Kopple. We had a real good relationship. I think Linda had worked with Don on a couple of projects.
Saffire: We were just talking about the shot in the darkroom. He stays on that photograph when it develops, and he zooms in at the right time. The patience—that scene is just Don.
Gast: He was shooting with a Varicam, a big, heavy camera. I can't remember him ever putting the camera on a tripod. He's rock steady, always in focus and he never said no. He was just a great person to work with.
STF: Were there any stories that you really wanted to include but weren't able to?
Gast: He spoke about Marilyn Monroe. He was out in LA, and he knew that she was doing a picture at Fox. And he waited and he waited and became impatient, got in his car and drove away. He found out the next day that he showed up about five minutes after he left.
Schlesinger: There's also another story where he was in Mexico photographing Richard Burton and hiding in a hotel in a pool room where they keep the generator for the pool heater. I guess the sound person working on the film noticed a humming noise. It was the generator for the pool, and they went back there and turned that off. And it turned out Ron was hiding back there. So he was arrested and thrown in prison. Then, years later, Richard Burton hired him to take photographs at his wedding.
Related Film